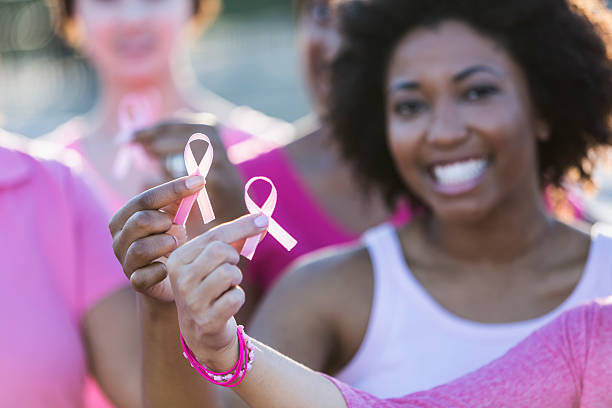 A couple of years ago, a woman was diagnosed with breast cancer every three minutes, according to Susan G. Komen. This year? Every two minutes, a woman is diagnosed with breast cancer. Want to know what's even scarier? Although Black women tend to be diagnosed with breast cancer less often than Caucasian women, we're more likely to die from the disease. In fact, the five-year relative survival rate for Black women is 78 percent compared to 90 percent among Caucasian women. The following organizations are working to change that.
In 1994, when Sisters Network Inc., the only national African-American breast cancer survivorship organization, was established, founder Karen E. Jackson was frustrated with the lack of "sisterhood" in some of the more traditional organizations.
She was also disturbed by the staggering mortality rate among Black women diagnosed with breast cancer. It was then that her mission became clear: Create a space where Black women can go to receive the education, emotional and financial support, and any other resources they may need during their journeys.
As a 29-year four-time breast cancer survivor, Jackson is committed to educating Black women on and bringing national attention to a disease that's expected to kill an estimated 43,550 women this year alone.
For instance, the non-profit hosts its annual Stop the Silence Walk – the only national African-American breast cancer 5K walk/run – each year. With the event attracting about 8,000 participants from around the country, 100 percent of the proceeds go toward Sister Network's Breast Cancer Assistance program, which provides financial assistance for prescriptions, co-pay and office visits, and prosthesis, just to name a few.
Sisters Network, Inc. offers several other programs – all of which are dedicated to getting Black women to understand that breast cancer is not "an older white woman's disease."
To learn more about Sisters Network, Inc., click here.
Established in 1983, the Black Women's Health Imperative (BWHI) is perhaps the oldest known organization devoted to advancing the health and wellness of African-American women everywhere. BWHI not only focuses on breast cancer, but they also take on a range of other health issues, including cervical cancer, reproductive health, and HIV/AIDS that affect Black women and their families.
One of the biggest reasons why African-American women tend to have higher mortality rates as it relates to breast cancer is attributed to the fact that they're often diagnosed at later stages when the cancer has already spread.
In efforts to help bridge the disparity gap, the organization encourages Black women to make their health a priority by doing three things: