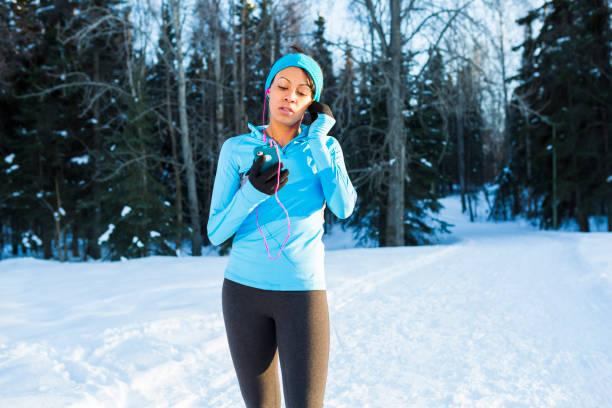 (BlackDoctor.org) — Winter can sometimes make working out seem less than desirable. Who wants to bother with piles of snow just to make it to the gym? Who wants to dress like a mummy or risk falling down on ice just to go for a run or a walk? Also, relaxing in a warm armchair on a cold day with a hot, delicious (and calorie-loaded) beverage or snack is one of the great winter pleasures out there.
But you still need to work out!
Although you may want to stay snuggled up at home, winter shouldn't be a time that your fitness plans hibernate. With the right attitude and mix of exercises, winter can actually be a fantastic time to mix up your workouts, get creative and even reignite your love of fitness by trying new, fun activities. Not to mention, exercise can help you beat those winter blues!
Great Ways To Step It Up In Winter
1. Change your mind.
Winter isn't just about cold weather, it's a whole new season! Embrace the time of year by sitting down and revisiting your goals, then plan out what you'd like to accomplish during the next few months.
We're all so busy these days that time seems to fly, which is why it's important to reflect on our past accomplishments and current goals. It can help you see winter in a new, inspired light.
RELATED: 4 Easy Ways To Avoid Falling Off Your Workout This Winter
2. Go out and play!
If you can't seem to muster the energy to work out this time of year, try "playing" instead. You can burn quite a few calories playing indoors or out. The best part about playing is that it doesn't feel like working out—though you can still get your heart rate up and have an excellent cardio session.
Have a blast in the winter wonderland outside by making snow angels (214 calories burned per hour on average), having a snowball fight (319 calories burned per hour), or even building a snowman (285 calories burned per hour). No snow in your area? Try ice skating—an activity you can do indoors or outdoors. Ice skating can burn more than 450 calories per hour—and it's a blast!
3. Get creative at home.
Sure, getting to the gym can be more of a hassle when it is cold outside, but never use snowy weather as an excuse to miss your daily exercise. Instead, work out at home, where it's cozy and warm.
Whether you pop in a new workout DVD, invest in a few pieces of fitness equipment, or even just use your