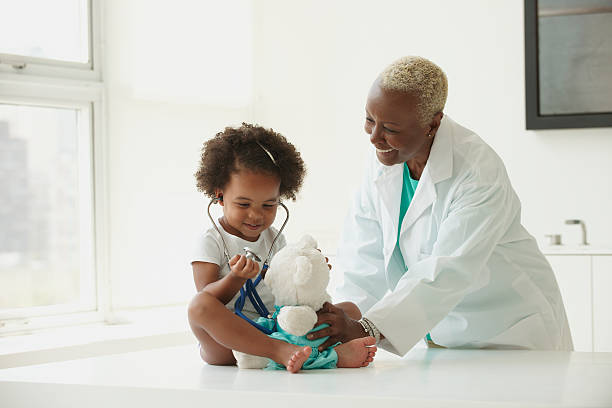 Can you tell whether your kid has a fear of doctors by how they act? Here are some tips for making doctor appointments easier for your children.
Go With Your Child
Even while we may sometimes require a grandmother or other carer to accompany our kid to the doctor, Parents' expert and author of the Baby 411 book series, Dr. Ari Brown, recommends that parents make the first appointment or two whenever possible.
She argues that children are more at ease during medical appointments when they witness their parents relaxed and trusting of the doctors in the unfamiliar place.
Make It A Game At Home
Get your kid used to a play medical set before taking them in for an actual checkup. Use a book like Corduroy Goes to the Doctor or Doc McStuffins' Doctor Bag to help him her rounderstand what will happen.
Listen to a stuffed animal's breath with a toy stethoscope, or have your child practice saying "aah". Try saying something like, "We're  searching for boo-boos," which they'll understand, but be sure to use the correct terms for the equipment being used so that he or she doesn't feel uncomfortable.
RELATED: Everything You Need to Know About Your First Well-Child Visit
Try A Positive Spin
An excessive amount of advance warning might induce unnecessary anxiety. As you're traveling to work or first thing in the morning of their appointment, break the news to them. It's my treat to see your physician. They ensure your well-being and strength.
If your young child asks if they will be getting a shot, you should tell them the truth. Tell them that if they require a shot, they should expect to feel a pinch in their arm for a few seconds.
Tell them to give you a tight grip and that the injection will give them "superpowers" to fight against diseases. Discuss the positive aspects of the visit, such as getting stickers or a little item, or your plans for the remainder of the time, such as going to the playground afterward
Time It Right
Your youngster will behave better at the doctor's office if he or she has