Cannabis
A basic guide to rolling a joint- Alchimia Grow Shop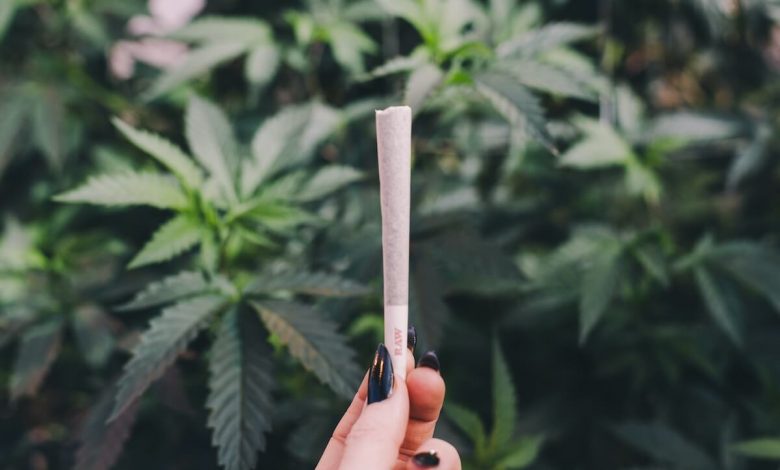 Long before cannabis became a popularly consumed substance, you probably knew cannabis in its most iconic form: rolled into a joint. And, although today we have a wide range of methods and all kinds of accessories to consume cannabis, it's always good to remember the basics. Whether you're a cannabis newbie or a seasoned veteran looking to brush up on his skills, there are a number of factors you need to consider when putting together a good joint, so it never hurts to work on your technique. Grab yourself some papers and get ready to take notes.
Materials and preparation to roll a joint
To begin rolling a joint, we need to have the right materials available to work with, since they are more or less essential to the task:
Rolling paper.
Cannabis: flowers/buds of your choice.
Grinder (You could also use scissors or fingers).
Filter/roach of paper, card or a tip made of glass, ceramic or hemp.
Lighter or matches.
Choose the right rolling papers
Selecting the paper to use is very important because when you smoke a joint you are not only consuming cannabis, but you are also smoking paper. The wrong choice of paper can lead to an undesirable taste and also produce compounds that are harmful to our health. That is why the best papers are those that are not bleached with chlorine and have the least additives, such as those made with organic hemp, rice, cotton, linen or cereals, among many other options.
It's also worth choosing a quality brand of papers like RAW, PayPay, OCB or Smoking, as they are affordable enough to allow us to start off on the right foot by using a sufficiently prestigious brand. Poor quality paper can create a frustrating rolling experience: they can tear easily, don't stick properly, and are generally a real hassle to work with.
Rolling papers are available in various sizes. While there are some fancy tricks allowing us to roll joints from several papers, the size of the paper will normally determine the size of the joint. So if you expect to make a big joint, you'll want to opt for some King Size papers, that is, large ones (normally about 110×55 mm), because that way we can always cut it down to the size we prefer. However, the most common, especially when starting, is to opt for a regular size paper, which has the normal dimensions of a cigarette, usually between 70mm long and 34mm wide.
Breaking up the weed
Once you have the papers, it's time to prepare the cannabis to be rolled into a joint, for which we must grind or chop the buds. The most effective way to do it is with a cannabis grinder, although there are also people who do it with their fingers or with scissors. First, remove the stems or large leaves, then break the flowers into manageable pieces and place them in the grinder, turning it until everything is well broken down.
If you don't grind it well enough, the cannabis will burn less efficiently. But if you grind it too fine, it will be a loose, powdery mess that will burn too quickly, creating a harsh, unpleasant experience.
You need to find the sweet spot; neither too coarse nor too fine. Just light and airy enough to promote good airflow and a quality burn, while keeping the herb together enough for a solid structure.
The advantages of using a filter
A filter is another of the fundamental elements needed to roll a joint, although they can also be rolled without a filter if you are going to use, for example, a glass tip, a practice with more and more adherents. However, cardboard filters remain the undisputed kings of joint rolling.
You can buy cannabis filters of many types in most growshops, but the most basic concept is to make them with a small piece of cardboard like the ones that come in many cigarette paper booklets. To create a filter, simply tear off a small piece of cardboard and roll it into a small cylinder shape, slightly smaller than the diameter of the joint you plan to make.
The filter has two main functions. For one thing, it will make the joint more consistent, as it provides a sort of "base" that adds structural stability to the finished product. Its shape also makes it easier to roll the paper, serving as a guide for easy wrapping.
In addition, it allows you to smoke all the cannabis. When smoking a joint without a filter, it's almost impossible to smoke the last bit without burning your fingers or getting bits of loose weed on your lips. But with a filter, you can smoke every last bit of cannabis and keep your fingers clean and free of burns. Just be careful not to smoke the cardboard!
A filter also has the added benefit of capturing some of the tar and resin that would otherwise end up in your mouth and lungs. This can make your joint smoking experience a little cleaner and more flavourful.
Rolling the joint, at last
Once you have some quality paper, your cannabis is properly broken up, and you've rolled up the cardboard filter, You're ready to put the cannabis in the rolling paper.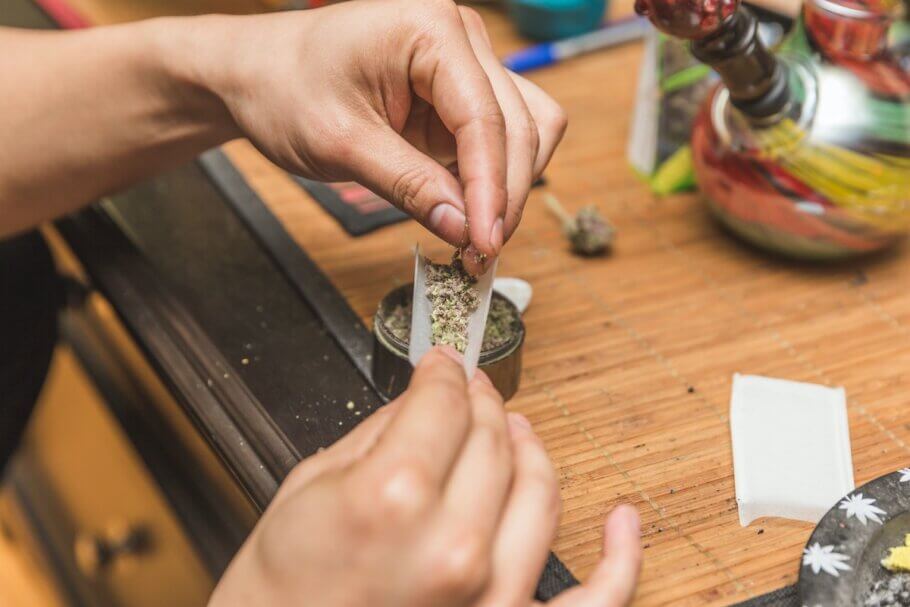 Add the cannabis
At the top of the paper, there should be a small strip of glue facing you, which you will use to seal the joint later. Place the weed below this adhesive strip with enough paper on the bottom and roll the ends of the paper against each other to lightly compress the material, then slip the appropriate size filter into one end. The filter will serve as a standard to determine the diameter of the joint, so depending on the size of the paper and the type of filter we will have to determine the appropriate amount of cannabis that, according to your tastes and circumstances, needs to be added to the paper.
Roll it up
Now that the weed is in the paper, it's time for the fundamental part of rolling a joint. Take the paper and the grass it contains between your thumb and forefinger. Using both hands, gradually roll the whole thing up until you have got the shape you want for your joint. To get the best fold, use your thumb to gently pinch the paper around the filter starting at one end (the most important thing is that this end is securely attached so the filter doesn't come off later).
For a straight joint, make sure to keep the edges of the paper even. For a tapered joint, start rolling the paper on the side of the filter, making sure the paper on the open end is held up a bit higher as it is rolled onto the back of the sheet. Finally, lick the glue strip and press the paper closed.
Compacting the joint
To finish, use a small object to gently press down on the open end, so the cannabis is evenly compacted inside. You can also tap the end of the joint a few times on the table. This will also prevent uneven combustion. Once the weed is compressed evenly, you can close the end of the joint with your fingers to help give it one last touch of pressure and obtain a nice sealed joint that you can save for later. We will have to twist the remaining paper until the joint looks like a birthday candle. Then, with a small bite, with scissors or directly burning this "wick", we will remove it before smoking.
Simplified methods to roll a joint
Rolling a joint is a form of handycraft that takes practice and patience to get right. But if you find that it's still a bit tricky, there are other, easier ways to get a good joint. For example:
Using pre-rolled papers
Also known as blunt cones, these are pre-rolled paper cones; smoking paper that has been wrapped around a filter at one end to form a conical tube with a wide, open mouth at the other end. To use it, prepare your weed as previously instructed and pour it into the open end of the cone, packing the material down with the end of a pen or any similar object. Close the joint at the end and voila. Cones are perfect for people who don't feel like messing around!
Using a rolling machine
Rolling machines do all the hard work of making a joint for you. They are available at very little cost and are essentially a small plastic or metal platform with one or more rollers on it. The herb is placed in a small chamber and a piece of paper is inserted with the glue strip poking out of the top of the machine. Gradually move the roller up until only the adhesive strip remains. Finally, the glue is moistened and it finishes by sealing to create a straight, uniform joint with hardly any effort. Each rolling machine can be a little different, so it's best to refer to each model's instruction manual for the best practices to employ when using this type of device.
A few final notes on rolling a joint
Rolling a joint properly is a true art, and the more you practice, the better you'll get at it. But perfecting the art doesn't happen on your first try, so here are some tips for beginners:
A joint isn't always just cannabis. Some people like to mix tobacco to further improve combustion, to save material or even to enhance the effects of THC thanks to nicotine. Although beyond these reasons, it has more to do with a cultural tradition on this side of the Atlantic than anything else.
Always apply the right tension. Don't roll the joint too tightly or too loosely as it can tear or fall apart.
You can practice rolling up with anything that has a similar consistency as cannabis, such as tobacco or culinary herbs.
Cone-shaped joints burn better than straight ones, offering a smoother and more consistent smoking experience.  However, rolling into a cone is a little bit more complicated.
And remember that the perfect joint is one that, apart from having an impeccable appearance, does not turn into a mushy, deformed and disgusting mess as it is passed from hand to hand.
The arto of joint origami
Those are the basics of rolling up. However, there are many other ways to transform weed into a championship joint. For example, you can make an L-shaped joint, which is when two rolling papers are placed, one horizontal and one vertical. You can also make a tulip-shaped joint, where you need three rolling papers. And there are many other more specialized rolling techniques that go as far as fully embracing the art of origami.
Origami is the art of making wonderful creations by folding paper. This noble pastime is quite ancient, but has been perfected at breakneck speed in recent times. Joint origami -or rolligami– is even more recent. The art of making wonderful creations based on cigarette papers and cardboard-filters (filled with cannabis or hashish, of course), also has the poetic condition of an ephemeral beauty that ends up turned into smoke and dreams.
Reefer artists choose to remain anonymous and do not aspire to fame or glory. The Internet allows them to immortalise their creations, although only their hands appear in the spotlight. Their talent is altruistic and they only seek to teach cannabis fans new and more complex ways to get high. As you can see with these examples that will leave you wide-eyed (and red-eyed too!):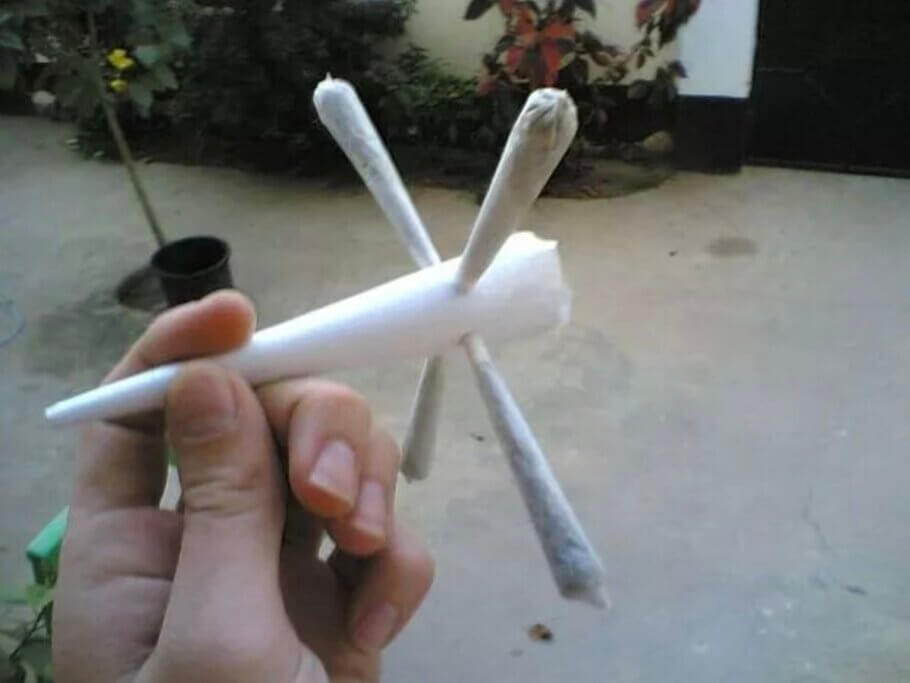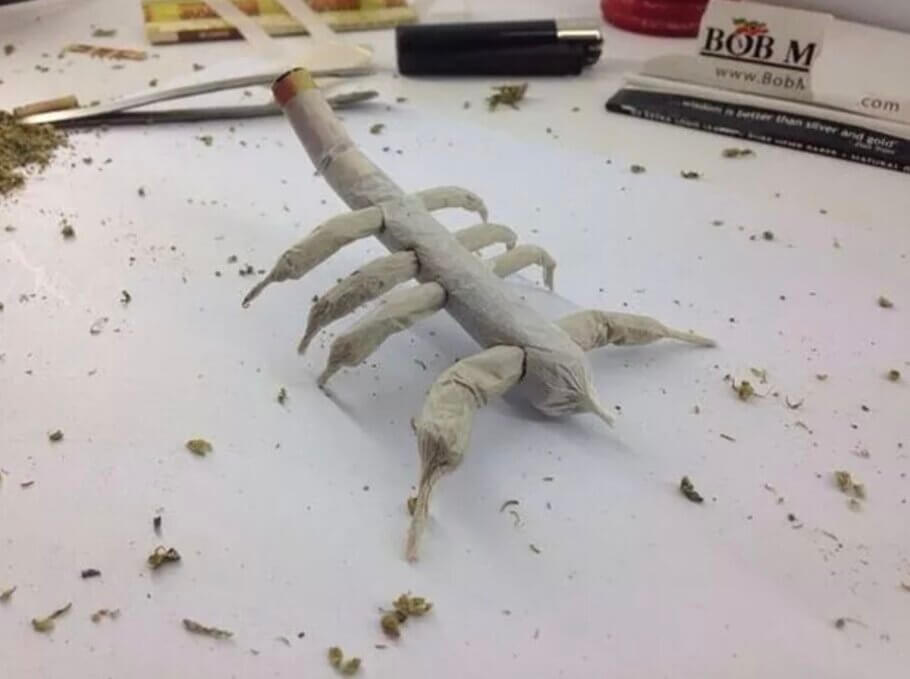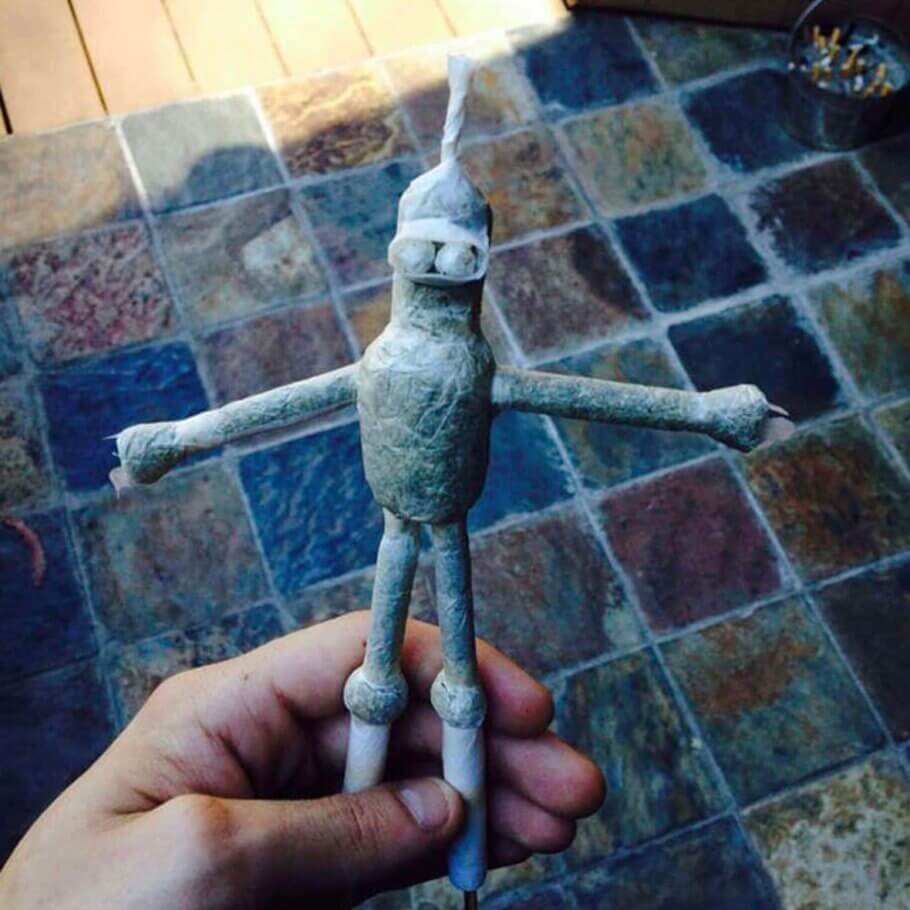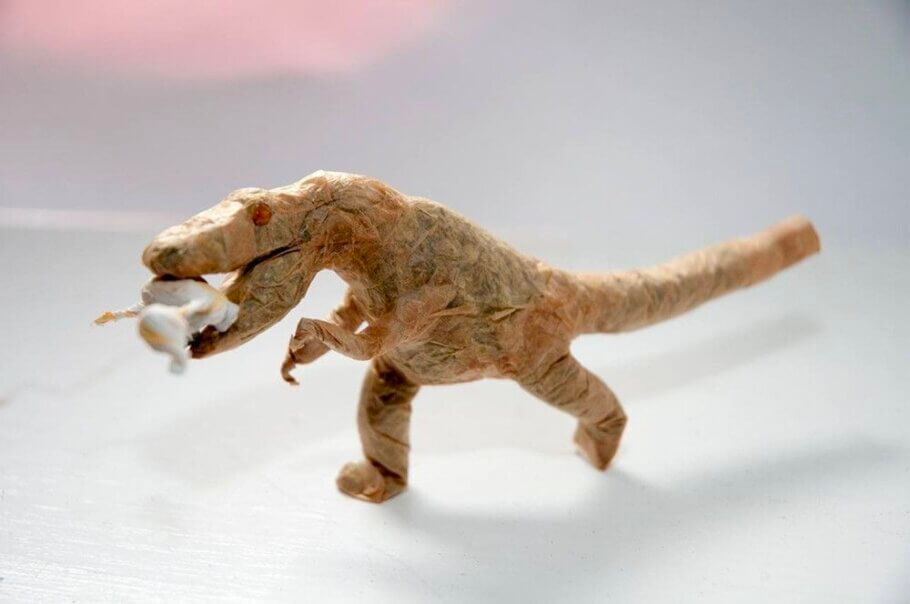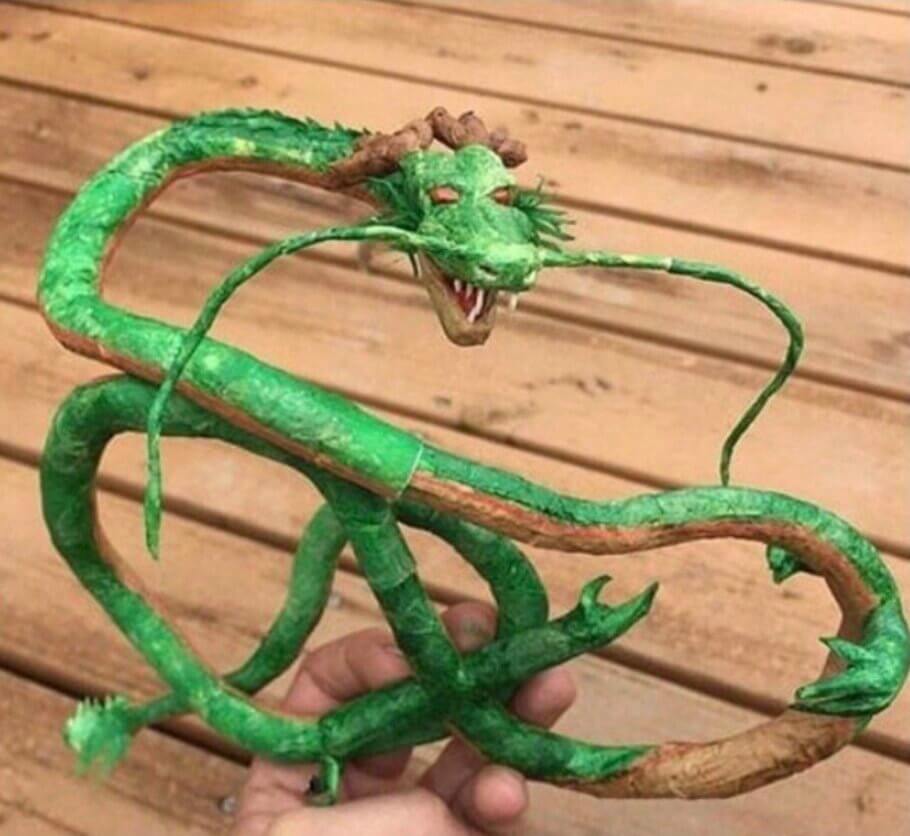 The articles published by Alchimiaweb, S.L. are reserved for adult clients only. We would like to remind our customers that cannabis seeds are not listed in the European Community catalogue. They are products intended for genetic conservation and collecting, in no case for cultivation. In some countries it is strictly forbidden to germinate cannabis seeds, other than those authorised by the European Union. We recommend our customers not to infringe the law in any way, we are not responsible for their use.