Fashion
Barbara Ann Teer-Sampled Voice Visionary in Beyoncé's Alien Superstar!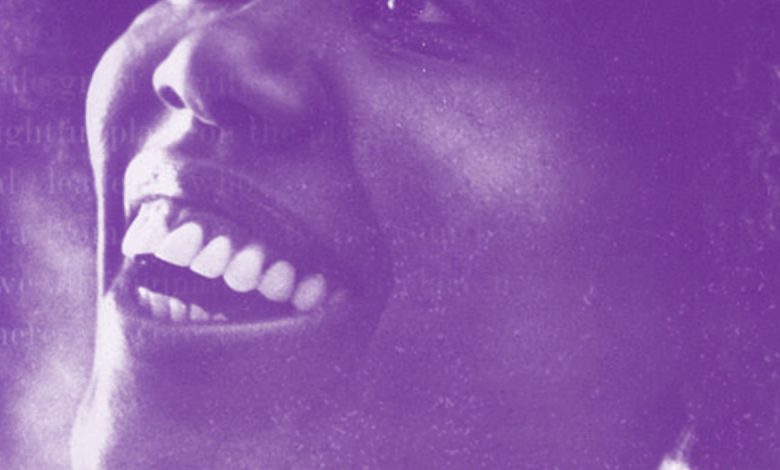 UNIQUE! Yes, the award-winning Barbara Ann Teer is once again blessing us with her inspirational prowess in the realm known as Beyoncé's RENAISSANCE! Teer's sultry, yet also commanding voice can be heard during Bey's hit song, Alien Superstar. The music single hit number one on Apple Music; and also rapidly helped push the debut of Mrs. Carter's latest EP, to number one on the Billboard 200 chart too.
Nevertheless, besides having an instantaneous captivating tune; Alien Superstar mesmerizes with it's emotion driven spoken word lyrics. Indeed it is seriously electric! Moreover, Beyoncé effortlessly delivers a musical one-two punch through an ethereal club beat and also entrancing vocals. Clearly, Bey was going for an otherworldly vibe; and she nails it!
However, one snippet that Hive fans cannot get enough of is a sample of Dr. Barbara Ann Teer's voice. It's a part that's repeat and also recite worthy. Nonetheless, the innovator is heard spitting truth about women who truly 'rattle' this world.
Moreover, Teer is also a very fitting addition since she is famous for setting the standard; and also pushing beyond boundaries. Are you familiar with this wonderful and also legendary woman?
National Black Theatre in Harlem and Other Notable Achievements of Barbara Ann Teer
Let us just tell you… Barbara was a FORCE! One of those talents that just disrupt society; in a positive and also very influential way. Moreover, as Alien Superstar preaches; Teer is truly "the bar" and also "forever that girl" in terms of talent and grace.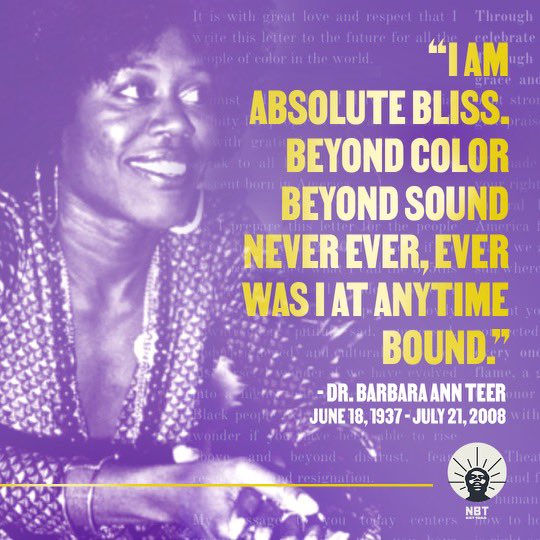 Why? For instance, Teer hated negative black stereotypes and also fought fiercely against them. Moreover, Barbara wanted black artists to be taken seriously; and to be able to play more than just 'slave' roles. So she literally created the FIRST revenue-generating black theater arts complex in America. A LEGEND.
Moreover, she is someone that is just truly inspiring and also a major player in black history. A true Queen worthy of a spotlight and also imitation.
Nevertheless, we will stop fangirling (Lol) now and quickly talk her history. Therefore, what are a few of Teer's many achievements?
Barbara Ann Teer Highlights
Actress and also classically trained Dancer
Producer
Writer
Champion of the Black Arts Movement and also the Founder of the National Black Theatre
Danced with Alvin Ailey Dance Company and also performed on Broadway
Additionally, Teer won several Obie Awards as well as a Drama Desk honor
As one can see, Teer was UNIQUE! A superstar. Clearly, giving new meaning to Queen Bey's hit song.
Makes you want to learn the words more, huh? We feel you! Scroll on we got the lyrics!
Barbara Ann Teer-Sampled Voice Visionary in Beyoncé's Alien Superstar! (Opening/First Verse)
Ready to learn Alien Superstar? It's easy! Nevertheless, we broke the song up into 2 sections to make it a little easier to memorize  and also catch the flow. Have fun!
Here's the lyrics the Alien Superstar:
Please do not be alarmed, remain calm
Do not attempt to leave the dancefloor The DJ booth is conducting a troubleshoot test of the entire system
I'm one of one
I'm number one I'm the only one Don't even waste your time trying to compete with me (don't do it) No one else in this world can think like me (true) I'm twisted (twisted) I'll contradict it, keep him addicted Lies on his lips, I lick it
Unique
That's what you are Stilettos kicking vintage crystal off the bar Category, bad bitch I'm the bar (ooh) Alien superstar (unique) (Hit me with a) whip, whip
I'm too classy for this world
Forever I'm that girl Feed you diamonds and pearls Ooh, baby I'm too classy to be touched I pay them all in dust I'm stingy with my love (unique) Ooh, baby, I'm
U-N-I-Q-U-E (unique)
Ooh, I'm stingy with my love (unique) Ooh, baby, I'm U-N-I-Q-U-E (unique) Ooh, I'm stingy with my love (unique)
Alien Superstar Beyonce- (Verse 2 and Bridge)
Unicorn is the uniform you put on
Eyes on you when you perform Eyes on I when I put on Mastermind in haute couture Label whores can't clock, I'm so obscure (unique) Masterpiece, genius, drip intravenous Patty cake on that wrist Tiffany blue billboards over that ceiling (unique) We don't like plain, always dreamed of paper planes Mile-high when I rodeo Then I come down and take off again (unique) You see pleasure in my glare Look over my shoulder and you ain't scared The effects you have on me when you stare Head on a pillow, hike it in the air
I'm too classy for this world
Forever I'm that girl Feed you diamonds and pearls Ooh, baby I'm too classy to be touched I pay them all in dust I'm stingy with my love (unique) Ooh, baby, I'm
I got pearls beneath my legs (U-N-I-Q-U-E)
My lips, my hands, my hips I got diamonds beneath my thighs Where his ego will find bliss Can't find an ocean deep (U-N-I-Q-U-E) That can compete with this cinnamon kiss Fire beneath your feet, music when you speak You're so unique
Unique
That's what you are Lingerie reflecting off the mirror on the bar Category, sexy bitch I'm the bar Alien superstar (unique)
We dress a certain way, we walk a certain way
We talk a certain way, we-we paint a certain way We-we make love a certain way, you know All of these things we do in a different Unique, specific way that is personally ours
We just reaching out to the solar system
We flying over bullshit, we flying over Supernatural love up in the air I just talk my shit, Casanova, superstar, supernova Power, pull 'em in closer If that's your man, then why he over here? (Unique)
The Impact of Beyoncé's Music
Is Beyoncé changing the music game again? YES! She already sets trends and the modern day standard; however, now she is pushing the notch up yet again. This time giving a black history lesson with strong melodic beats!
Think about it, the album is RENAISSANCE. The Queen is opening the doors to her atmosphere, her "museum" so to speak; where we can vibe and also experience art by her and other members of the black community's 'greats.' Splendid.
Moreover, when you really ponder it, Alien Superstar is a bridge. Through Beyoncé's creative and artistic influence; it is effectively connecting a new generation to our illustrious and historic past. Without this connection, many youths or music lovers would never know the majestic Barbara Ann Teer. Nevertheless, now they do!
Therefore, what artistry! Queen Bey is keeping alive the memory and giving respectful honor and also accolades to black movers and shakers; such as the legendary Barbara Ann Teer. Fabulous.
Nonetheless, we have to tip our designer hats and also give a round of applause to Beyoncé on this amazing song! We have not stopped singing since it's drop; and probably never will Lol. It's UNIQUE!

**Want Even More Beauty, Lifestyle, Hair, Fashion as well as Celebrity Style Sighting News, Insights as well as Trends? Well Honey do we have something special for you! Download Our New Shiny App! Click HERE**
Thoughts on Barbara Ann Teer-Sampled Voice Visionary in Beyoncé's Alien Superstar!!? Well let's connect then! We're always around and also love to hear from you. Therefore, join the discussion and talk all things 1966 Magazine; fashion as well as celebrity style sighting related with us by dropping a comment like its hot down low. Or also hit us up on our Facebook, Instagram (1966mag); Tumblr, Pinterest or tweet us @1966magazine.