Fashion
Beyoncé Renaissance World Tour- Her Outfits, Sets and Runway Inspiration!
She's so UNIQUE!! Leave it to the Queen to develop, produce and put on one of the best shows of the decade. We have all the fashionable highlights of the Beyoncé Renaissance World Tour!
However, before we get into the styling, we thought you might like to know about some of the cool elements involved with this show. For instance, if you love the Savage Remix, you'll be happy to know that it is apart of the set list! Also, Bey literally rides on a giant truck during the performance. She's XTRA… and we ADORE it.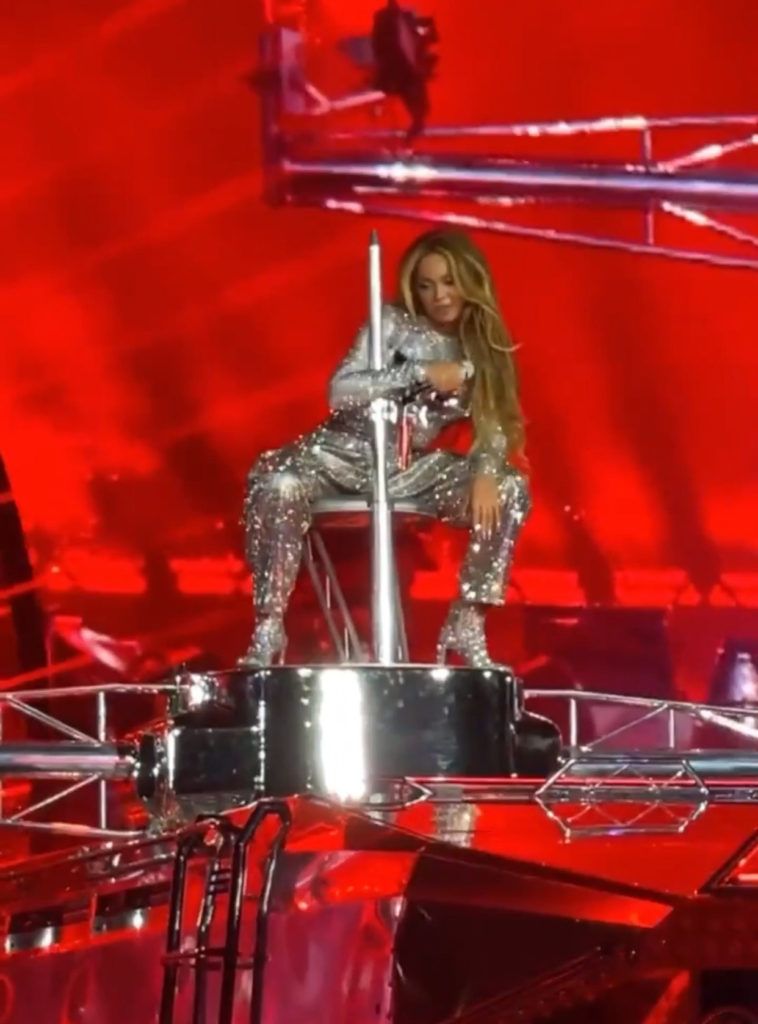 Moving on to another cutting-edge aspect; is Beyoncé's use of technology. In one segment of her show she utilizes UV light to change the color of her ensemble! It's a very awesome part of the concert and it just solidifies why Bey is such an entertaining performer. She takes risks visually, and they pay dividends.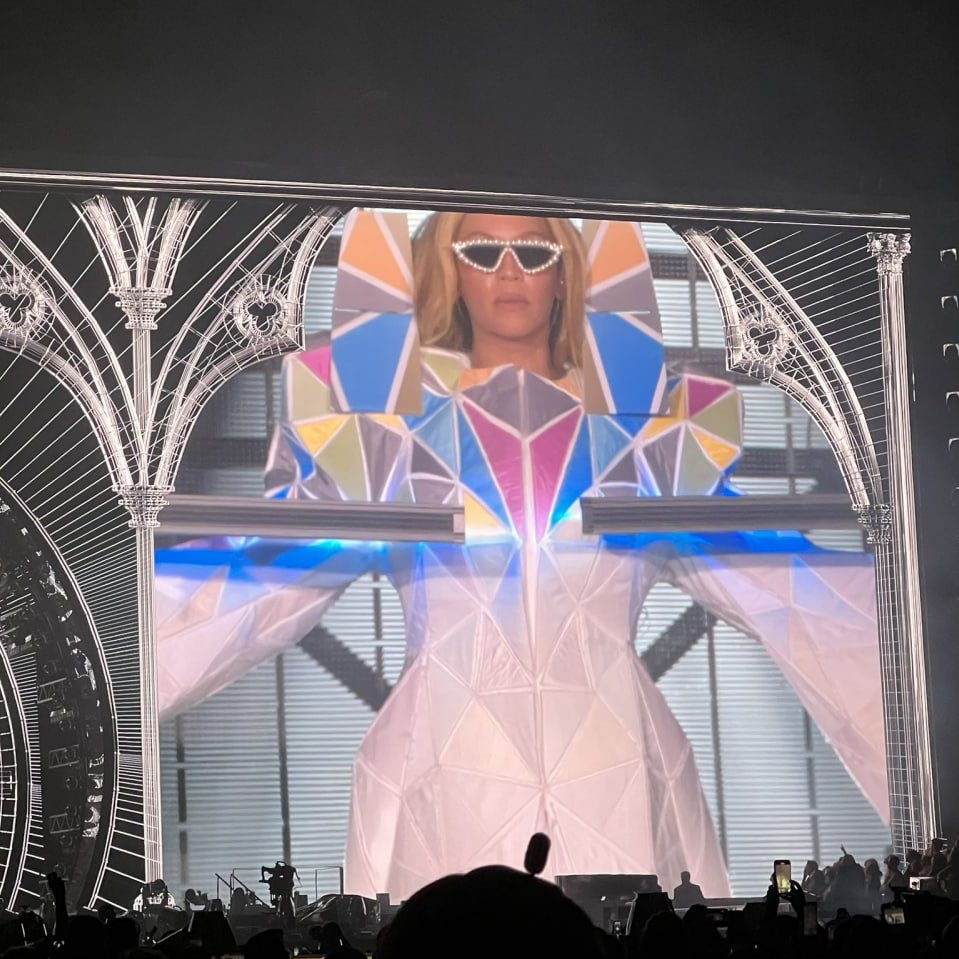 Really all of her visuals for her performances are grandiose and exciting. She even includes aerial stunts as well as that silvery horse from her album cover. Check out a few more shots below!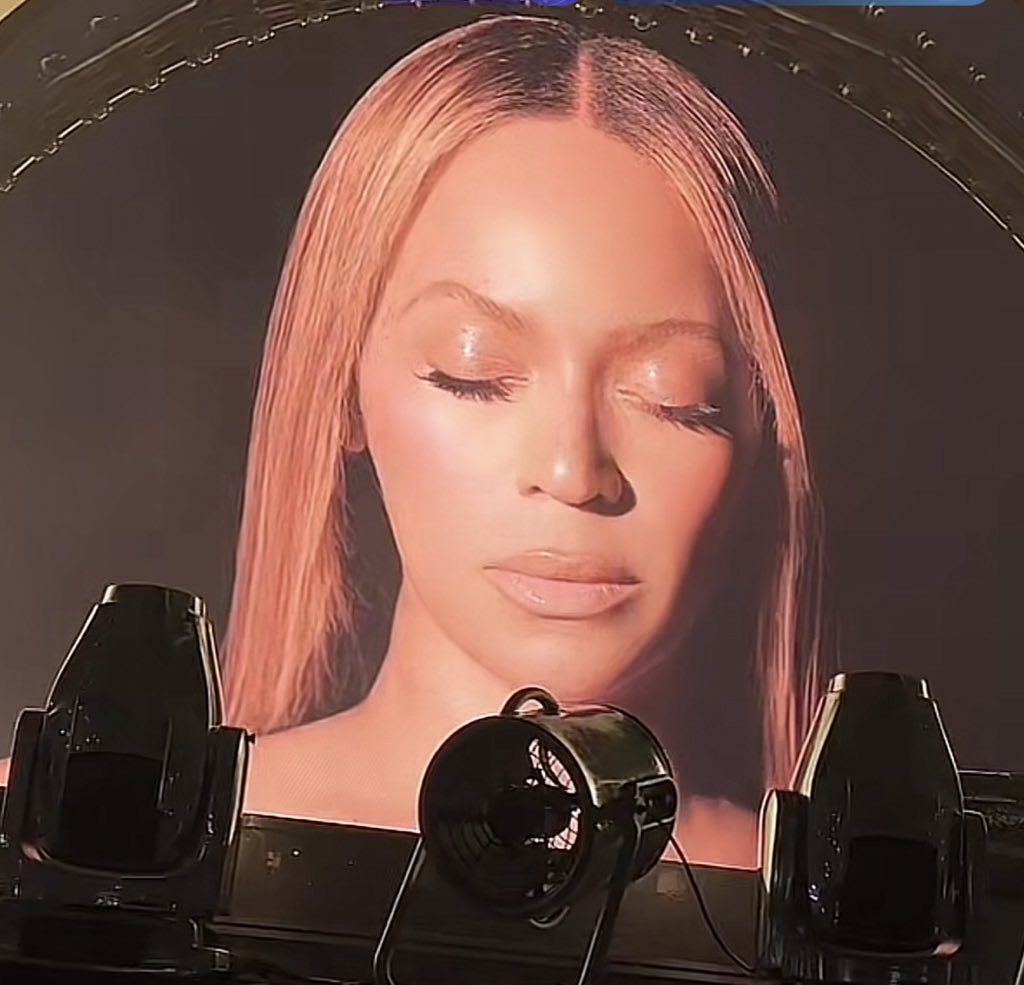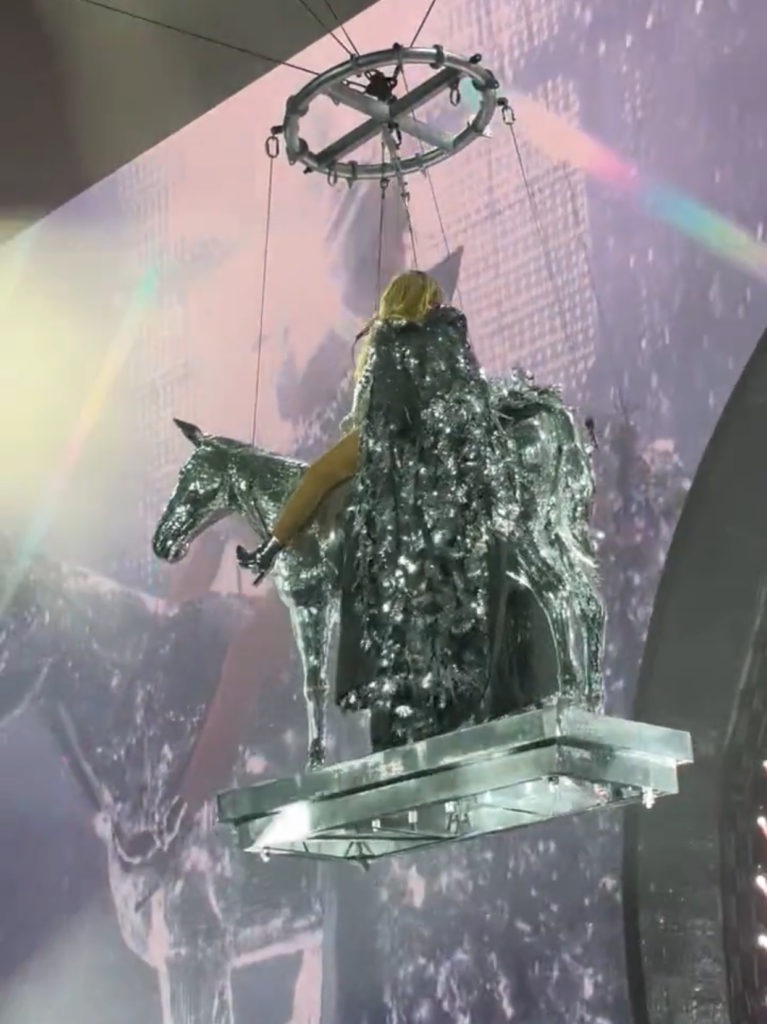 Beyoncé Renaissance World Tour- Her Outfits, Sets and Runway Inspiration!
Okay, now for the fun part… THE FASHION! Mrs. Carter went for full on high end designs for her numerous outfit changes. Now, do keep in mind that her pieces are custom; therefore, they are not exact copies of the designer looks that they are inspired from. However, it is still easier to spot the similarities between the two.
For your viewing pleasure we will show you not only Beyoncé's custom look, but the designer frock that helped inspire it.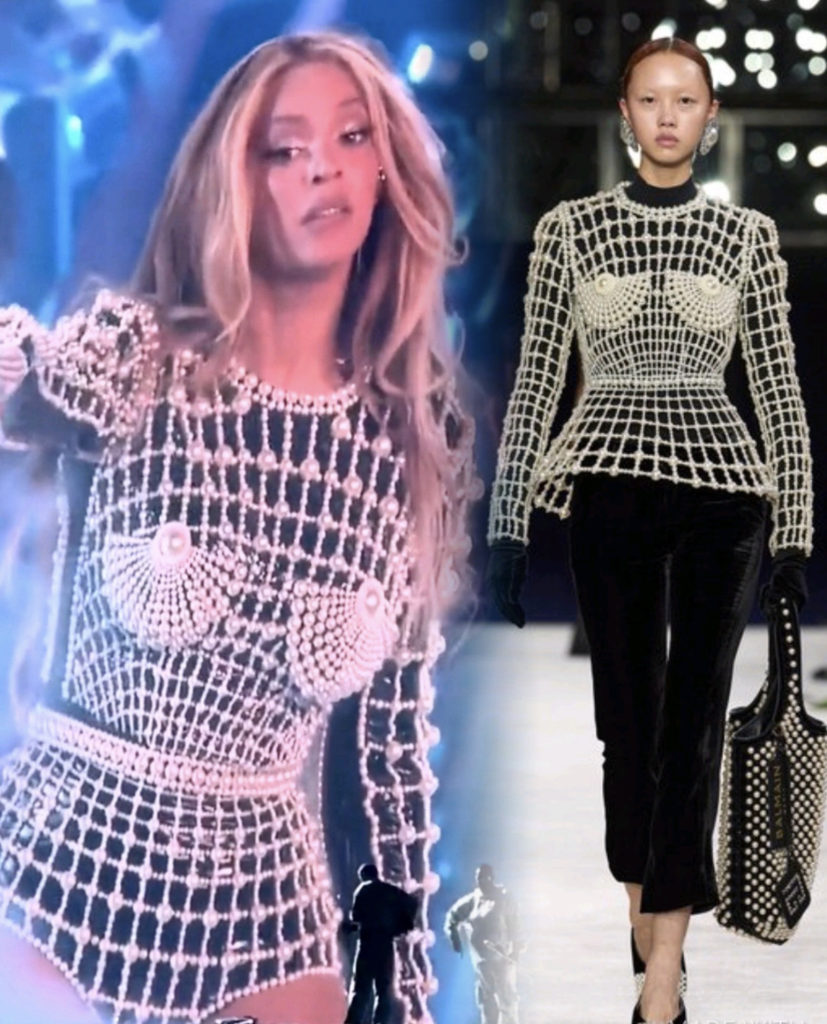 BALMAIN (custom) with Stuart Weizmann Shoes and Tiffany Jewels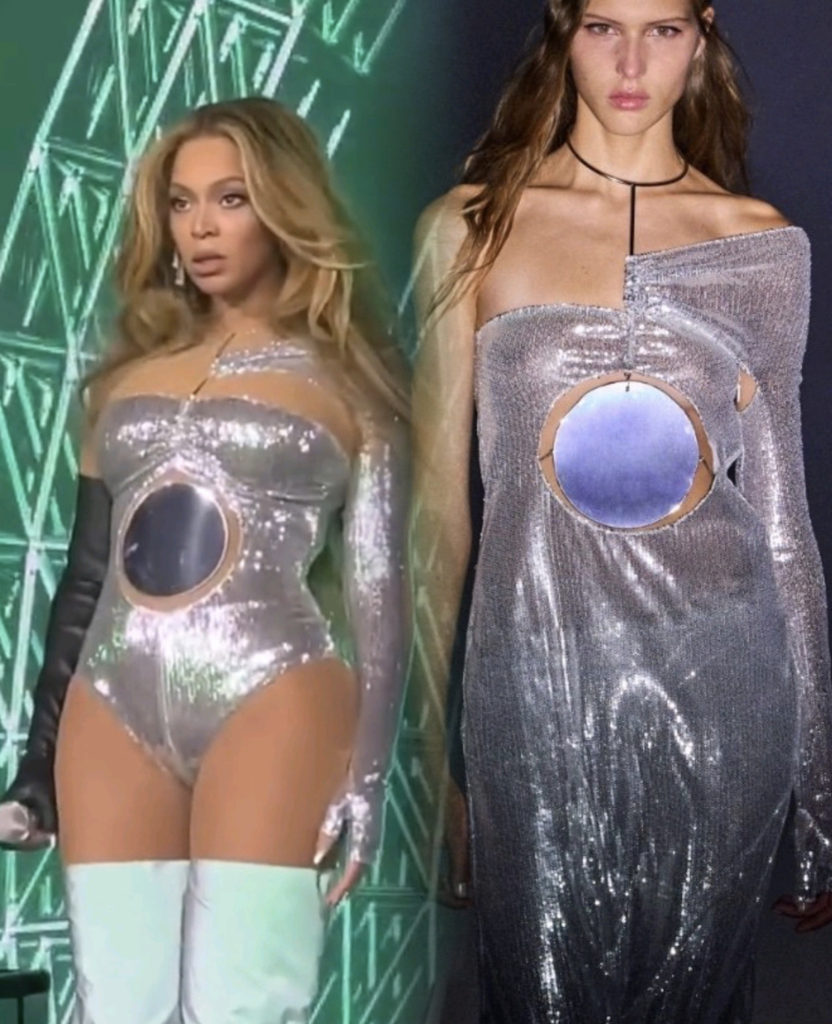 Courrèges (custom look) accessorized with Tiffany Jewels as well as Gedebe boots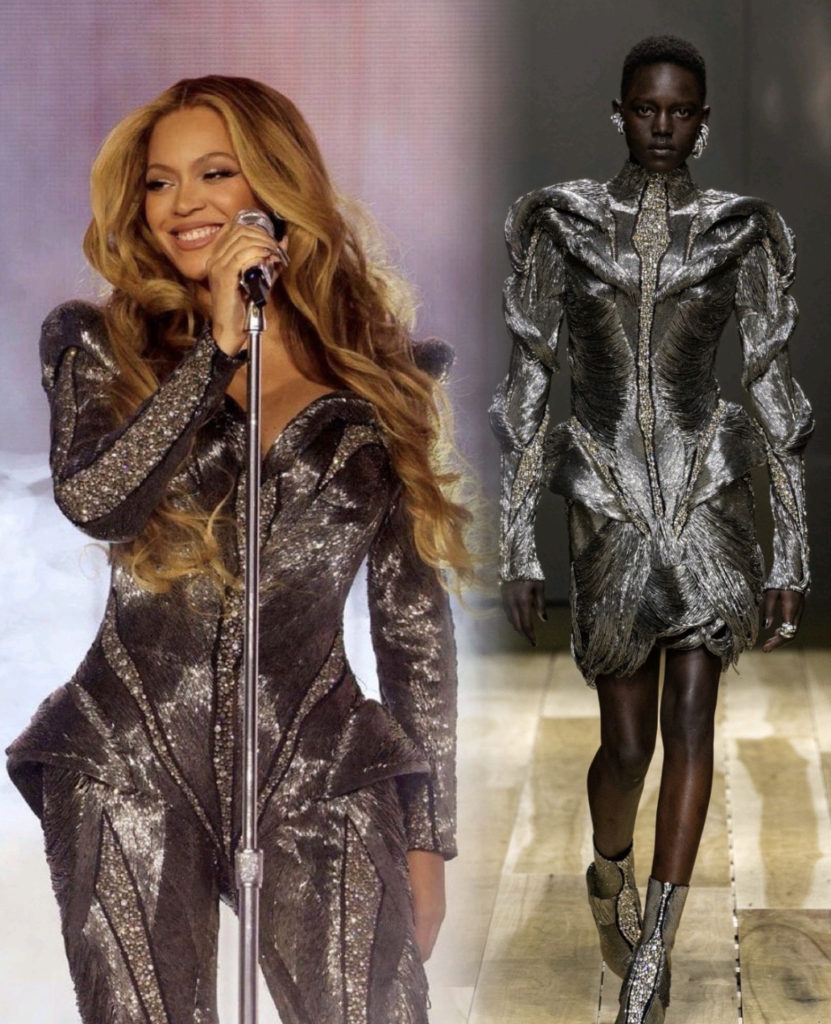 Custom ALEXANDER MCQUEEN stylishly paired with Tiffany Jewelry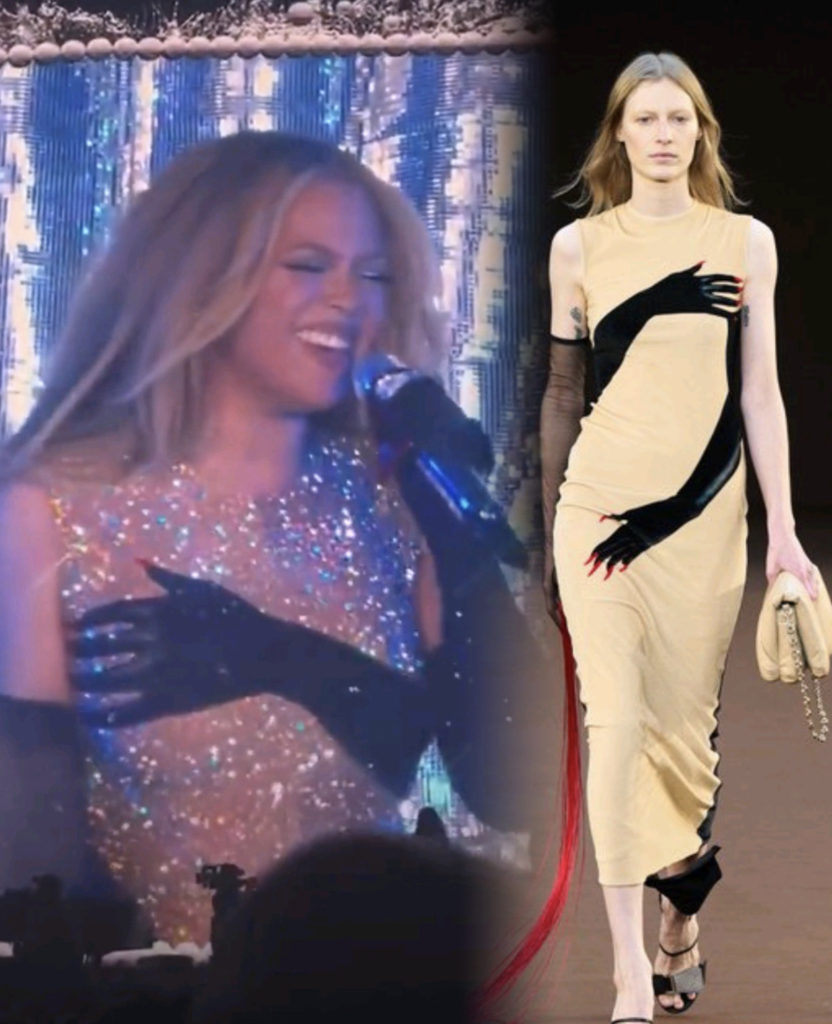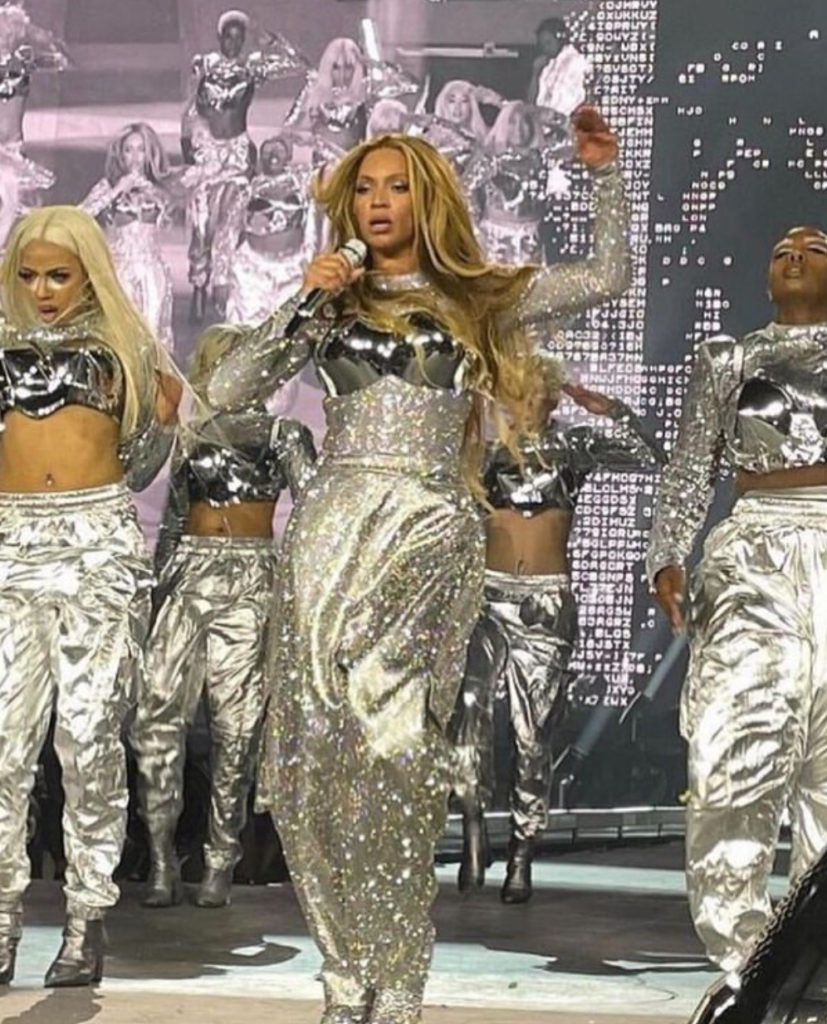 Beyoncé is wearing multiple customized designer looks by LOEWE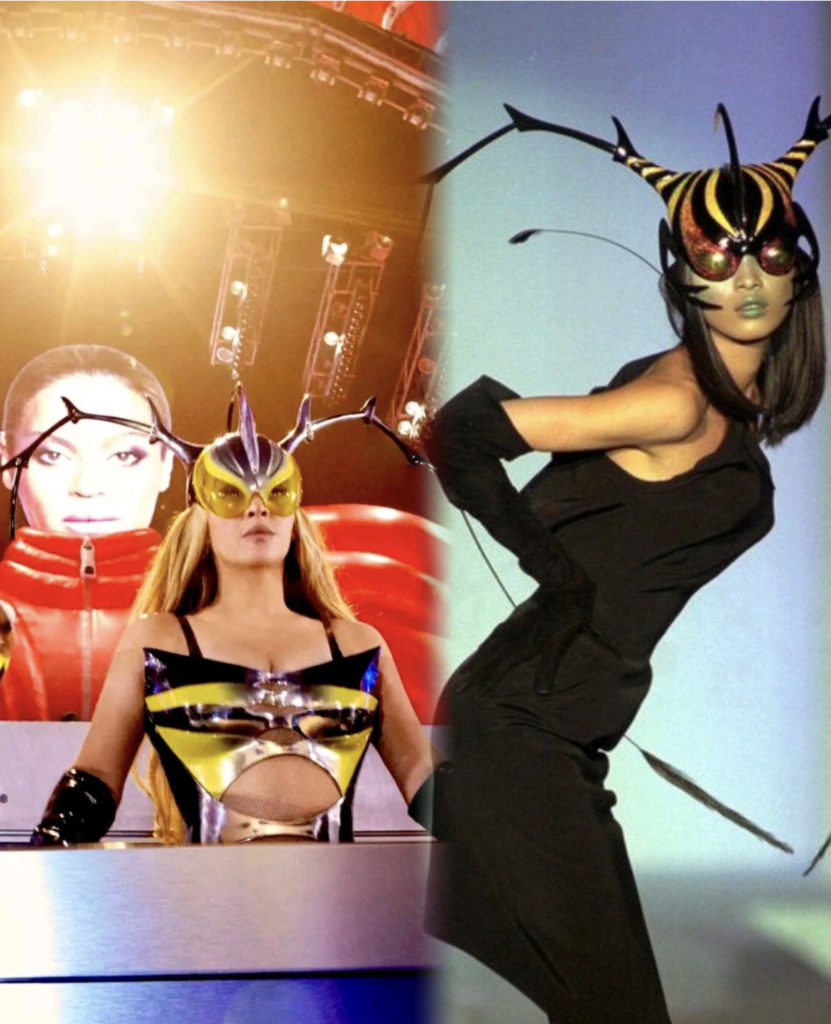 Bey's BEYHIVE QUEEN look takes its cues from vintage MUGLER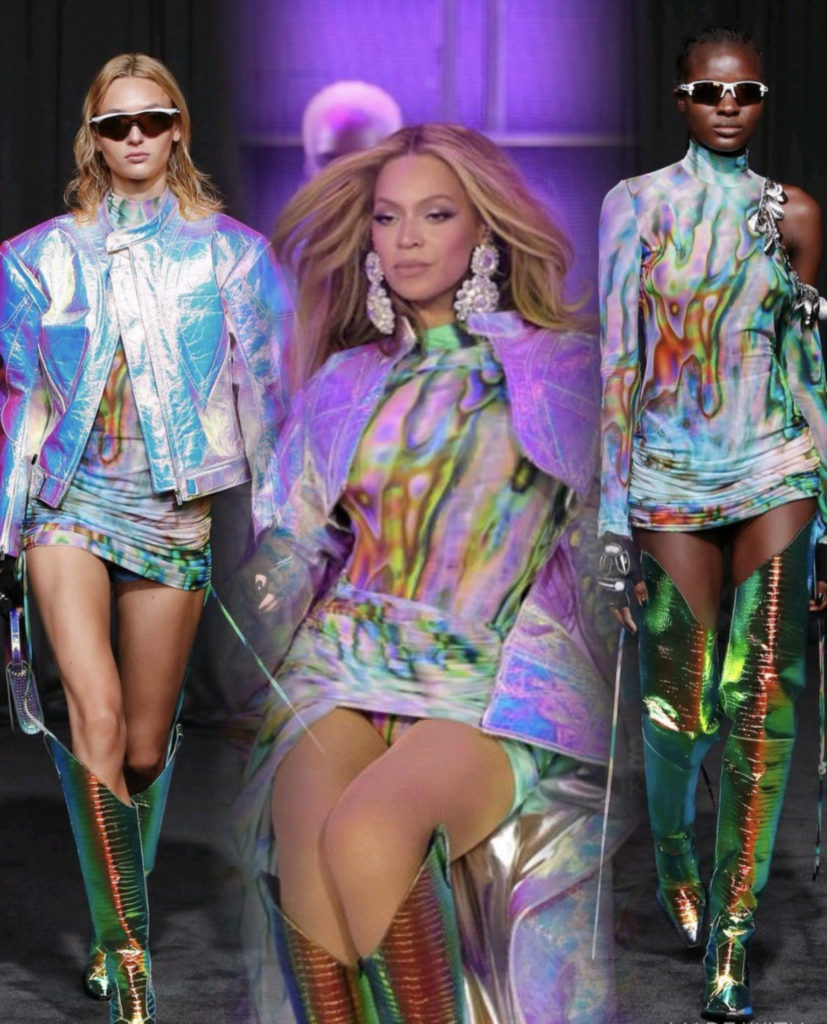 Colorful and vibrant custom design by DAVID KOMA
Renaissance World Tour Set List- Every Song Beyoncé Sings!
Fans are freaking out over the set list for the Renaissance World Tour and it's for good reason. The Queen is literally performing her WHOLE album! Therefore, any song that you can't seem to get out of your head; you will be able to see LIVE.
Below you will find a list of every song, every single as well as interlude. Consider this our little parting gift. We hope you enjoyed this feature highlighting Beyoncé's latest tour; and if you get to catch a show of our Alien Superstar we know you will not be disappointed!
Beyoncé Renaissance Tour Set List
1. Dangerously in Love 2
2. Flaws and All
3. 1 + 1
4. I Care
5. I'm That Girl
6. Cozy
7. Alien Superstar (with elements of Sweet Dreams)
8. Lift Off
9. CUFF IT
10. ENERGY (with elements of CUFF IT REMIX)
11. Break My Soul (with elements of Vogue by Madonna)
12. Formation
13. Diva
14. Run the World (Girls)- (mixed with Break My Soul and Black Parade)
15. Savage Remix (mixed with Partition and Yoncé)
16. Church Girl
17. Get Me Bodied/ Before I Let Go
18. Rather Die Young
19. Love on Top (combined with I Want You Back by The Jacksons)
20. Crazy I'm Love
21. PLASTIC OFF THE SOFA (combined with elements of Virgo's Groove
22. Virgo's groove/ Naughty Girl
23. Move
24. Heated
25. THIQUE (with elements of TOXIC by Britney Spears)
26. All Up in Your Mind
27. Drunk in Love
28. America Has a Problem
29. Pure/Honey
30. Summer Renaissance (Encore
**Want Even More Beauty, Lifestyle, Hair, Fashion as well as Celebrity Style Sighting News, Insights as well as Trends? Well Honey do we have something special for you! Slide on over to our TikTok or Inspo filled Pinterest! Click HERE**
Thoughts on Beyoncé Renaissance World Tour- Her Outfits, Sets and Runway Inspiration!!? Well let's connect then! We're always around and love to hear from you. Therefore, join the discussion and talk all things 1966 Magazine; fashion as well as celebrity style sighting related with us by dropping a comment like its hot down low. Or also hit us up on our TikTok, Instagram (1966mag); Tumblr, Pinterest or tweet us @1966magazine.