Cannabis
Big Buddha Seeds' Milo Dies- Alchimia Grow Shop
The news of the death of Milo Yung, founder of the Big Buddha Seeds seed bank, shakes the international cannabis community today. This young British entrepreneur, who went from selling buds to creating one of the most reputable companies in the sector, left his mark in all those who were lucky enough to know him.
Today we want to pay tribute with these lines, to him and his passion, which led him to be known throughout the sector as the person who gave growers the famous Cheese original clone in seed form, to the delight of all lovers of this type of genetics that seem timeless, both for its quality and for the legend that carries its name.
The first cannabis crops
Milo started cultivating cannabis at the age of 15, when a tiny seed he planted in a sunny corner of his garden grew a monster over 2 meters tall. A few years later, at 18, Milo took a cutting from a friend and began his journey into indoor growing; From that moment on, getting to grow and sell the best possible weed became his goal, a passion that soon led him to collaborate as an editor in a famous cannabis publication.
After a while, Milo got one of the most sought-after (and least shared) clones of the time, the famous Cheese, which according to legend would come from a selection of Skunk #1 from Sensi Seeds. After filling its interior with clones of him, Milo falls in love with the plant and sets out to make it available to any grower who also wants to grow it. The Big Buddha Cheese is starting to take shape, although for now, it's just an idea in Milo's head.
The development of Big Buddha Cheese
Getting a version faithful to a clone, and also in a regular format, can be downright difficult. Normally, a backcross is done, that is, a pollen donor plant (male) is chosen to pollinate the mother, in this case Cheese. The offspring of this first cross are planted and a male is chosen that presents similar characteristics to those of the mother that one wants to replicate, and this male is used to pollinate the original mother of the cross, again Cheese.
Well, Milo carried out this backcrossing process for 5 generations, getting a really faithful version of the clone but in seed form; the plant he used as a male in the first cross was an Afghan genetic. From there, he selected and used males from successive generations to pollinate Cheese and thus have offspring as similar as possible to the original mother. His efforts paid off, and in 2006 Big Buddha Cheese was awarded Best Indica at the prestigious High Times Cannabis Cup.
Moving to southern Spain
At one point, things start to get a bit difficult for Milo in England, with several of his close friends being detained by the authorities. At a certain point, Milo decides to move and continue his activity in a country that is somewhat friendlier to cannabis, and also where he himself is not too well known. To continue with his activity, he chooses Spain, more specifically the southern area.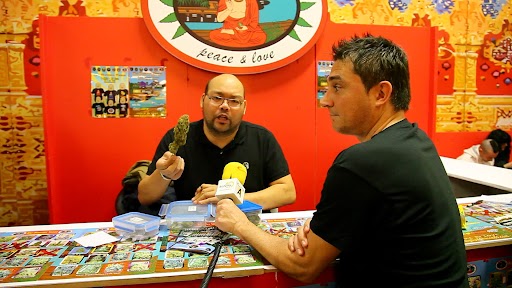 Over time, Milo continued to work with Cheese genetics until he presented one of Big Buddha Seeds' greatest successes, Blue Cheese, a powerful cross between Cheese and Blueberry that stands out for its incredible aroma and flavor, production, and quality of resin. Another success for Milo! From then on, the bank's catalog grew to contain a remarkable number of excellent hybrids, many of them developed from his favorite plant.
From here, we can only thank Milo for the good times we had together and, of course, for giving us the chance to enjoy his incredible genetics.
Your passion for the plant will always be an example, rest in peace!
The articles published by Alchimiaweb, S.L. are reserved for adult clients only. We would like to remind our customers that cannabis seeds are not listed in the European Community catalogue. They are products intended for genetic conservation and collecting, in no case for cultivation. In some countries it is strictly forbidden to germinate cannabis seeds, other than those authorised by the European Union. We recommend our customers not to infringe the law in any way, we are not responsible for their use.