Politics
Black America Is Vaccinated At 10% Higher Rate Than Whites And 5% Greater Than Latinos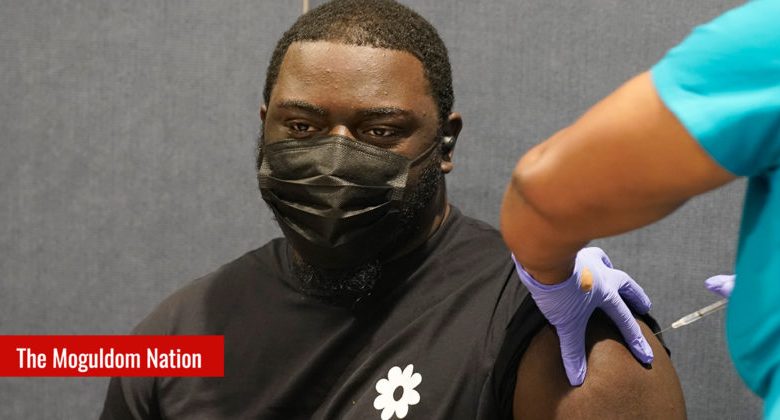 Despite efforts by GOP politicians to blame the recent spike in covid cases across the country on Black America, Black America is actually getting vaccinated at a higher rate than other demographics.
Early on, vaccinations were lagging among Black people, but according to a new report, they are now getting vaccinated at a rate 10 times higher than whites and 5 percent higher than Latinos.
Texas Lt. Gov. Dan Patrick claimed during a recent interview that Black people are the most unvaccinated Americans.
This isn't so, according to a recent NBC News poll that found 76 percent of Black respondents said they were vaccinated, 66 percent of whites said they were vaccinated, and 71 percent of Latinos said they were vaccinated. 
Of the unvaccinated Americans, 57 percent are white, while 20 percent are Hispanic and 13 percent are Black, according to the Kaiser Family Foundation.
Still, some are trying to blame Black America for the recent increase in covid cases. Black people have been disproportionately affected by the pandemic due to a variety of reasons — such as being more apt to work in essential-worker jobs, having underlying health conditions, and having a lack of adequate health care.
"The covid is spreading, particularly, most of the numbers are with the unvaccinated, and the Democrats like to blame Republicans on that. Well, the biggest group in most states are African Americans who have not been vaccinated. The last time I checked, over 90% of them vote for Democrats," Patrick, a Republican, told Fox News host Laura Ingraham on Aug. 19.
Black Republican gubernatorial candidate Allen West, former head of Texas GOP, called the remark "unconscionable, utterly disturbing, and highly insulting," although he admitted that he had not been vaccinated. 
Patrick revised his statement a day later by posting on Facebook that he was referring to vaccination rates, not the overall number of unvaccinated Black people. 
"Not surprisingly, Democrat social media trolls were up late misstating the facts and fanning the flames of their lies," Patrick's statement read. "Federal and State data clearly indicate that Black vaccination rates are significantly lower than White or Hispanic rates." 
Lisa Andrzejczyk @Ligaleagle tweeted, "Well, looks@like it is not Black people@that are the problem, @DanPatrick".
Ladybug 53.5 @ladybugdink tweeted, "So rural white Evangelical males are the problem?"
In Texas, 44 percent (about 10.7 million people) of those eligible for the vaccine are unvaccinated. White people make up the largest portion of this total with about 6.2 million (roughly 53 percent) white people are unvaccinated, or of the eligible unvaccinated Texans, according to vaccination data from the Texas Department of State Health Services.  
Hispanics make up the second-largest group with 4.7 million people, 44% of eligible unvaccinated Texans, followed by Black Texans with 1.8 million people, about 17 percent, Politifact reported.
These numbers hold true for the nation at large. 
As of Aug. 13, 72 percent of the adult population in the U.S. have received at least one dose of a covid-19 vaccine. But while white adults account for the largest share (57 percent) of unvaccinated adults, Black and Hispanic people remain less likely than their white counterparts to have received a vaccine, according to the CDC.
Listen to GHOGH with Jamarlin Martin | Episode 74: Jamarlin Martin Jamarlin returns for a new season of the GHOGH podcast to discuss Bitcoin, bubbles, and Biden. He talks about the risk factors for Bitcoin as an investment asset including origin risk, speculative market structure, regulatory, and environment. Are broader financial markets in a massive speculative bubble?