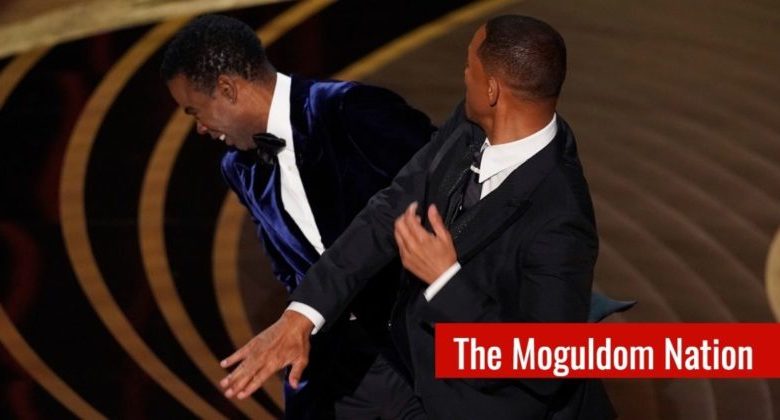 Last night Will Smith won the Academy Award for Best Actor after over 30 years in the industry – but that's not why the beloved actor was trending. Instead of being revered for finally getting an award that many feel is long overdue, the "King Richard" actor is trending because he slapped Oscar host, comedian and fellow Hollywood powerhouse Chris Rock.
Dubbed by Hot 105 radio hosts Big Lip and Shelby Rushin as "the slap that was heard around the world," the now-infamous incident took place during the show – which aired on Sunday, March 27 – after Rock made a joke about Smith's wife, actress Jade Pinkett Smith.
"Jada, I love you! 'G.I. Jane 2', can't wait to see it, alright! That was a nice one," Rock said in jest, referring to Pinkett Smith's shaved head as Demi Moore played the main character in the 1997 movie with a shaved head. Will Smith promptly walked on stage, slapped Rock and returned to his seat.
A seemingly stunned Chris Rock then said, "Oh wow! Wow! Will Smith just smacked the sh*t out of me." Smith then yelled, "Keep my wife's name out your f**king mouth!" Rock replied, "Wow dude, it was a G.I. Jane joke."
Smith reiterated his words and Rock said, "I'm going to." During a commercial break, Hollywood icons Denzel Washington and multi-hyphenate entertainment executive Tyler Perry were seen talking to Smith before he returned to his seat and wiped his eyes with a piece of tissue.
Pinkett Smith has been open about her journey with an alopecia diagnosis – which is the reason for her hair loss. She didn't seem amused by Rock's joke at all, but Smith initially laughed before taking to the stage and slapping Rock.
Listen to GHOGH with Jamarlin Martin | Episode 74: Jamarlin Martin
Jamarlin returns for a new season of the GHOGH podcast to discuss Bitcoin, bubbles, and Biden. He talks about the risk factors for Bitcoin as an investment asset including origin risk, speculative market structure, regulatory, and environment. Are broader financial markets in a massive speculative bubble?
Smith went on to win the best actor oscar and tearfully apologized for his behavior during his acceptance speech, but not directly to Rock.
"I want to apologize to the academy; I want to apologize to all my fellow nominees. This is a beautiful moment," Smith said. "I'm not crying for winning an award. It's not about winning an award for me, it's about being able to shine light on all of the people … Art imitates life, I look like the crazy father, just like they said about Richard Williams, but love will make you do crazy things."
Will also said Washington told him, "At your highest moment be careful, that's when the devil comes for you."
Some people defended Smith, while others expressed how disappointed they were in him. Others assumed the slap was staged. Smith's family stood firm in their support of him, posting photos and videos of his win. His youngest son, Jaden Smith, even tweeted, "And That's How We Do It" after the Oscars.
The academy said it has launched a formal review of the incident, according to USA Today.
In the meantime, Black America certainly had plenty to say about the matter on social media. Here are some of their reactions:
PHOTO: Will Smith, right, hits presenter Chris Rock on stage while presenting the award for best documentary feature at the Oscars on Sunday, March 27, 2022, at the Dolby Theatre in Los Angeles. (AP Photo/Chris Pizzello)