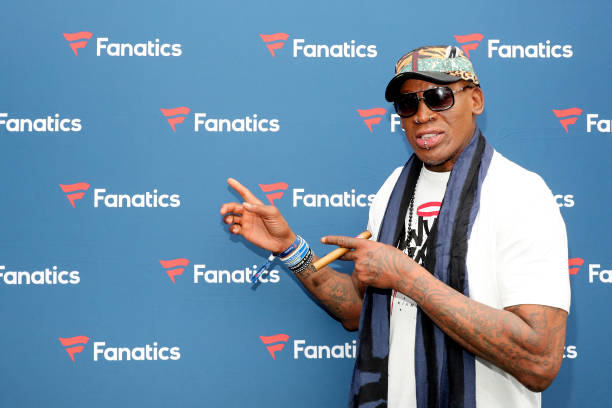 Though Dennis Rodman is now well-known for his stellar basketball career, his high school coach didn't consider him to have any athletic promise. It wasn't until college when he'd had a significant growth spurt that he attempted playing basketball again. At that point, he was 6'7 and fared much better. When Rodman attended Southeastern Oklahoma State University, he was named a three-time NAIA All-American. 
After college, he started his professional career with the Detroit Pistons in 1986. Rodman then went on to play for multiple NBA teams including the Chicago Bulls, Los Angeles Lakers, and Dallas Mavericks.
While he eventually went on to play for international teams, he retired from basketball in 2000. During that time, he achieved recognition with the NBA All-Defensive First Team honors seven times and won the NBA Defensive Player of the Year Award twice. 
Given his athleticism, many people were surprised to find out that Rodman had been diagnosed with asthma years before starting his professional career.
In fact, he had a persistent form of the condition that was made worse by his chronic allergies. He eventually learned to control his asthma and manage the triggers. 
RELATED: Day 1: Just Been Diagnosed with Asthma
What Is Asthma?
Asthma is a chronic condition that affects the respiratory system. While people with the condition can have problems breathing properly at any time, these issues are usually worse during an attack.
When you have an asthma attack, you can experience narrowed, inflamed airways and an increase in the amount of mucus that's found in the lungs. The end result is that you'll have symptoms like wheezing, tightness in the chest, shortness of breath, and coughing. 
The symptoms may vary in severity from one person to the other. However, it's typical that asthma needs to be treated for the symptoms to ease.
Though anyone can develop asthma at any age, there are a few risk factors that can increase the likelihood. You're more prone to have asthma if there are other people in your family with the condition, if you smoke, if you're regularly exposed to cigarette smoke, and if you