Politics
Black Woman, Rickia Young, To Get $2M Check From Philly After Police Beat Her In Front Of Her Child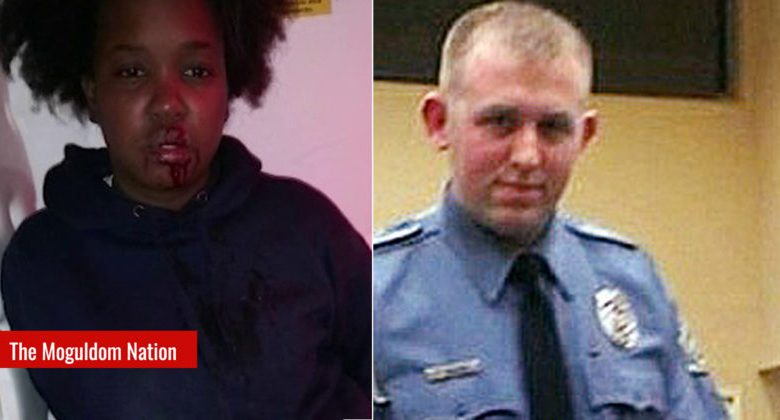 The City of Philadelphia will cut a $2 million dollar check to a Black woman who was pulled from her car, beaten and separated from her two-year-old son, despite not having committed any crime.
Rickia Young, 29, was the victim of police brutality on Oct. 27, 2020, along with her friend's teenage son, whom she refers to as her nephew. The duo was beaten in front of Young's two-year-old son after officers swarmed the SUV she was driving, busted open the windows and dragged them out of the car. They were then arrested and taken into custody, leaving the toddler without his mother.
To make matters worse, two days after the incident, the National Fraternal Order of Police posted a photo of a female Philly police officer holding Young's son on Facebook falsely identifying him as a child lost in the riots and claiming the officer was committed to protecting him.
They later removed the post due to "conflicting accounts" of what happened after a video of the police attacking Young was posted to social media and went viral.
In a statement, Police Commissioner Danielle Outlaw expressed her disdain at the officers' actions against, saying they "violated the mission" of the Philadelphia Police Department.
"The ability for officers and supervisors on the scene to diffuse the situation was abandoned, and instead of fighting crime and the fear of crime, some of the officers on the scene created an environment that terrorized Rickia Young, her family, and other members of the public," Outlaw said.
According to the department, two officers have been fired and 14 more are pending disciplinary action.
Listen to GHOGH with Jamarlin Martin | Episode 74: Jamarlin Martin
Jamarlin returns for a new season of the GHOGH podcast to discuss Bitcoin, bubbles, and Biden. He talks about the risk factors for Bitcoin as an investment asset including origin risk, speculative market structure, regulatory, and environment. Are broader financial markets in a massive speculative bubble?
A North Philadelphia home-health aide, Rickia Young was driving home with the two boys when the trio unwittingly drove into a protest that was sparked by the police killing of 27-year-old Walter Wallace Jr., a Black man whose family said was having a mental health crisis.
Still visibly shaken and emotional about the incident, Young explained what happened in an interview with The Philadelphia Inquirer. She said she tried to make a u-turn to get out of the chaos, but police swarmed the car, began busting the windows and cursing at them.
"I took the wrong turn. I wish I would have just went a whole 'nother way," a tearful Young said. "How do you pick up after something like this? I'm so grateful that that video came out because if I would've set there and tried to tell the story, no one wouldn't believe me."
She added her son hasn't been the same since and has been biting his nails, jumping out of hs sleep and acting out since the incident. "My son, the look on his face, he was petrified. … It was just horrible, one of the worst experiences of my life," Young said, adding "he never did that before."
Rickia Young and her attorneys are suing the FOP for their widely shared false post including her son and the officer. "For them to portray me as this type of mom who wouldn't know or care where her child was while chaos was happening all around was very hurtful," Young said.
They also want the district attorney to charge the officers involved with aggravated assault, reckless endangerment and more.
Philadelphia Mayor Jim Kenney echoed Outlaw's sentiments. He said the way police treated Young was "unconscionable," "absolutely appalling" and "inexcusable," NBC News reported.
"The officers' inexcusable actions that evening prompted an immediate and thorough investigation of the incident and for personnel to be disciplined and held accountable for their egregious conduct," Kenny said in a statement. "I hope that the settlement and investigations into the officers' actions bring some measure of closure to Ms. Young and her family."
While Young is likely thankful for the settlement, it does not erase the trauma she, her son and her nephew experienced at the hands of those who were supposed to serve and protect her.
"I will never forget what those officers did to us that night," Young said.