Black Business
Byron Allen Says White Corporate America Has a 'Trade Deficit' with Black America That Must be Fixed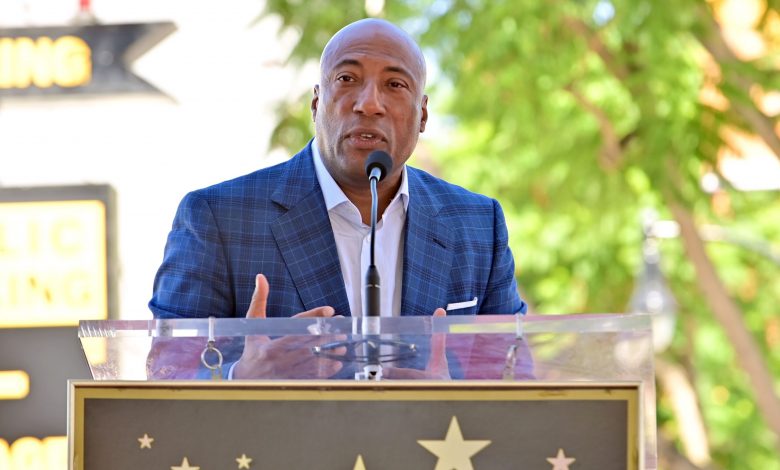 Byron Allen, founder, chairman and CEO of Allen Media Group and Entertainment Studios, says it's time for white corporate America to share the wealth.
"America should not be proud of the fact in 2022, you are looking at the one and only Black person in America that owns Big Four network affiliates," Allen said in a recent interview with TVNewsCheck.
Allen, who launched his entertainment career as a comedian and TV host in the 1990s before entering the business side, has been relentless in his efforts to get corporate America to spend 15 percent of its advertising budgets on Black-owned media, and redress generations of inequity including an absence of minority-owned media. 
He is currently embroiled in a $10 billion lawsuit with fast food giant McDonald's, with Allen alleging that the brand isn't spending a fair share of advertising in his networks. Last year, Allen and other Black media owners joined forces to pressure automaker General Motors for a lack of ad buys in Black media. 
He owns 12 TV networks that are carried by major multichannel video programming distributors. His Weather Group owns The Weather Channel. He is also the owner of TheGrio. He has also expressed interest in buying the NFL franchise the Denver Broncos.
With major expansion plans for his media empire, Allen is launching the Weather Channel Plus, which will feature more than 50 streaming channels of news and entertainment and will cost subscribers $4.99 a month. Also coming is the Weather Channel En Español, which will be a digital-only channel.
Allen's company also has a new digital division of the company, which includes the company's streaming efforts. The company also started streaming platforms Sports.tv , Pets.tv, Recipe.tv, Cars.tv and Comedy.tv.
Read full story at Finurah here.
---
More news from our partners:
'We Expect Our Children Not Be Called N—-r or Monkeys': Minnesota High School Facing Numerous Racism Allegation, Black Community Demands Accountability
One Black Family Claims California Took Their Land for a State Park 75 Years Ago. Now They Want it Back.
"I Don't Believe This Franchise Will Win Another Championship With LeBron" | Jalen Rose Thinks Bron's Title Window With The Lakers Is Shut, Shaq Disagrees. Who's Right?
---