Fashion
Cinema Secrets Tropical Lemon Makeup Brush Cleaner -A Clear Formula!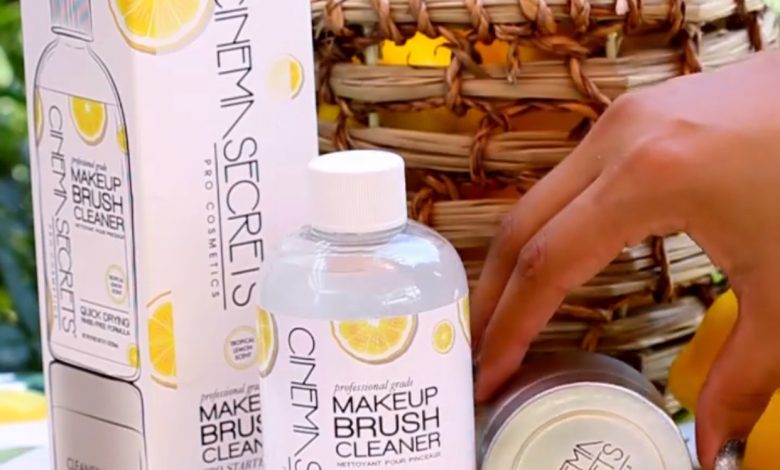 Makeup brush cleaners are cool, also but raise your hand if you ever had one ruin or turn your brushes a different color? Right?! It's annoying! However, the new Cinema Secrets Tropical Lemon Makeup Brush Cleaner is a professional grade makeup tool cleaner that comes in clear. So no more staining your cute brushes. Let the whole beauty congregation say AMEN!
Furthermore, there are just so many features to about this helpful beauty product to love. From it being a faster drying option to also only being a simple three step process! Yes, you read that right, to get your brushes cleaned up it is as simple as pour, dip and wipe. Nevertheless, more on this a little later; for now let's talk formula and what this product can REALLY do for you.
Main aspects of this product to keep in mind, is that it is:
Fast Drying

Rinse-Free Formula

Brushes Ready to Use in 60 Seconds

Lemon Scent

Clear Formulation

Family Owned and Operated

Cruelty Free Cosmetics 
Cinema Secrets Tropical Lemon Makeup Brush Cleaner -A Clear Formula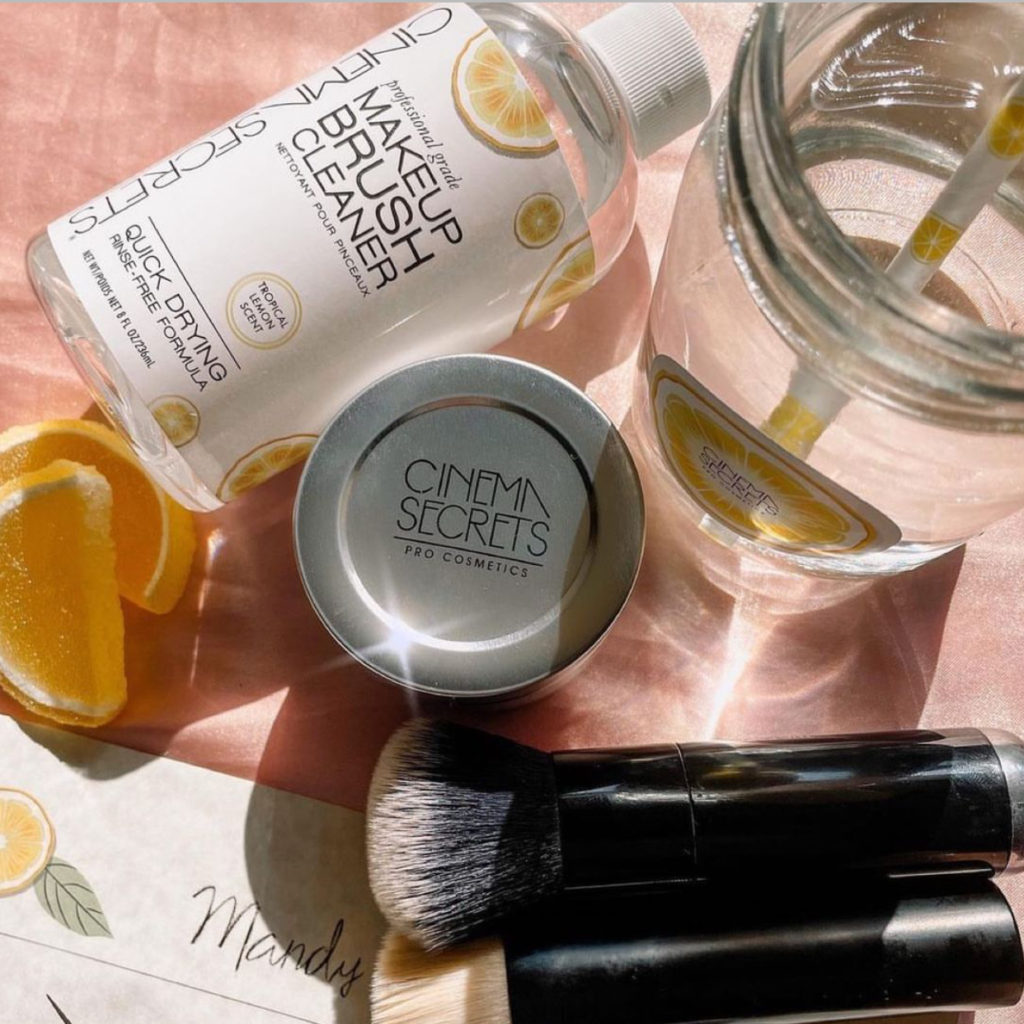 Are you ready to make your clean up life way easier? Well, Honey… Now you can! We went to Cinema Secrets in order to learn more about their clear makeup brush cleaner. Therefore, regarding their amazing makeup product the beauty brand reveals,
"Meet your NEW Main Squeeze. Our NEW Tropical Lemon Brush Cleaner is here! This must have offers the same ingredient Quick Rinse Free Clean as our OG Brush Cleaner in a CLEAT Tropical Lemon Scent!

Will you be adding it to your routine? You asked! We delivered! Fresh Take on a Favorite Classic. Start cleaning your tools like a PRO with Cinema Secrets Makeup Brush Cleaner and Cleansing Tin. 

Stubborn waterproof and long wear makeup melts away and brushes dry almost instantly. No water or rinsing required, leaving a pleasant lemon scent. The aluminum tin is perfect for the "Dipping Method;" for deep cleaning and the twist top lid fits tight to avoid spills on the job.

As soon as brushes are dry to the touch they are ready to use. For the "Dipping Method" [just] Pour, Dip It, Wipe It. Three easy steps is all it takes to bring brushes back to life instantly."
Cinema Secrets Makeup Brush Cleaner and Cleansing Tin -REVIEWS and What People Have to Say
Sounds like an awesome makeup product to have right? However, the best gauge on how a product really works; is to get opinions from real people who actually BUY and also USE such products. Well, that's exactly what we did!
We scoured this earth's online web and found reviews and also thoughts from people specifically discussing Cinema Secrets makeup brush cleaner. Hopefully, their real world reviews and insights will help you get a better idea and also overall picture of this beauty item. Here's what people are saying online and throughout social media:
Best makeup brush cleaner ever!
Yay for a clear one!
Great cause the original smells like Raid!
Who would have thought the thing I'm most excited about is a freakin' brush cleaner. Love this stuff.
This one is my new favorite!!! Sooooooo good love the lemon scent.
Yes! I'm so glad they came out with a clear one! My white bristle brushes always turn blue with the one lol… Also, it'll be such a nice change from the vanilla scent the blue one has!
This stuff is magic fr! But you kinda gotta use a lot… Or maybe I'm doing something wrong… Could very well be the case.
Best in the market!
I need a new one too my blue one is running low.
NEED!
Fave brush cleaner ever!!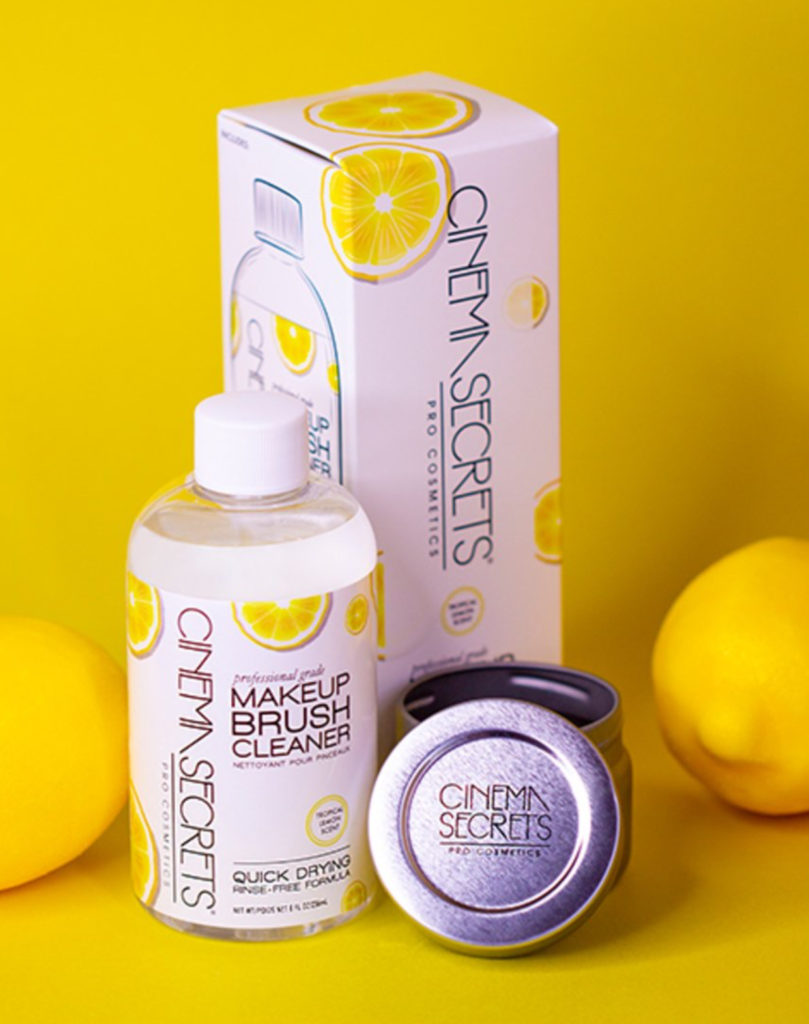 This stuff works wonders but the blue stained some of my white bristled brushes before, so I can see why the clear could be appealing!
Perfect timing!! I needed a new one. Just ordered mine.
This looks like it smells marvelous.
This shall be mine.
Oooh! Can't wait to pick it up!
And it's not blue?! I love it!!
My favorite ever!!
Yay!! I hated the smell of the original but it does work great!
Best cleaner for makeup brushes and sponges.
I need this! Love this cleaner but hate vanilla scented things.
Definitely interested.
Yay! Love this cleaner but couldn't stand the vanilla scent. So excited for this!
Ohhh, I need these brush cleaner, I JUST LOVE LEMON, IT SMELLS SO CLEAN.
I finally found the perfect way to clean my makeup brushes! Cinema Secrets Tropical Lemon Makeup Brush Cleaner is a convenient; rinse free, fast drying formula that makes cleaning your makeup brushes pain free! [Moroever] In 3 easy steps, you brushes will be clean and ready to use in 60 seconds! You simply pour, dip and wipe.
Cinema Secrets Brush Cleaner: Here's Directions on How to Use Cinema Secrets Tropical Lemon Makeup Brush Cleaner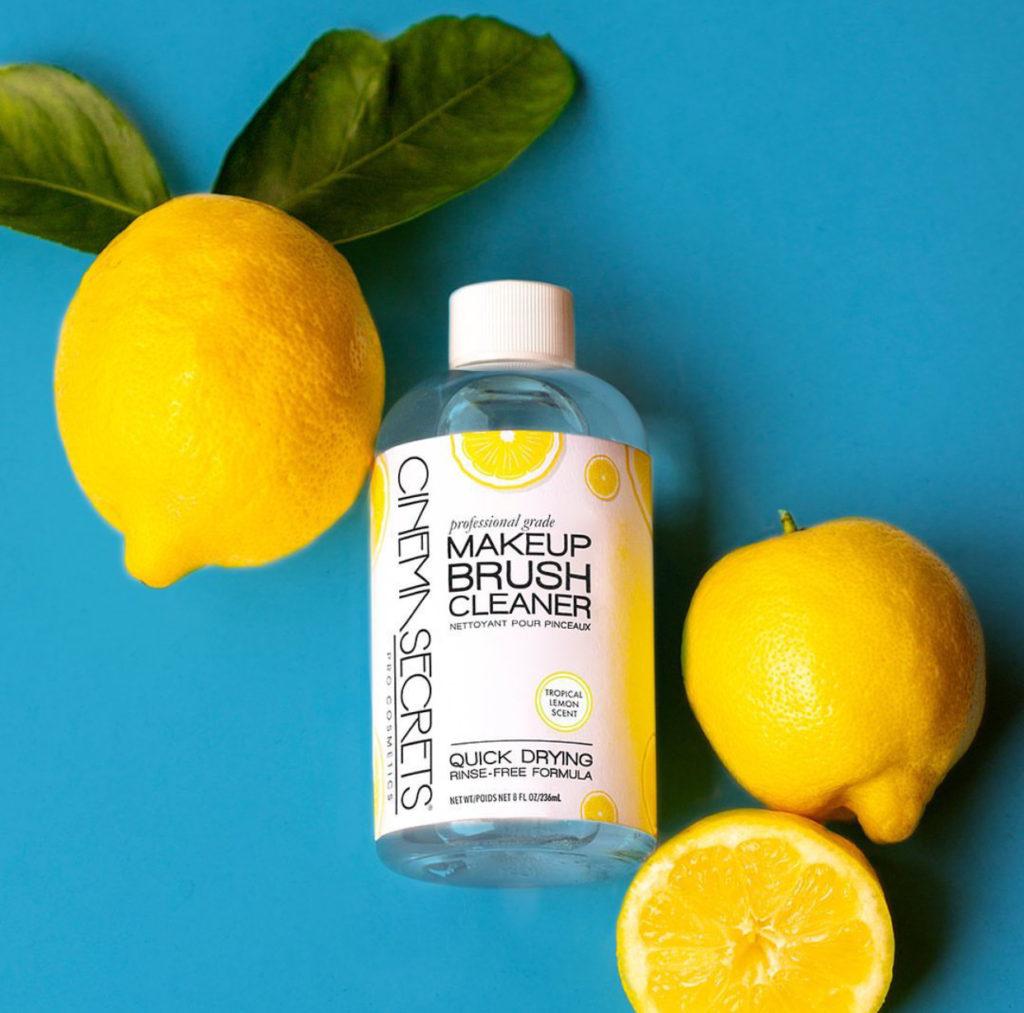 As one can see, for the most part people LOVE Cinema Secrets brush cleaner! Nevertheless, we saw from some comments that a few consumers were not sure if they are using this product right. Therefore, we decided to get you guys some helpful directions. This is how Cinema Secrets says to use their cleaner:
"Pour CS Makeup Brush Cleaner into our Cleansing Tin and fill the tin up enough to dip 1/4 of the way the brush bristles. Dip the tip of the brush into the liquid and remove immediately to avoid over saturation. The bristles will draw liquid up into the brush and dissolve away makeup.
For large, fluffy, or dense brushes; only dip 10% of the brush tip and hold vertically for 5 seconds so liquid moves down into the base. Wipe the brush clean on an absorbent paper towel or cloth; and repeat as necessary. Reshape the brush and allow to air dry completely before use.
Do not dip brush more than halfway, over saturate or soak.
Cinema secrets is not responsible for damage, use caution.
Not for use on skin."
Brush cleaning used to be a weekend chore that took forever, and also most absolutely dread. [So we] are beyond excited about this launch! [Moreover] it is the perfect addition to your cleaning routine. Will you be adding it to your cart this week?
There you have it! The above directions are from Cinema Secrets directly; so you can be confident if you follow these steps you will get clean brushes and also the intended results.
Cinema Secrets Makeup Brush Cleaner – Final Things to Know
Whew! We know that we are sharing a lot of information with you guys today. However, it is because we just want you to be well-informed. Nevertheless, there are a few more things we must discuss before we can let you go.
Things such as when this product will be available; also where you can get it. First of all, you will be happy to know that this product is available for purchase right now! Moreover, it is easy to get your hands on it.
This is because Cinema Secrets Tropical Lemon Makeup Brush Cleaner is currently selling a multiple online retailers. Which ones? Hit up Sephora, Amazon, and also Tilt Makeup if you reside in the UK.
Cinema Secrets Tropical Lemon Scented Makeup Brush Cleaner -Final Things to Know (Continued)
Furthermore, Cinema Secrets does in fact have their own website. You can simply go to www.CinemaSecrets.com or you can shop via their Instagram social media page. A nice option if you are already scrolling the TL anyway.
How about price? There is just two numbers you will need to remember. If you would just like to buy the cleaner itself the cost is $24. Moreover, if you would like the Professional Makeup Brush Cleaner Pro Starter kit with also the Aluminum Tin; the price is $26. To us, the kit is the better the buy.
Lastly, is money a little tight this month? No worries, Cinema Secrets still has you covered. This cosmetics brand offers AfterPay! So you can pay for your beauty goods, including their fan favorite makeup cleaner in just for easy payments. SCORE!
**Want Even More Fashion, Beauty, Lifestyle, Health as well as Celebrity Style Sighting News, Insights as well as Trends? Download Our New Shiny App! Click HERE**
Thoughts on Cinema Secrets Tropical Lemon Makeup Brush Cleaner -A Clear Formula?Well let's connect then! Join the discussion and talk all things fashion as well as celebrity style sighting related with us by dropping a comment like its hot down low. Or also hit us up on our Facebook, Instagram (1966mag), Tumblr, Pinterest or tweet us @1966magazine.