Politics
Crypto Bosses In Multibillion-Dollar Public Dispute Over Missing Customer Funds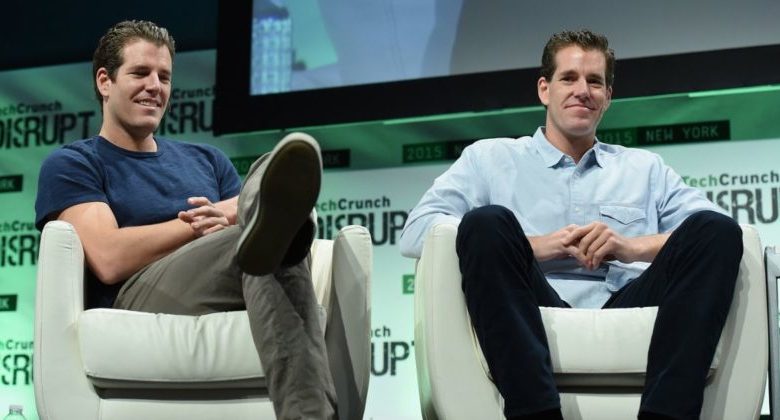 The contagion spreading from the collapsed FTX crypto exchange has reached crypto exchange Gemini, which was founded by twins Cameron and Tyler Winklevoss in 2014.
Gemini lent $900 million of client funds to a crypto investment firm and now it wants its money back by Sunday to resolve the liquidity crisis facing its 340,000 customers who have money stuck in its lending product, Gemini Earn.
Gemini offered users yields as high as 8 percent through its lending product Gemini Earn. To generate those returns, Gemini lent users' funds to Genesis Global Capital, the lending arm of crypto investment firm Genesis Global Trading, a subsidiary of Digital Currency Group (DCG). Genesis in turn loaned funds out to institutional borrowers.
DCG also owns news publication Coindesk, and Grayscale. A troubled digital asset manager, Grayscale's Bitcoin Trust is trading at a 45-percent discount to the price of its underlying asset despite Bitcoin trading at multiyear lows, Ryan Browne wrote for CNBC.
Gemini wants its $900 million of client funds back that it lent Genesis to generate yields for its interest-bearing Gemini Earn accounts, CNBC reported.
After FTX filed for bankruptcy, Gemini paused redemptions for Gemini Earn as Genesis Global Capital also suspended new loan originations and stopped issuing redemptions to clients.
In an open letter, Winklevoss accused Digital Currency Group CEO Barry Silbert of diverting $1.6 billion of Genesis money that should have been used to pay Gemini Earn customers to other parts of DCG's crypto empire, and engaging in "bad faith stalling tactics."


Black Americans Have the Highest Mortality Rates But Lowest Levels of Life Insurance
Are you prioritizing your cable entertainment bill over protecting and investing in your family?
Smart Policies are as low as $30 a month, No Medical Exam Required
Click Here to Get Smart on Protecting Your Family and Loves Ones, No Matter What Happens

Gemini has denied any exposure to Sam Bankman-Fried's FTX crypto empire, but Genesis said in a Nov. 10 tweet that its derivatives business has about $175 million in funds locked inside FTX, according to CNBC.
"For the past six weeks, we have done everything we can to engage with you in a good faith and collaborative manner in order to reach a consensual resolution for you to pay back the $900 million that you owe, while helping you preserve your business," Winklevoss said in the letter, which was tweeted publicly Monday.
"We appreciate that there are startup costs to any restructuring, and at times things don't go as fast as we would all like. However, it is now becoming clear that you have been engaging in bad faith stall tactics."
Winklevoss accused Silbert of hiding behind behind "lawyers, investment bankers, and process," adding, "After six weeks, your behavior is not only completely unacceptable, it is unconscionable."
He also alleged that Digital Currency Group and Genesis are "beyond commingled."
Digital Currency Group (DCG) owes Genesis $1.675 billion which includes a $575 million liability due in May 2023, and a $1.1 billion promissory note Genesis issued to Three Arrows Capital, which DCG absorbed following the crypto hedge fund's collapse in 2022.
The first major crypto firm to go bankrupt in 2022, Three Arrows was dragged down by the collapse of cryptocurrencies Luna and TerraUSD. It filed for bankruptcy in the British Virgin Islands in June.
"This is money that Genesis owes to (Gemini) Earn users and other creditors," Winkelvoss wrote. "You took this money — the money of schoolteachers — to fuel greedy share buybacks, illiquid venture investments, and kamikaze Grayscale NAV (net asset value) trades that ballooned the fee-generating AUM (assets under management) of your Trust; all at the expense of creditors and all for your own personal gain."
In response to Winklevoss' tweet, Silbert denied that DCG borrowed $1.675 billion from Genesis.
"DCG has never missed an interest payment to Genesis and is current on all loans outstanding; next loan maturity is May 2023," he added. "DCG delivered to Genesis and your advisors a proposal on December 29th and has not received any response."
Winklevoss said he wants to resolve the liquidity crunch by Sunday, Jan. 8. "We remain ready and willing to work with you, but time is running out," he said.
Genesis told clients in late 2021 it may need to file for bankruptcy if its fundraising efforts fail to fill a hole left by FTX exposure fail, Bloomberg reported. In a recent update, the company said it believes it can arrive at a solution.
Genesis interim CEO Derar Islim said that while the company is "committed to moving as quickly as possible, this is a very complex process that will take some additional time."