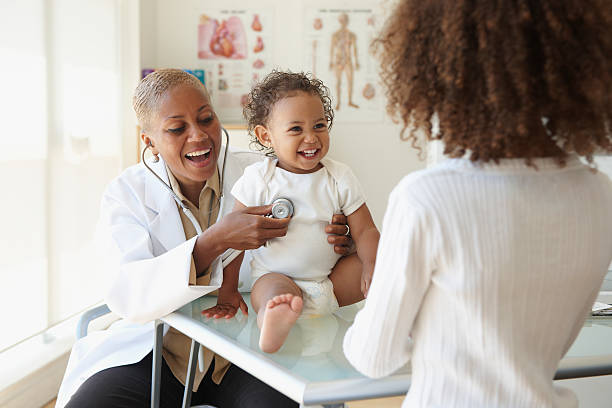 Well-child visits play a crucial role in preventing illness via routine vaccinations. Regularly scheduled visits with your child's physician give you the chance to protect your child, ensure growth and development are healthy, and ask any questions you may have. During these visits, the doctor will: 
Perform a physical exam 

Give the child any necessary shots 

Check the child's growth, including asking questions about development and behavior 

Talk about illness prevention, nutrition, physical fitness, etc. 
Make sure that your doctor isn't saying everything. The well-child visit is the best time to talk about any concerns you have about your child's growth and development, especially if they aren't meeting important milestones. Remember that your doctor may know a lot about how to keep kids healthy, but you know your child best.
Also, don't be afraid to ask questions, whether they are about medicine or not. Your child's doctor can give you good advice on how to help your child learn and grow, how to teach your child to use the toilet, how to keep your child safe at the playground, and more.
Routine Checkups
"How often should my child see the doctor?" is a question that most parents ask. Your child will need wellness checkups at or around:
3 to 5 days, 2 weeks, 2 months, 4 months, 6 months, 9 months, 12 months, 15 months, 18 months, 2 years, 2 1/2 years, 3 years, 4 years 

After the age of 4, a well-child visit should take place every year and should include all of the different elements mentioned above
What happens when you miss a checkup? You can always get caught up by simply letting your pediatrician know. Missed routine checkups mean missed routine vaccination as well. Reach out to your pediatricians and physicians. When you call in, they will have no problem guiding you through the process of getting your children up to date.
Immunizations
Immunizations are one of the best ways to protect your child from preventable, life-threatening illnesses. Some of these include chickenpox, measles, whooping cough, and more. From age 3, these should happen every year. At your child's routine well visits, the doctor will offer you the necessary immunizations and discuss any potential concerns you have. Benefits of well visits:
Prevention (immunizations) 

Check growth and development

Raise any concerns you have and be able to take a team approach
RELATED: 4 Safety Tips For Your Newborn
When My Child Is Sick
It is a different type of visit than when your child sees a healthcare provider because they are sick. You want to make sure you call the doctor as soon as possible when you believe your child is sick. Nothing is worse than waiting too long to do so, and they would rather see you, even if it is a false alarm or nothing too major.
You may have to go to walk in if it is urgent or go to the ER. When going to walk-in care, they usually try to call your pediatrician so that you can have your child see a doctor who knows them and their medical history.
Sometimes a well-child visit may fall on a time that your child is sick too, and you can