Entertainment
Fans Are Raving Over Alexis Skyy's No- Makeup Look After the Star Shares New Video Flaunting Her Latest Hairdo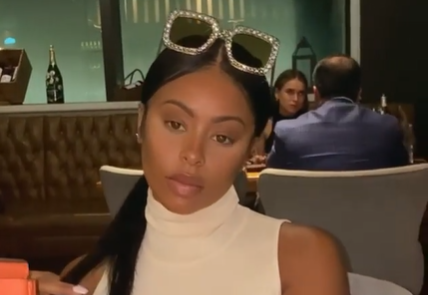 Alexis Skyy's fans were hypnotized by the "Love and Hip Hop" star's bare-faced clip on Tuesday, Nov. 3, after the social media influencer shared a video of herself showing off her latest hair installation.
The mother of one was seen playing with her loosely curled luminous locks, as she swayed her head from side to side to SWV's song "Lose My Cool" featuring Redman. Alexis served her followers a slew of provocative poses as she rocked a black ruffled crop top shirt. The rapper captioned the Nov. 3 post, "Natural beauty 😍 & clear skin." Many fans were infatuated by the Fashion Nova ambassador's tantalizing beauty.
"Your natural beauty always glows 😍✨"
"Beautiful!! U need to Rock that Natural Look more often."
"So fine without make up 😍😍‼️"
"Bare face baddie 🔥"
"It's the bare face for me 😍😍😍😍😍😍"
Rocking a bare face is nothing new for this reality star. Earlier this year, the 26-year-old bombshell enraptured millions of her followers with her natural look while on vacation in Jamaica. In the Jan, 15 pic, the model is seen seductively posing for the camera by gripping her colorful bikini bottom and arching her back to showcase her curvaceous cleavage. Alexis recited the lyrics to "Thot Box" by Hitmaka for her caption, "She got a name but everyone call her fine ass 🥶"
In December, a month before the initial post, the entrepreneur gave fans an intimate look into her life after sharing a video that shows her singing Ashanti's 2002 chart-topping song "Foolish" while getting ready to head out. The "LLHH" alum, who's wearing no makeup, is seen jamming as she preps to do her hair. She dedicated the Dec.14 clip to any woman who had relationship problems. "This one is for my ladies !! I know y'all feeling all my energy.. right now we all had the one f**k n***a or maybe a few 😩😩😩😩😩"
The upload racked up over 497,000 views and over 49,000 likes.