Black Breaking News
Final Polls Put Gov. Brian Kemp Ahead of Stacey Abrams, But the Democrat Says the 'Only Poll That Matters Is the Ballot Box'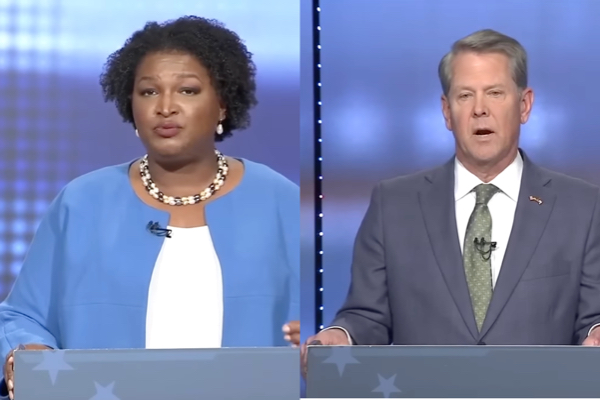 Georgia voters will decide next Tuesday whether to elect Republican Gov. Brian Kemp for a second term or select Democratic candidate Stacey Abrams as the state's new executive leader.
Kemp said he wants to keep Georgia the "best state in the country" with a high employment rate and overflowing with economic opportunities. He also touts mutual support for law enforcement and a tough approach to gang violence and human trafficking.
Abrams, a former statehouse minority leader, said she plans to give all Georgians "an opportunity to thrive." If she is elected, Abrams plans to invest the state's $6 billion surplus into health care, housing, education and higher-paying jobs.
The gubernatorial rematch is under a national spotlight because of Abrams' claims that her 2018 loss to Kemp resulted from voter suppression. Also, if Abrams is elected, she would become the first Black female state governor in the nation's history.
Current polls show voters favor the current governor over his opponent, 51 percent to 40.7 percent. Another 6 percent are undecided, and 2.3 percent favor Libertarian candidate Shane Hazel.
Abrams made it clear at the final gubernatorial debate on Oct. 30 in Atlanta that poll numbers did not faze her.
"I want you to know that polls do not see you, but I do," Abrams told the governor. "And the only poll that matters, is the poll at the ballot box."
More than 80 percent of Black voters said they plan to vote for Abrams in the Nov. 8 election, and 8 percent said they would cast their ballot for Kemp. However, a gap in the numbers suggests Abrams may be struggling to secure ground among Black men.
Early voting numbers released by the Georgia secretary of state's office show recording-breaking turnout among voters. The number of Georgians who cast a ballot on the first day of early voting this year is nearly double the first-day, early-voting numbers in 2018. Secretary of State Brad Raffensperger's office expects the voter turnout to increase this week.
Black voters account for 35 percent of early-voting ballots. Most of them (61 percent) have been Black women, according to Catalist.
Abrams has stressed that she will need the support of Black men to secure a win. Black citizens have historically voted Democrat, but some have criticized Abrams for not having a specific agenda for Black Georgians, especially Black men.
The Democrat candidate has since published a plan to increase opportunities for Black men, crime prevention and law enforcement accountability.
However, Kemp defeated Abrams by 55,000 votes in 2018. About 44 percent of Black men voted in 2018, and just 8 to 10 percent voted for Kemp.
In 2018, Kemp defeated Abrams with 50.2 percent over 48.8 percent. Abrams and her nonprofit, Fair Fight, filed a lawsuit accusing Kemp of using his position as secretary of state at the time to influence the election results. However, a federal judge ruled in favor of the state in September.
Records show there are more than 7 million people registered to vote in Georgia, and more than 2 million are Black, according to election data. About 1.6 million registered voters have taken to the polls for early voting as of Oct. 31.
The most pressing issue for Georgia voters is inflation, according to an Oct. 24 Quinnipiac University poll. Inflation is at the highest level it has been since the 1980s, data shows.
Kemp blames high inflation on President Joe Biden and Democrats in Congress but points out that the state's economy has been able to stay afloat because he decided to reopen businesses during the COVID-19 pandemic ahead of other states. He also touts his $1 billion tax rebate to Georgians, a fuel tax suspension and an income tax cut.
"We've had two record years for economic development in a row, record number of investment, record number of jobs, and people's salaries are going up," Kemp said at Sunday's debate. "The problem is they're not going up fast enough to keep up with Joe Biden's inflation."
If re-elected, Kemp promises to send more tax incentive checks to Georgians and offer one-time property tax relief. Although the governor likes to brag that the state was able to garner excess funds through conservatism, Georgia also received federal coronavirus relief funding that bolstered the state's coffers.
However, Abrams pointed out that Georgia's inflation is higher than that of 36 other states. Data shows that the annual inflation rate in Georgia is 11.5 percent as of September, while the national rate is 8.2 percent.
"The problem is that Georgia has some of the lowest wages in the nation and because of that we need a governor who's going to use her power to focus on the cost that a governor can control, tackling affordable housing, which this governor has refused to do, tackling the issue of health care costs," Abrams said Sunday.
Abrams also proposes allocating more money to education and education funding for families. As governor, Abrams said she would steer away from tax cuts for wealthy Georgians, focus on workers and small businesses and ensure minority-owned businesses get access to government contracts. She also blamed Kemp for losing jobs in the state because of his other policies.
In April 2021 Major League Baseball pulled its plans for its All-Star Game in Atlanta because of the state's election reform law, backed by Kemp. In addition, Music Midtown canceled its annual festival in Piedmont Park in August, reportedly over concerns about Kemp's permitless gun law.