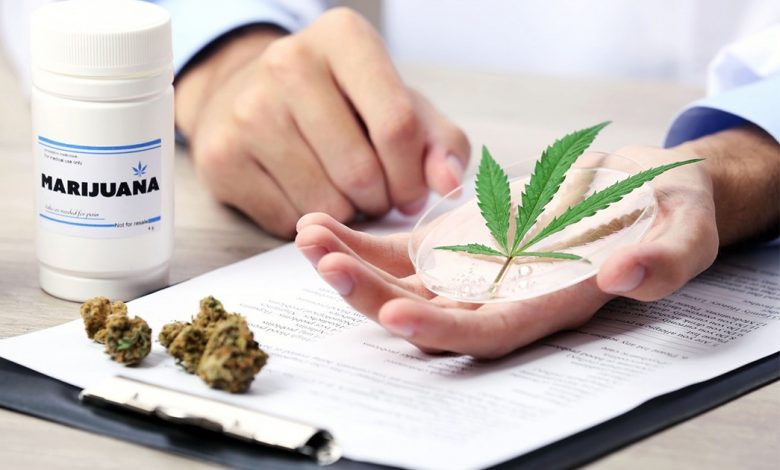 As medical cannabis continues to become legalized in the states throughout the USA, the consultation process has become easier. In the beginning, there only existed local clinics with cannabis doctors that would typically have appointments made for their patience. People who wanted a cannabis card would have to physically visit the location for a quick consultation with a licensed Doctor.
The problem with this setup was the availability of locations providing these services with marijuana doctors. It became popular for people to acquire medical marijuana cards at festivals, where doctors would be available in booths. This outdated way has been updated with the ability to now connect with a licensed professional via the internet or a phone call. 
Although there has been a surge of companies offering to connect people with cannabis doctors online, not all of them have received the best reviews. We tried one of the most popular and liked MMJ card companies, and discovered they are also great for renewal services. Their feedback found on their official Google business listing was plenty enough to give us confidence in trying them out. They have evolved from local physical clinics into a national scale of local marijuana doctors available online or by phone via an appointment.
Medical Marijuana States in 2022
The push for medical cannabis has been strong each year, and the same can be said this year too. Most states now have some type of medical cannabis program. Check out this Fox News article, which shows a visual of many states with a medical cannabis program in 2022. There are only 3 states that remain without any medical marijuana access. These three states include Idaho, Nebraska, and Kansas. There have been pushes within the government to legalize on a federal scale for recreational use, but there has not been too much success. President Biden recently stated that federal laws around cannabis should be reviewed after he pardoned a handful of people affected negatively. 
The True Benefits of Legalized Medical Cannabis
The importance of legal cannabis and its regulations will protect the user's health from contaminated products. States with legalized cannabis have strict laws protecting the consumer from weed grown with dangerous pesticides left behind in the plant. These types of protections do not exist in the black market, where cannabis is sold illegally. Not every cannabis dealer will focus on providing the best quality when sold illegally, and it can damage the people buying their weed. For instance, there have been reports of people buying cannabis tested for plant growth hormones. Known as PGRs, these chemicals are not safe and have been shown to cause cancer. It's unfortunate, but there are dealers out there that solely care about maximizing their profits over the well-being of their customers. Finding a cannabis doctor near me in California a decade ago resulted in a 30-minute drive up and back. Today, you can get a consultation through telemedicine using the internet. 
Strict Quality Control
Cannabis sold to dispensaries in legalized states is required to test for impurities such as mold, pesticides, and heavy metals. These laws are essential to not allowing cannabis that has not been flushed correctly with dangerous amounts of heavy metals from pesticides to get through to the users. Unfortunately, much of this cannabis that is rejected from dispensaries ends up for sale in places without legalized weed. This is the reason why, for the majority of the time, cannabis sold illegally costs less. The people may or may not know it's contaminated, causing health problems for those smoking the bud.
Illegal grows are reported and destroyed frequently in places optimal for growing the plant. Local authorities frequently disrupt the illegal and large-scale transportation of cannabis.
Accurate Potencies 
It's now possible to know the exact potency of your THC products because of lab testing done on each product sold in dispensaries. Controlled dosages are now possible because of the labels which have percentages for cannabinoids, such as CBD and THC. It's now possible to know the exact amount of tetrahydrocannabinol in weed, the chemical that creates the psychoactive effects. This information is crucial for inexperienced cannabis smokers with virtually no tolerance. Someone who has never smoked cannabis should not indulge in smoking an entire joint to themselves or eating an edible meant for multiple people.
An MMJ Card Can Protect You From Criminal Charges
Living in a state without legalized cannabis for recreational use can land people with criminal charges if caught with even a small amount, depending on the strictness of the laws. There are states with legalized medical weed and no recreational laws yet legal. These states are where it's important to have an MMJ card to protect yourself from possession charges if caught with cannabis. It's important to remember that your marijuana card or doctor's recommendation will not protect you in other states where recreational cannabis is illegal. It's vital to remember that marijuana remains illegal on the federal level. 
Price

The price for a medical marijuana card varies among states. For instance, the price in California for a consultation for a doctor's recommendation cost $39.00. The price in Pennsylvania cost $149, and New York has the same price too. New Jersey is a bit more than these states, coming in at $199.00. Nonetheless, the cost will only provide access to medical marijuana for a year—afterward, it's required to undergo another doctor's consultation online. It's the same process to get a cannabis card renewal as getting one for the first time with the Online Medical Card website. Paying an extra $20 gets you the physical ID, but the emailed recommendation will be good enough to get you approved to shop at medical dispensaries.
Growers License 
Each state with legalized medical cannabis has different patient cultivation laws. Some states do not allow any cultivation, and others, such as California, allow for up to 99 plants with a special growers license. This type of grow license is typically for people growing for other medical cannabis users. 
Medical Cannabis Products 
There is a lot more regarding the available types of cannabis products that become accessible with an MMJ card. The most popular THC products after cannabis are edibles and concentrate. Cannabis extracts have surged in popularity because its potency is much higher than weed. There is a huge variety, too, regarding the types of THC concentrates available. The most popular method to smoke cannabis extracts is with a glass dab rig. It's similar to a bubbler but has a nail that requires heating up with a torch, or electricity. 
Edibles
People new and long-time cannabis users enjoy edibles because of their unique effects when consumed. Inexperienced users should not overindulge or risk side effects, including anxiety, paranoia, and even panic attacks. The effects of edibles can be relaxing when done with an optimal dosage. The most popular reason for people taking edibles is to aid them with sleep. Edibles made with indica-dominated strains are perfect for people who need help getting a full night's rest. It's illegal in every state to consume edibles before going on a drive. Taking too many edibles can result in becoming extremely drowsy. There have been reports of hallucinations among people who have taken too much. 
Sativa-dominated edibles are great for people who need help focusing on a long work project. The effects are similar to drinking coffee, and even better when combined with more experienced users. We do not recommend combing coffee with a sativa edible or strain to inexperienced cannabis users with a low tolerance. It also does not recommend it even if you're a long-time user but only casually smoke marijuana. Only people with the biggest tolerances typically can enjoy this combination, referred to as a hippie speedball.
THC Dabs
The medical cannabis industry has exploded with many concentrates that range in different prices and potencies. The average THC concentrate potency is from 70-85% percent. However, the crystalline type of THC concentrate can reach 99% purity. The effects are amplified compared to smoking cannabis. There has been a surge in people illegally manufacturing cannabis extracts, and reports on the news of many arrests, and even explosions. These dabs are most likely contaminated with unsafe butane levels and other dangerous impurities. Buying dabs from a dispensary is much safer because of the lab tests on these products by law. Unsafe batches are denied entry into the inventory of dispensaries. Again, these cannabis products are sold on the black market for lower prices to unknowing people. Next, we will explain the various THC concentrates found in dispensaries.
Sugar wax
The sugar wax type of concentrate is highly rated for its high terpene levels and flavors.
The name originates from its grainy texture. It looks like sugar wax but will hit much stronger than any cannabis. 
Shatter 
Next on the list of dabs sold in medical marijuana dispensaries, which was named after its physical characteristic to shatter like glass. But don't worry, it won't cut you, and only get you high once dabbed.
THC vape cartridges
Another extremely popular THC product is prefilled cannabis oil vape cartridges. They've become popular because of how easy they work, and Its efficiency in having access to a hit of potent THC oil on demand of a button. The vape cartridge connects to a battery, providing the essential power to warm the concentrated oil into inhalable smoke.
Google Verified 5-Star Reviews
The Online Medical Card website has actual physical clinics with licensed doctors and connects you with them quickly. We encourage you to read the many reviews on their Google business listing, which provides a lot of insight into their top-rated service. Most customer feedback is positive, with many applauding the price and turnaround time. We left our feedback to help others interested in finding a medical cannabis doctor near them. They have also been published on the websites of cannabis magazines such as Marijuana Venture, and Leafipedia.net. They have been highly rated on other websites, such as King Palm. 
It's important to remember to get a renewal before your medical marijuana card experiences. This will allow you to continue to access clean THC products. Without a current doctor's recommendation, you will not be allowed inside a medical dispensary. We encourage you to leave your own review to benefit others. Our overall experience acquiring a medical cannabis card in California with the above company was done so flawlessly. They also have instant chat to answer any questions before spending money on their website.
Recreational Vs Medical
Is it worth getting a medical cannabis card online? The answer is yes if you want bigger allowed possession limits regarding weight. Medical cannabis users can posse significantly higher amounts of weight than recreational users. Each state has its unique cannabis laws when it comes to possession laws for medical and recreational users. It can also increase the allowed cannabis plants for cultivation.
It was easy to find a cannabis doctor near me using the recommended company above and encouraged using them for your MMJ card. Not only that, but it starts by filling out some basic information on their website. Afterward, just sit back and wait for your appointment time. Easily connect with your choices of a phone call or video chat via the internet. 
The online medical card website also has a vast resourceful blog about using THC and CBD. Also, use their dispensary finder to find medical cannabis stores nearby. They've invested heavily in a state-of-the-art database of dispensaries. Make sure to explore their menu to find your state. They provide a fast turnaround time with their consultations, which include the same day. It's also possible to get your medical marijuana recommendation sent on the same day via email.
Simply send it to your local medical cannabis store, and they will verify it. Once verified, the doors to the highest quality and safe cannabis will become available. Be prepared to pay local and state taxes, which can increase the price slightly compared to illegally sold cannabis. Consider this extra cost investment into your health, now you don't have to worry if your cannabis is contaminated.