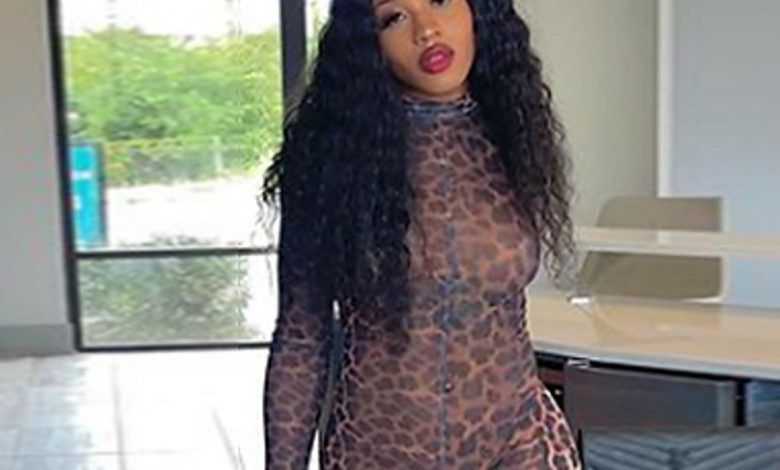 Fitness model, personal trainer, and social media fitness influencer known for her uplifting workouts on Instagram and TikTok, Raven K. Jackson has passed away and it appears that she committed suicide. The model's boyfriend of over two years, rapper 600 Breezy, posted a tribute on social media to his girlfriend of two years, Raven Jackson, including a photo of them together and a screenshot of what appeared to be a suicide note via text message.
In the text message, Breezy's girlfriend tells him she's tired and has been dealing with bad thoughts for years and was waiting for the right time to act. She mentions she is at a bridge and notes she "gave up a long time ago."
Here is the full text below:
"To Antonio
I'm just tired baby. I was dealing with these thoughts before you met me, I was just waiting for the right time. This is my 3rd time writing this fr [for real]. It's nobody's fault. I've been tired for a long time. I gave up a long time ago, I just do a good job of hiding it. Right now, as I'm writing this, I'm remembering us happy, looking at our videos, imagining how beautiful of a bride I would've been. It's 5pm here, this bridge is actually nice. I wish we would've come here together. Some homeless people sprinkled in but not too many. I'm thinking about how this will feel if it will hurt. I used to joke about how recklessly I lived my life before meeting you, truth be told I would put myself in dangerous situations because I didn't care about living. Living just always seemed overrated. I'm sorry mane. It's one thing to ruin your life, but I had to go and end mine too."
"Understand that this my choice, this is what I wanted. This is what I've wanted for a while. I just don't fit here, I'm not happy in this world. I just can't fake it anymore. I don't want to be here, it's too much on me. I wish I could take it all back. Undo everything so I never even called you. Nothing seemed real Antonio. Not my business, not my relationship, not even me. My heart is weak from stress and my ovaries hurt but they keep saying nothing's wrong. I feel like I have bugs on my skin that won't come off no matter how many times I wash. You were the best thing that happened to me in a long time Toni but I know I'm a lot to deal with."
"Rn [right now] we're as distant as we've ever been. I love you with all my heart. I couldn't take ruining us. I'm losing all the people I love. I want to leave here knowing that I didn't fuck this one relationship up. I wish you were here to send me off like Murda did Teak, but you probably wouldn't be nearly as understanding anyway. As much as I want you to see my point of view, I didn't want our last conversation to be an argument, so that's why I was so quiet. I really just wanted to hear your voice one last time. You have every right to feel what you feel towards me, baby. I love you Antonio, I pray I get to love you in a better life where I'm a better version of me. You deserve that much."
Jackson, was also an entrepreneur, motivational speaker, and had over 320k Instagram followers.
She had a fitness apparel brand, cRAEzy Fitness which she was featuring at her birthday boot camps in Miami and Houston according to her Instagram account.
In the caption of this suicide note, 600 Breezy (Antonio) stated:
"My baby was hurting and I did everything I could to show her nothing but love and keep her going. I put everything into her and her business. I believed in her I worshipped the ground she walked on. She's gone forever. I hate myself. Please when your loved ones are showing signs of any mental damage or health please take them serious. This is real. This is what she left me with. And I suppose to be able to continue to live ????? @raven.k.jackson you always told me you wanted to go out young so you can get that love you deserve from others and be a legend. But what about your family baby what about me? you left my heart so empty and broken lifeless alone. And no matter what they say or what you say I'm gonna forever feel like it's my fault. Please y'all pay attention to the signs of depression or mental health."
Suicidal Symptoms
According to the Suicide Prevention Network, there are certain behaviors that may indicate if a person is at serious risk or immediate risk for suicide like Jackson was.
Immediate Risk Signs
Talking about wanting to die or to kill oneself
Looking for a way to kill oneself, such as searching online or obtaining a gun
Talking about…