Fashion
Gift Your Fave These For Glamorous Skin!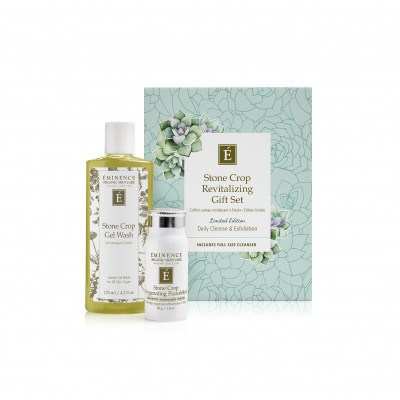 Not sure what to gift one of your favorite ladies? Well, here's a classy idea, give a Skin Care Basket; full of goodies to help relax, revitalize and also help your favorite girl get her glow on! And guess what, we know EXACTLY what you should put in it!
Start with beauty products that are proven to give amazing results. Results that your gift- receiver will be nothing short of giddy and also Ga-Ga over. You see, gorgeous, clear, radiant skin is a present that will only keep giving.
Such skin allows a person to be more confident, comfortable, look better in pics, and need less makeup; saving time as well as money. Therefore, gifting well-chosen skincare items is not something anyone would want to turn down. And a company you should really look into is Eminence Organics.
Why Consider Eminence Organics?
Everyone cares about what they put on their face. Moreover, some of us may also deal with skin sensitivities. Therefore, using skincare products that do not contain harmful chemicals, substances or ingredients; can go a long way to giving consumers peace of mind as they go about gaining 'perfected' skin.
Nevertheless, this is what helps separate Eminence Organics from the rest of the beauty realm. They are a sophisticated brand known for:
Many skincare lines do not come up to such a level. Therefore, it is always appreciated when companies rise to the occasion. Nevertheless, allow us to also explain some other reasons why to buy!
Skin Care Basket: Gift Your Fave These For Glamorous Skin!
Eminence Organics is an award-winning beauty entity that prides itself on utilizing ingredients that are not only good for the skin; but also extremely effective in fixing various skin issues. Moreover, one great gift set that this brand has is a trio of serums. Here's the rundown on the products included:
Essential Serum Trio Gift Set -$98
"Reveal bright-looking skin with three of our most coveted serums; each featuring a blend of specially crafted, age-defying and hydrating botanicals to enrich the skin. Try each serum individually to reap its unique benefits. Or layer all three for luxuriously smooth, bright and also healthy-looking skin.
Citrus & Kale Potent C+E Serum
Reduce the signs of aging and also reveal a bright and even-looking complexion with this lightweight serum, made with leafy greens and naturally potent Vitamin C. Use of the serum results in a 47% reduction in the appearance of free radical damage in just 3 hours*.
Strawberry Rhubarb Hyaluronic Serum
This potent serum combines our unique Botanical Hyaluronic Acid Complex with succulent strawberry. And also rhubarb to deeply hydrate for visibly smoother, more radiant skin.
Marine Flower Peptide Serum 
From sea to skin, this serum harnesses the power of plant peptides and algae extracts to diminish the look of fine lines and wrinkles."
Sounds good right? Whether the goal is to achieve smooth, radiant skin with a noticeably gorgeous complexion; or begin the journey of anti-aging. This set of serums will get the job done and also help you give the present of beautiful skin!
Skin Care Box Gift- Eminence Organics, Clean Beauty at its Finest!
But wait… there's more! EO has another set that is even more affordable, but also just as fab!
Stone Crop Revitalizing Gift Set -$46

"Unwrap silky-smooth skin and also boost your natural glow with the perfect cleansing and exfoliating duo. Moreover, infuse skin with stone crop for a hydrated complexion that looks and feels balanced, purified and refreshed.
Stone Crop Gel Wash
A gentle gel wash for all skin types! A purifying combination of stone crop, shea butter and also chamomile washes away impurities without overstripping to deliver hydrated, toned and bright-looking skin.
Stone Crop Oxygenating Fizzofoliant™
An invigorating powder exfoliant for all skin types. Moreover, Stone crop and also nutrient-rich microgreens unite with rice flour; and adzuki flour to polish and brighten the look of the skin while refining pores."

Another awesome gift set! Therefore, you now have an idea on how to make an unforgettable skin care basket. Happy shopping!

**Want Even More Beauty, Fashion as well as Celebrity Style Sighting News, Insights as well as Trends? Download Our New Shiny App! Click HERE**
Thoughts on Skin Care Basket: Gift Your Fave These For Glamorous Skin!!? Well let's connect then! Join the discussion and talk all things fashion as well as celebrity style sighting related with us by dropping a comment like its hot down low. Or also hit us up on our Facebook, Instagram (1966mag), Tumblr, Pinterest or tweet us @1966magazine.