Fashion
Good Molecules Sheer Mineral Sunscreen SPF 30: For All Skin Tones!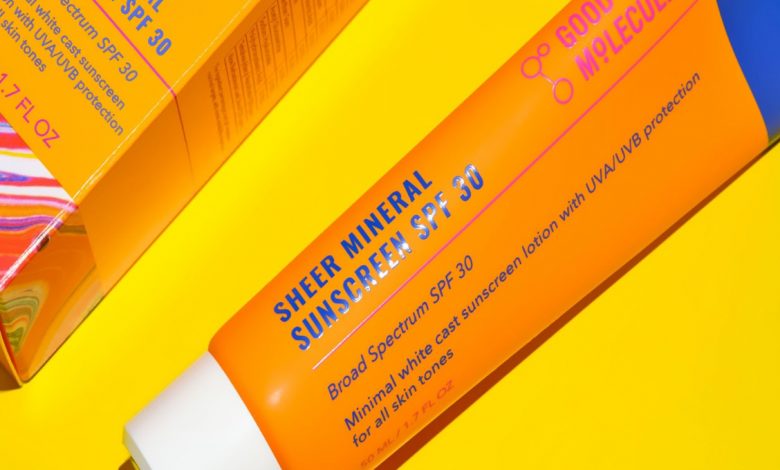 All rise ladies and gents! Meet the Gen-Z favorite brand making a difference in your skin by using ingredients backed by science. Yes, Good Molecules is resetting the skin game and trailblazing the future; and they are keeping their cutting-edge genius going with the release of the Good Molecules Sheer Mineral Sunscreen SPF 30. A sunscreen literally formulated to work on all skin tones!
Does that sound like music to your skin and ears? We know it does to us! Being a darker skin hue usually means sunscreen that may protect you; but makes you look ashy. Not good.
However, Good Molecules is flipping the script. Exit right the days of sunscreen leaving a clearly visible white cast on skin. And enter, scientifically effective sunscreen that leaves a barely visible finish; regardless of your skin color. Yayyyyy!
Nevertheless, there are MORE reasons to want to get your hands on this brand of sunscreen. Like have you thought about how such a sunscreen might interact with your makeup? Or have any hydrating benefits to the skin? Read on to learn more Loves!
Good Molecules Sheer Mineral Sunscreen SPF 30: For All Skin Tones!
Yes, give up the round of applause people! However, it gets better than just how it appears on the skin. Below is a short, condensed list of some of the other amazing skincare benefits of this product. Check it out!
Good Molecules Sunscreen
Safe for the face and body
The minimal white cast formula protects from UVA/UVB rays and free radicals
Is infused with hydrating ingredients and antioxidants, along with 13.3% zinc oxide helps shield the skin for all-day wear.
The weightless, fast-absorbing sunscreen is suitable for all skin tones and types—leaving behind no greasy residue
Formulated with soothing grapeseed oil, tucuma seed butter, and hyaluronic acid, this new sunscreen helps to hydrate and nourish the skin, making it the perfect UVA/UVB protector, makeup primer, and anti-aging moisturizer all in one. Its creamy application goes on smooth and melts into the skin, leaving a velvety finish that won't clog pores.
Good Molecules Sunscreen-The Final Beauty Details to Know
So there you have it! An awesome skincare option for all your skin protection needs. Nevertheless, there are few more deets to know about this particular product. Such as, where to go to purchase it; as well as how much it will cost you to add it to your beauty bag.
Therefore, why don't we begin with the first question. Where to get it? Well, there are a few places you can go to conveniently online. There's the official GoodMolecules.com website. Or you can head to BeautyLish.com as well to grab up your sunscreen.
However, all of that information leads us nicely into our final question. How much does will this sunscreen for all skin tones cost? Currently, each individual tube of Good Molecules Sunscreen retails for just $12! Happy shopping!
**Want Even More Beauty, Lifestyle, Hair, Fashion as well as Celebrity Style Sighting News, Insights as well as Trends? Well Honey do we have something special for you! Download Our New Shiny App! Click HERE**
Thoughts on Good Molecules Sheer Mineral Sunscreen SPF 30: For All Skin Tones!!? Well let's connect then! We're always around and love to hear from you. Therefore, join the discussion and talk all things 1966 Magazine; fashion as well as celebrity style sighting related with us by dropping a comment like its hot down low. Or also hit us up on our Facebook, Instagram (1966mag); Tumblr, Pinterest or tweet us @1966magazine.