Fashion
Green Tea Benefits for Hair and Skin -Add It to Your Routine Now!
Want gorgeous hair and skin? It is as simple as grabbing a cup, water and a tea bag! In this feature we are going to share literally all the green tea benefits for hair and skin.
For instance, whether you drink it or apply it topically green tea can be your skincare one stop. Green tea can be used in face cleanser, facial masks, eye care, toner and even steam facials. Due to Green Tea's anti-inflammatory properties, studies and research shows that topical green tea and infused products can be an effective remedy for many dermatological conditions.
What about hair care? The real question is where do we begin!? For one thing Green Tea contains EGCG better known as epigallocatechin gallate. EGCG may prevent hair loss by inhibiting any activity of hormones that can induce hair loss; but instead promote hair regrowth by stimulating hair follicles. Therefore, if maintaining hair and length is on your wish list, you will want to get in on Team Green Tea hunny!
Green Tea Skin Care Benefits
As mentioned above this type of tea possesses anti-inflammatory properties. However, how does such properties help improve the condition of the skin? Some skin benefits are:
Reduction of skin irritation
Help with acne
Lessening of skin redness
Give skin more youthful appearance
Decrease in skin swelling
Has potential for helping to prevent melanoma and nonmelanoma skin cancers
That's just a few of many benefits of green tea! Moreover, drinking green tea everyday can also help improve your skin. Studies show that green tea may increase the number of immune cells that will in turn enhance your immunity. This means that this tea may help decrease and reduce skin acne, rash or allergies.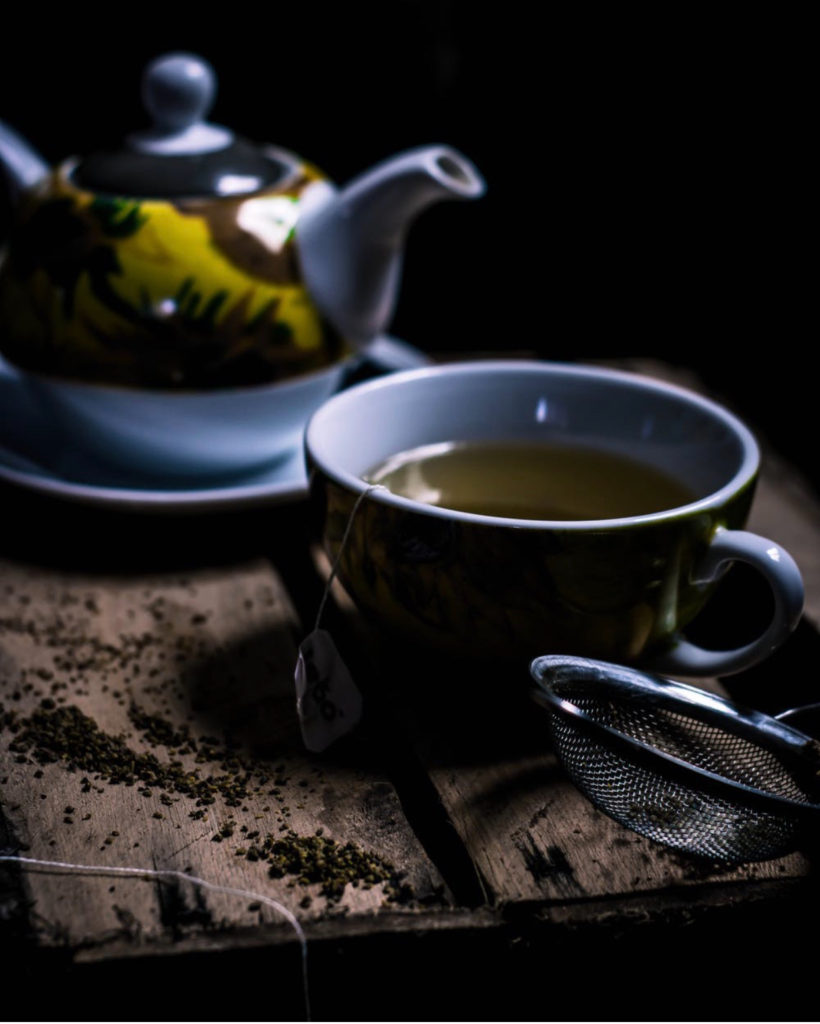 Tea Skin Benefits
Find yourself exclaiming, "If only I could get rid of these dark under-eye circles and eye puffiness!" Well, our loves stop saying it and actually do something about it right this second! What is one quick method? Try using tea bags for puffy eyes; it is a quick option that can soothe, revive and ultimately reduce any puff or darkness currently plaguing your eye area.
How can a tea bag help fix this common beauty problem? It's really simple actually. You see, caffeinated teas contain tannins, which are not only responsible for the color and astringent  flavor of your tea of choice; but it is also a mild diuretic. Which means it basically has an anti-inflammatory effect.
The caffeine can noticeably shrink blood vessels just under the skin. This action then reduces any swelling or puffiness you may be experiencing under the eyes. Furthermore, the constricted blood vessels can additionally help to eliminate dark circles. The tannins in tea such as green tea, can draw out fluid in order to further alleviate any puffiness while also tightening up the skin.
So then, if you would like to treat "tired" eyes, investing in a box of tea bags could prove to be very useful. Nevertheless, all of this leads to an important question: how do I use tea bags for puffy eyes the right way?
Teas for Healthy Skin -How to Use Tea Bags for Under Eye Circles
Once again, simple! Soak or steep two bags of teas as you normally would if you were going to have a cup of tea to drink. Next, squeeze out the excess liquid from both of the bags. After that, let the bags cool and "chill" in your refrigerator for around 10 to 20 minutes.
Lastly, then begin your eye treatment by placing the chilled tea bags directly on your closed eyes for 15 to 30 minutes. If time is tight, you can still derive benefits by letting the tea bags sit on the eyes for 5 to 10 minutes. In that short amount of time you will still notice your eyes taking on a fresher, more alive look.
Green Tea Benefits for Skin and Hair
Hair roots as well as scalp tissues must be well-nourished in order to promote healthy hair growth. Therefore, maintaining good circulation is essential to the hair growth process. Some experts have found that drinking green tea can help! How?
Research has shown that green tea can boost blood circulation thus improving the condition of the scalp. Moreover, Green tea contains compounds that relax blood vessels which also in turn improves circulation. So then, if you want better growth by having a healthy scalp; be sure to drink plenty of green tea.
Nevertheless, what if you do not particularly enjoy downing cups of warm or cold tea? Well, there are other techniques that you could try as well. For instance, hair brushing and scalp massage are other great methods to help encourage blood flow to the scalp.
**Want Even More Fashion as well as Celebrity Style Sighting News, Insights as well as Trends? Download Our New Shiny App! Click HERE**
Thoughts on Green Tea Benefits for Hair and Skin -Add It to Your Routine Now? Well let's connect then! Join the discussion and talk all things fashion as well as celebrity style sighting related with us by dropping a comment like its hot down low. Or also hit us up on our Facebook, Instagram (1966mag), Tumblr, Pinterest or tweet us @1966magazine.