Crypto
Here's What Analysts Are Forecasting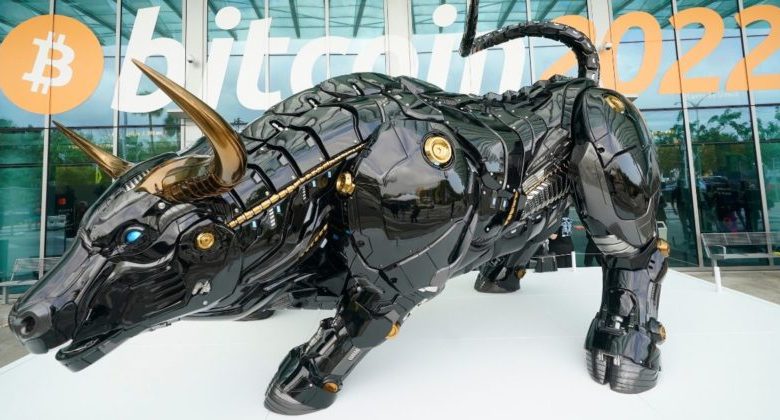 The price of Bitcoin has increased 28 percent so far this year, thanks in part to investor optimism about signs of a slowdown in the inflation rate and hopes that the U.S. Federal Reserve will ease off interest rate hikes.
Bitcoin rose above $21,000 on Saturday for the first time in two months, up 28 percent month-to-date, and was trading at $21,261.39 as of this writing.
That's given crypto fans cause for rejoicing.
The Fed raised borrowing rates seven times in 2022 to try and combat the high rate of inflation, sending risk assets such as stocks — especially tech stocks — into a downward spiral. The central bank's benchmark funds rate increased to 4.25-4.5 percent in December, reaching its highest level since 2007.
Bitcoin was caught up in the market drama around lending rates, as it is increasingly viewed by investors as a risky asset. Risk assets are typically highly volatile. Equities, real estate and currencies also fall into this category.
When Bitcoin prices are rising, fans often characterize the crypto as anti-inflationary and "digital gold." Instead, the crypto asset has been moving more like risk assets such as equities, reaching high correlations with the S&P 500, Decrypt reported in February 2022.
A bleak year in 2022 saw scandals, failures, bankruptcies and fraud in the crypto industry, including the collapse of FTX, a massive stablecoin failure of terraUSD and the associated Luna. Contagion impacted BlockFi, Celsius Network and Voyager Digital exchange. Irresponsible lending and leveraged trading also plagued the sector, raising questions and doubts about the ability of crypto exchanges to protect investors' assets. Calls went out for more regulation.


Black Americans Have the Highest Mortality Rates But Lowest Levels of Life Insurance
Are you prioritizing your cable entertainment bill over protecting and investing in your family?
Smart Policies are as low as $30 a month, No Medical Exam Required
Click Here to Get Smart on Protecting Your Family and Loves Ones, No Matter What Happens

Quantitative analyst PlanB tweeted to his 1.8 million followers that Bitcoin reached bottom in November 2022 at $15,500 and short-term holders are now in profit territory, a traditionally bullish signal, Daily Hodl reported.
Plan B predicts that the Bitcoin price could rise to $1 million in the next bull market. "In fact, I think the bull market range will be $100,000 – $1 million, but many people don't understand the wide margins (or the volatility that creates them), so I pinned it at the indeed comfortable $100,000."
By contrast, popular trader Capo, known for his bearishness in 2022, downplayed the latest crypto price rally which saw many altcoin prices explode 30 percent or more in the past week. Capo predicted another price drop.
"Market is bouncing more than expected. That is a certainty. Now… is the bearish scenario invalidated? I'm going to explain why I think new lows are still likely…BTC is still testing major resistance. Weekly close will be key, but there's no bullish confirmation yet" Capo tweeted.
Capo also said he sees weakness in the stock market, which has largely correlated with crypto in the last few years.
The S&P 500 is forming repetitive lower highs, according to Capo, and he predicted that first-quarter earnings will not be good for most big companies listed in the index: "Traditional markets downtrend is intact too. SPX keeps forming lower highs all the time and earning session is expected to be bad."
Analysts say that Bitcoin's New Year price increase isn't just about the increased probability of interest rates being lowered but also about purchases by investors who've hoarded massive Bitcoin holdings, aka "whales."
Crypto data firm Kaiko tweeted on Jan. 16 that the size of trades had grown from an average of $700 on Jan. 8 to $1,100 on the crypto exchange Binance, suggesting renewed confidence in the market by whales, CNBC reported.
Some of the biggest whales include MicroStrategy CEO Michael Saylor and Silicon Valley investor Tim Draper.
Cryptocurrency skeptics have long held the view that the market is prone to manipulation by a few investors with massive coin holdings. The 97 top Bitcoin wallet addresses account for 14.15 percent of the total supply, according to fintech firm River Financial. An estimated 46 million Americans (about 22 percent of the adult population) own a share of Bitcoin. 
With trading volumes down and a high level of fear in the market, whales could step in to bolster the Bitcoin market, said Carol Alexander, a professor at the University of Sussex, in a CNBC interview.
Bitcoin could see a "managed bull market" in 2023 with prices going higher than $30,000 in the first quarter to $50,000 in the second half of the year, Alexander said.
The next Bitcoin halving, expected to happen between March and May of 2024, is also causing excitement for investors as such events have done in the past.
"There are signs this could be the beginning of a new cycle with Bitcoin, as it typically does around 15-18 months before halving," said Vijay Ayyar, vice president of corporate development and international at crypto exchange Luno, in a CNBC interview. 
However, Ayyar said, "At this point, we're in overbought territory with Bitcoin and hence could definitely see a dip." Prices could dip if Bitcoin closes below $18,000 in the next few days, he added.
Bloomberg senior commodity strategist Mike McGlone said he believes Bitcoin could be developing a "bottom" the way it did in 2018 before the 2019 bull run — with one big difference.
In 2018, financial institutions such as the Federal Reserve were easing interest rates whereas this time they're still tightening, along with "every central bank," McGlone said during a Jan. 16 interview with crypto podcaster Scott Melker.
"Back then the Fed already started easing and we held the bottom and broke out higher and then we had that issue in 2019," he said. "Right now they're tightening aggressively, so you look at that and you can't be too excited about any markets. Give it some time. Big picture, yes, really bullish Bitcoin."
Crypto market analyst Wendy O isn't convinced Bitcoin has hit its lowest price yet this year. She expects Bitcoin to drop as low as $10,000 based on the coin's history of correcting as much as 85 percent in past bear markets. With an all-time high of about $68,000 in November 2021, an 85-percent correction would mean bottoming out around $10,000.
Bitcoin has several resistance levels, O said, and it's likely, based on her technical analysis, to see a volatile reversal upward before Bitcoin completely bottoms out in 2023.