Fashion
Highlighting the Work of Black farmers, Artists, and Historians
DID YOU KNOW… black farmers have lost around $326 Billion in farmland? Yes, you read that correctly, "B" as in billions. This is finances, wealth, as well as businesses that could have been passed on to future generations. Instead, almost everything has been ripped away from the black community in this industry. However, The Watermelon Project is bringing this atrocity and many others into public view.
This is important, because many do not know about true black history. Erasure is the name of the game; and is unfortunately very effective. So many individuals go through life not understanding that many poor, black communities are the result of not "laziness" or "unintelligence;" but systemic oppression and cruelty.
Television network, PBS, put together a comprehensive report on black farming and brought forth some quite telling revelations (read more here). PBS explains, "Black farmers struggle in face of structural racism and economic headwinds. The number of self-identified Black farmers in the United States has dwindled over the last century, in part because of overt discrimination by the U.S. Department of Agriculture."
In the 1920's black farmers hit of peak of one million. They are thriving, and doing okay. However, things quickly change.
By the 90's, less than a 100 years later, it is a completely different story. Discriminatory lending practices at the federal level, particularly at the U.S. Department of Agriculture, leaves many Black farmers unable to maintain their land; thus forcing them to give it up. White farmers and investors come along and snap these properties up.
Furthermore, the most effective tactic proves to be the creation of various laws. A move to "legally" take land away. From the 20's onwards discriminatory heirs' property laws contribute to massive economic loss. By 1990's, black farmers lose 90 percent of their land and property. All gone.
This a very sad outcome. However, the only way to fix this problem is to bring awareness to it. That's wear The Watermelon Project is coming into play.
The Watermelon Couch: Highlighting the Work of Black farmers, Artists, and Historians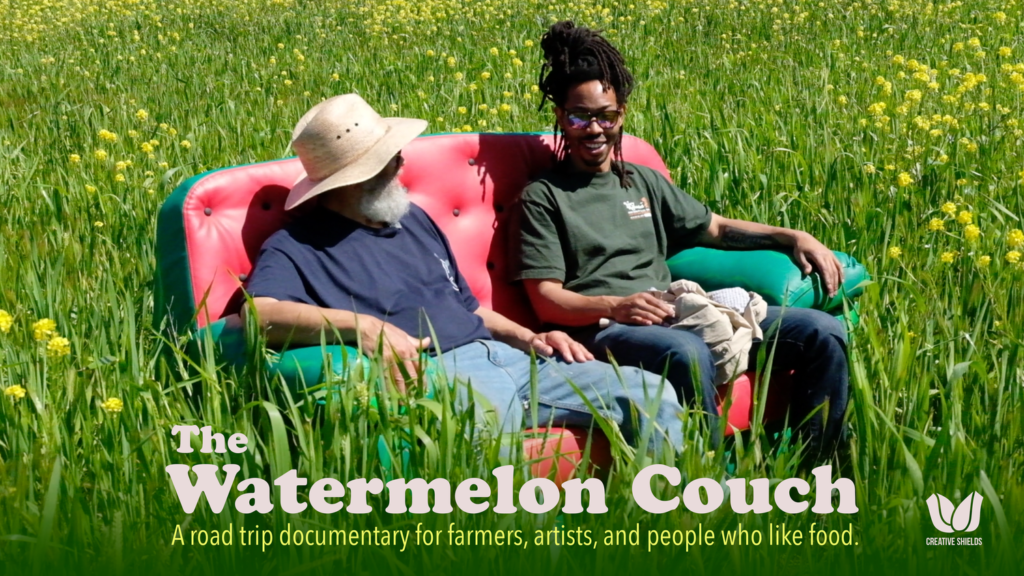 Muralist, Artist, and Educator, James Shields of Creative Shields is taking his Juneteenth sculpture, "The Watermelon Couch", on the road to document the work of Black farmers, artists, and historians.
The Watermelon Couch was designed to inspire people to take a closer look at their food sources and combat the racial stereotypes that have plagued the Black community since the late 1800s.
"I created the Watermelon Couch last year for a Juneteenth Celebration in Oakland, CA." Shields said. "Once it was completed I knew it was meant to tell powerful stories. I'm just capturing and sharing."
Shields, a self-taught artist, left corporate America in 2009 to dedicate his life to creating and amplifying his community. Many of his earlier art pilgrimages were street art tours that allowed him to paint murals throughout Europe, Africa, and South America. Now his attention is set on the States.
"This Summer I'm bringing the couch to the Deep South – the birthplace of Juneteenth and Jim Crow." said Shields. "Our community is still dealing with a lot of the trauma because of systemic racism with agriculture and pop culture. I offer this multi-media project as a remedy to heal through storytelling."
Shields is currently crowdfunding $20,000 to develop the Watermelon Couch into a digital multi-media library. Consisting of interviews, fine art, and animations, these as learning tools will aid in teaching environmental food justice, history, and art education.

**Want Even More Beauty, Lifestyle, Hair, Fashion as well as Celebrity Style Sighting News, Insights as well as Trends? Well Honey do we have something special for you! Slide on over to our TikTok or Inspo filled Pinterest! Click HERE**
Thoughts on The Watermelon Couch: Highlighting the Work of Black farmers, Artists, and Historians? Well let's connect then! We're always around and love to hear from you. Therefore, join the discussion and talk all things 1966 Magazine; fashion as well as celebrity style sighting related with us by dropping a comment like its hot down low. Or also hit us up on our TikTok, Instagram (1966mag); Tumblr, Pinterest or tweet us @1966magazine.