Black Business
How This Black Female Founder Raised $8 Million for EdTech Startup That Utilizes Artificial Intelligence to Tackle Absenteeism In K-12 Schools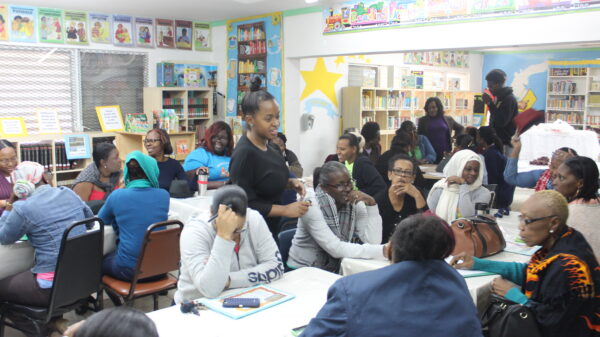 When Joanna Smith-Griffin was working as a student engagement director at Excel Academy Charter Schools in Boston, she discovered there needed to be a more streamlined process for curbing chronic absenteeism in her school. And soon she learned this was not an isolated issue — but one that allows the achievement gap to persist in K-12 schools.
The solution: an app that would identify children at risk of chronic absenteeism. 
Today, Smith-Griffin is the founder of AllHere, an edtech company that uses artificial intelligence and mobile messaging powered by artificial intelligence to curtail chronic absenteeism. AllHere has received an $8 million Series A round by Spero Ventures. In addition, investors such as Rethink Education, Gratitude Railroad, Potencia Ventures, Boston Impact Initiative, and others have allowed AllHere to not only launch, but also position itself for growth. 
AllHere serves K-12 schools by using evidence-based intervention strategies to support school districts in developing family outreach strategies and monitoring student attendance. More than 8,000 schools in 34 states are currently using AllHere to curb chronic absenteeism, allowing school districts to reach 2 million students and their families. 
According to Crunchbase, a parent using the app "can send a text to the bot and begin a conversation, with responses from the bot based on their child's record."
Additionally, "AllHere also nudges students to come to class, and schools use the technology to communicate announcements to parents, such as closures and health guidelines."
But the path to raising that series A was no easy feat. It illuminates a problem that many Black startup founders have faced: mentorship that will support the development of their product and access to capital.
In 2021, Black founders raised an estimated $2 billion in funding. While that is a large number, when compared to the $147 billion startups received in funding, it is a mere drop in the bucket. In addition, according to Crunchbase, Black women startup founders received .34 percent of all venture capital-funded in the United States. 
Lamont Young, head of digital and customer experience at Citizens acknowledges the challenges that Black founders often face — and notes the role unconscious bias plays in hindering Black founders.
Read full story at Finurah here.