Fashion
How Tiffany & Co. Luxuriously Crafts Championship Glory!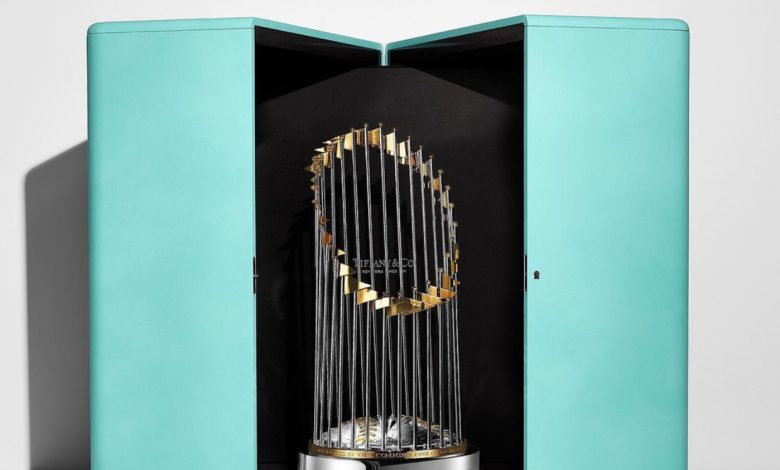 Each year 30 MLB teams compete in order to have the honor, glory and accolades while hoisting up one of the most iconic trophies ever made! Yes, the World Series Trophy is something truly marvelous to behold; and a testament of the grit, efforts and hard work of 26 valiant and professional talented men. Nevertheless, have you ever wondered about the fascinating artistry behind this world famous trophy?
Many do. The MLB's well-known champion trophy is comprised of decadent gold and silvery embellishments. A trophy possessing such luxurious details must have a designer with exquisite taste and pedigree.
You would be absolutely correct to think that way. Each year, opulent and high profile jewelry brand, Tiffany & Co crafts the coveted trophy for the World Series. The famous blue box entity is actually responsible for creating trophies for 65 various major industry sporting events annually!
DID YOU KNOW? Tiffany & Co. has a long history crafting trophies for the world's greatest sporting events? Well, it's true!
Most recently the high end jewelry company has designed and created a trophy for the winner of the League of Legends World Championships. However, Tiffany's has been behind the scenes elegantly producing a number of other spellbinding trophies. Here's a short list:
Vince Lombardi Trophy for the NFL
American Football Conference (AFC) Trophy
Trophy for National League Conference (NFC)
U.S. Open
Pete Rozelle Trophy ( Awarded to the Super Bowl MVP)
Miami Grand Prix
Larry O' Brien Trophy (Awarded Yearly to the NBA Champions)
World Series Trophy: How Tiffany & Co. Luxuriously Crafts Championship Glory!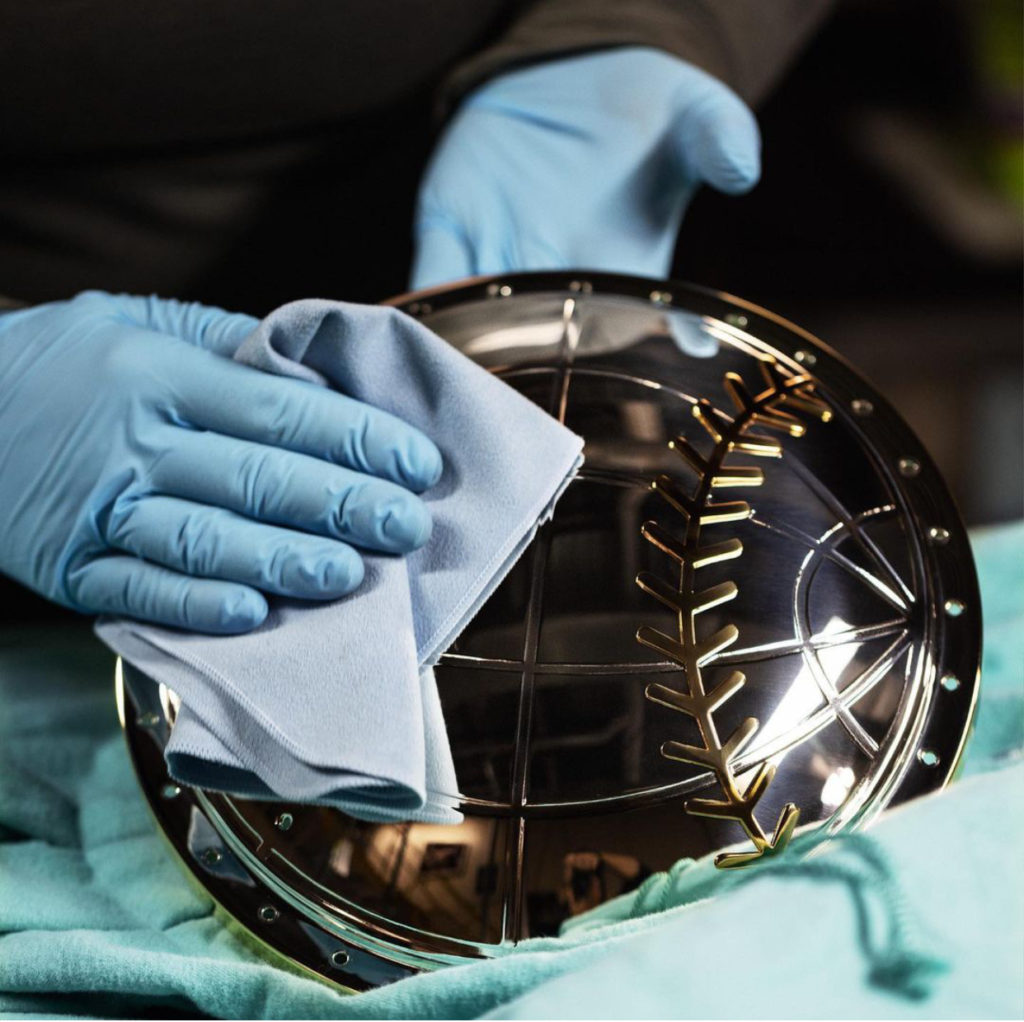 So then, how much effort is put into creating Baseball's greatest trophy? A LOT. It takes numerous man hours to bring the trophy creation from the start of design conception to its finish. Nevertheless, we went straight to Tiffany & Co. in order to find exactly what goes and takes place during production.
In regards to the World Series award formation, Tiffany & Co. reveals,
"Celebrating home runs since 2000, Tiffany & Co. has crafted the MLB World Series Commissioner Trophy for over two decades. Featuring 30 sterling silver flags with 24K gold vermeil coating— one for each major league team. The award takes a total of nearly 140 hours to complete."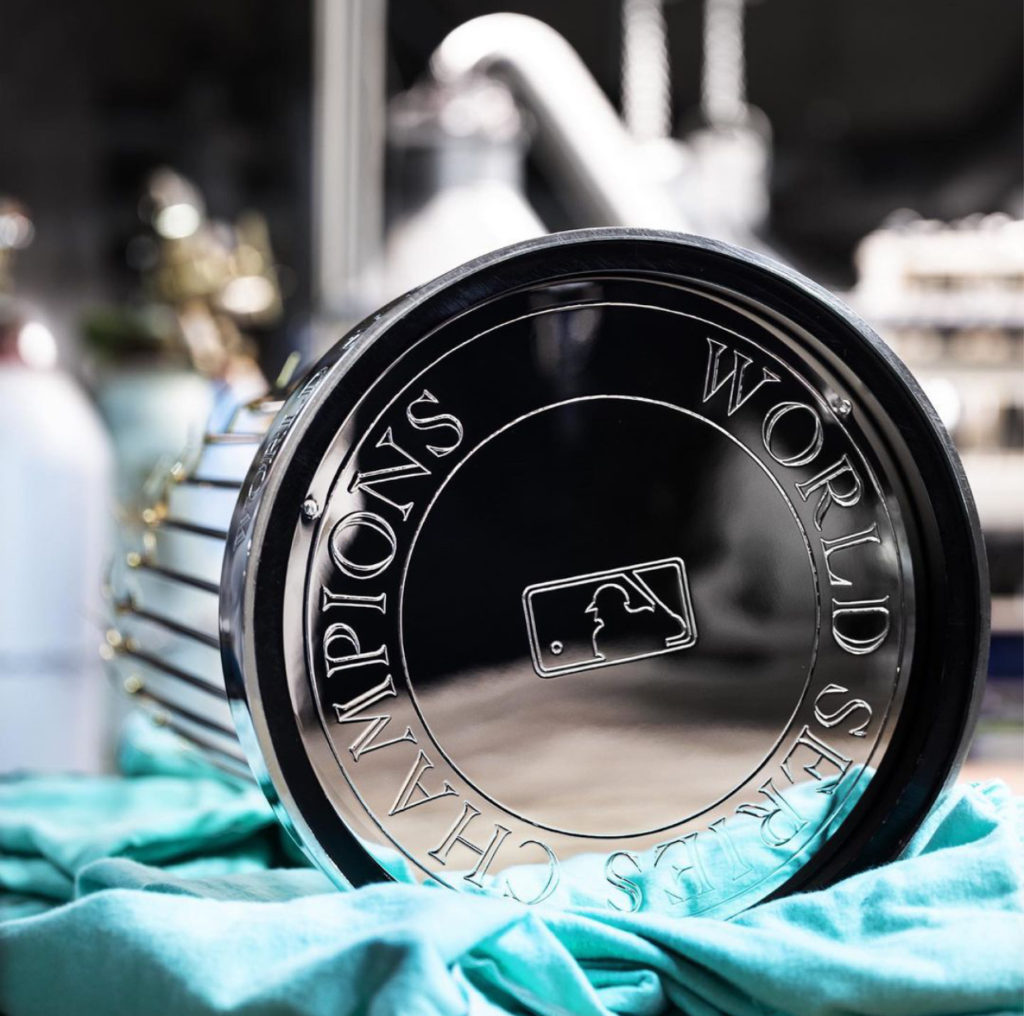 Simply fascinating. Moreover, this means that each team is taking home an award worth thousands of dollars. How much exactly?
Well, the original trophy in 1967 cost about $2500; which in today's money would be a little more than $20k. What about today? Beginning in 1999, Tiffany & Co. reimagined the award and now it costs somewhere in the realm of $15,000.

**Want Even More Beauty, Lifestyle, Hair, Fashion as well as Celebrity Style Sighting News, Insights as well as Trends? Well Honey do we have something special for you! Download Our New Shiny App! Click HERE**
Thoughts on World Series Trophy: How Tiffany & Co. Luxuriously Crafts Championship Glory!!!? Well let's connect then! We're always around and love to hear from you. Therefore, join the discussion and talk all things 1966 Magazine; fashion as well as celebrity style sighting related with us by dropping a comment like its hot down low. Or also hit us up on our Facebook, Instagram (1966mag); Tumblr, Pinterest or tweet us @1966magazine.