Fashion
I Heart Revolution x Pebbles Collection -Yabba Dabba Freaking Do!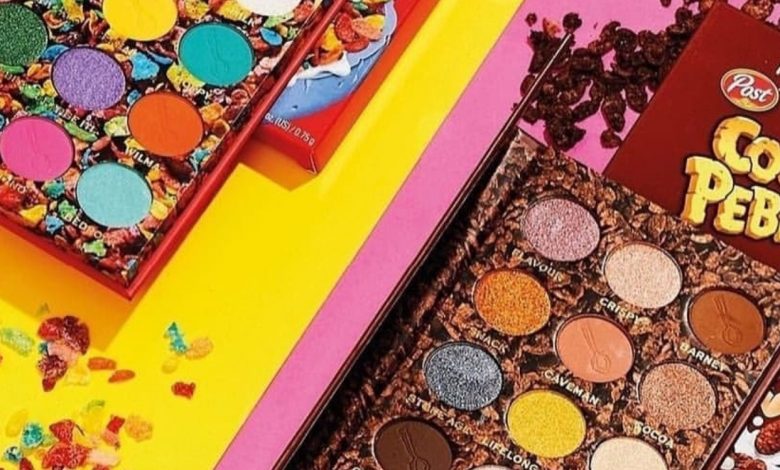 Whip out some Saturday Morning cartoons and pour out some milk for the I Heart Revolution x Pebbles Collection! YESS your favorite cereal is getting the full makeup treatment. We are talking eyeshadow, brushes, glowing highlighter, lip gloss and more!
This collection is coming pretty packed. Like for real, they are even selling cosmetics bags and headbands (Lol). The mercy is so on point with this one.
So if you love a great nostalgia makeup collection be sure to get your coins ready. Something tells us this one is going go fast. Already on social media we are seeing posts about this collection garner between high 100s to clear over 20k likes! So read on to learn what all the raving is about!
I Heart Revolution x Pebbles Collection -Yabba Dabba Freaking Do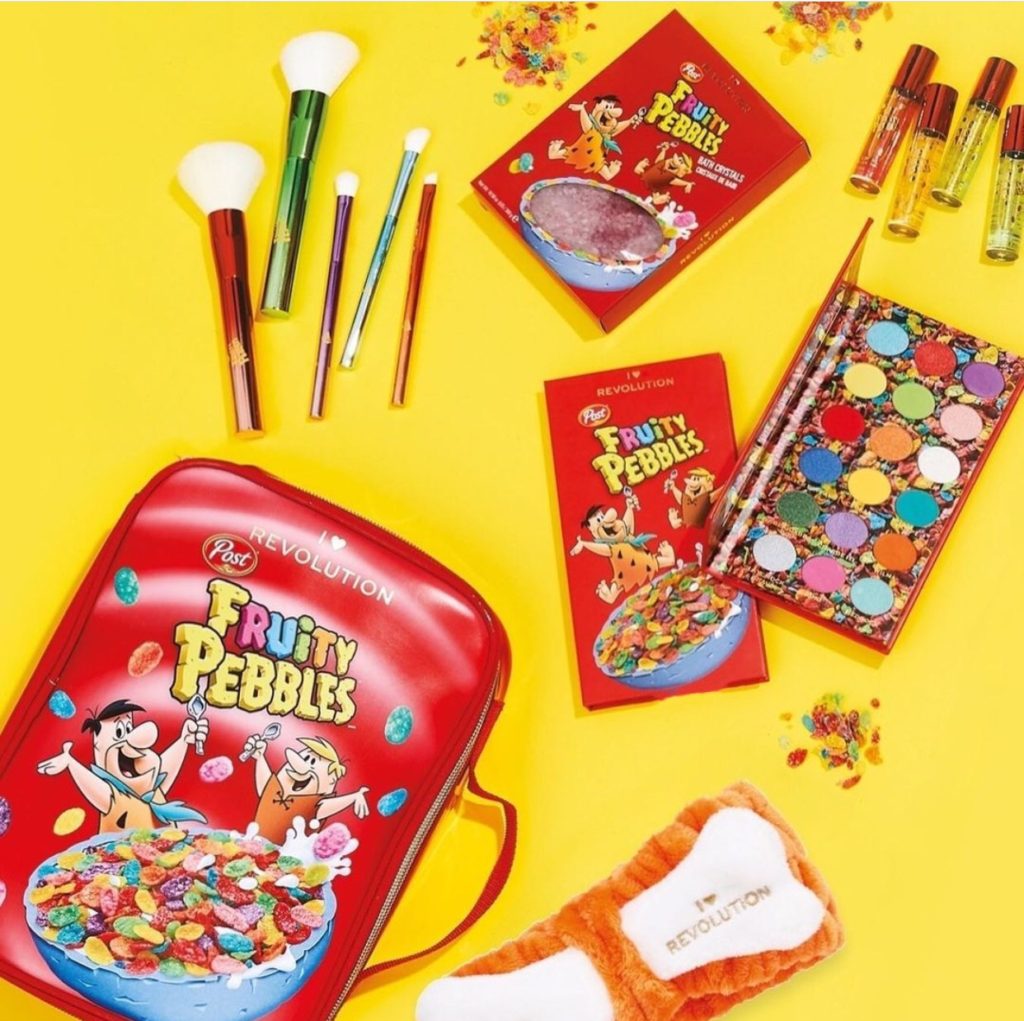 This collection is so perfect when you think about it. Fruity Pebbles is a total kid (and heck, adult) favorite for not it's yummy taste, but all the mind numbing vibrant colors! Each bowl, each bite sees boisterous blues, red, yellow, purple, and orange.
These colors are the perfect backdrop and inspiration for a dazzling makeup collection. Also, don't even get us started about Cocoa Pebbles! Brown tone makeup is still all the rage, and knowing I Heart Revolution has concocted makeup based on the rich hues of the cereal; is only going to burn a hole in our pockets and wallets that much quicker!
Nevertheless, so far both Pebbles Cereal and I Heart Revolution has been tight lipped about the release. Just teasing the drop via social media. However, you guys know us too well… you know we went snooping for beauty intel (Lol). And we got it!
There are a total of 9 products up for grabs and they are all fabulous. And they are not just your typical makeup products; there are also a few helpful and fun skincare items. Like stuff for bath time and even hydrating as well as moisturizing your skin.
The nine products you will be able to buy once this lineup drops are:
Eyeshadow Palettes (for both Fruity and Cocoa Pebbles)

Bath Crystals

Lip Oil

Lip Gloss

Cosmetic Bags

Body Butter

Brush Kits

Chocolate and Rainbow Highlighter

Cocoa and Fruity Headbands
That ladies and gentlemen is a chef's kiss of makeup products. Practical, extensive and everything a makeup fan could want. This collection is giving exactly what it should!
The Flintstones Family -Oh Yeah Baby They Are All Up In This Piece!
YABBA DABBA DO! Yes, the cereal tastes and smells DIVINE. However, another main reason the cereal is such a humongous entity is because it's associated with one of biggest cartoon series of all time… The Flintstones!
We all loved seeing prehistoric history as our favorite family and their friends went to work; did stuff around the house; and even went to the movies. Also, who of us can forget The Flintstones Movie of 1994? ICONIC. Moreover, I Heart Revolution is so nailing this collaboration because they are including all of our favorite cartoon show characters within their makeup lineup; and it's seamless!
It does not at all feel like just another money grab. There's actual thought as well as character appreciation. The love is real and the vibe can really be seen with the Cocoa Pebbles Lip Glosses. Each gloss is named after a fun Flintstones character.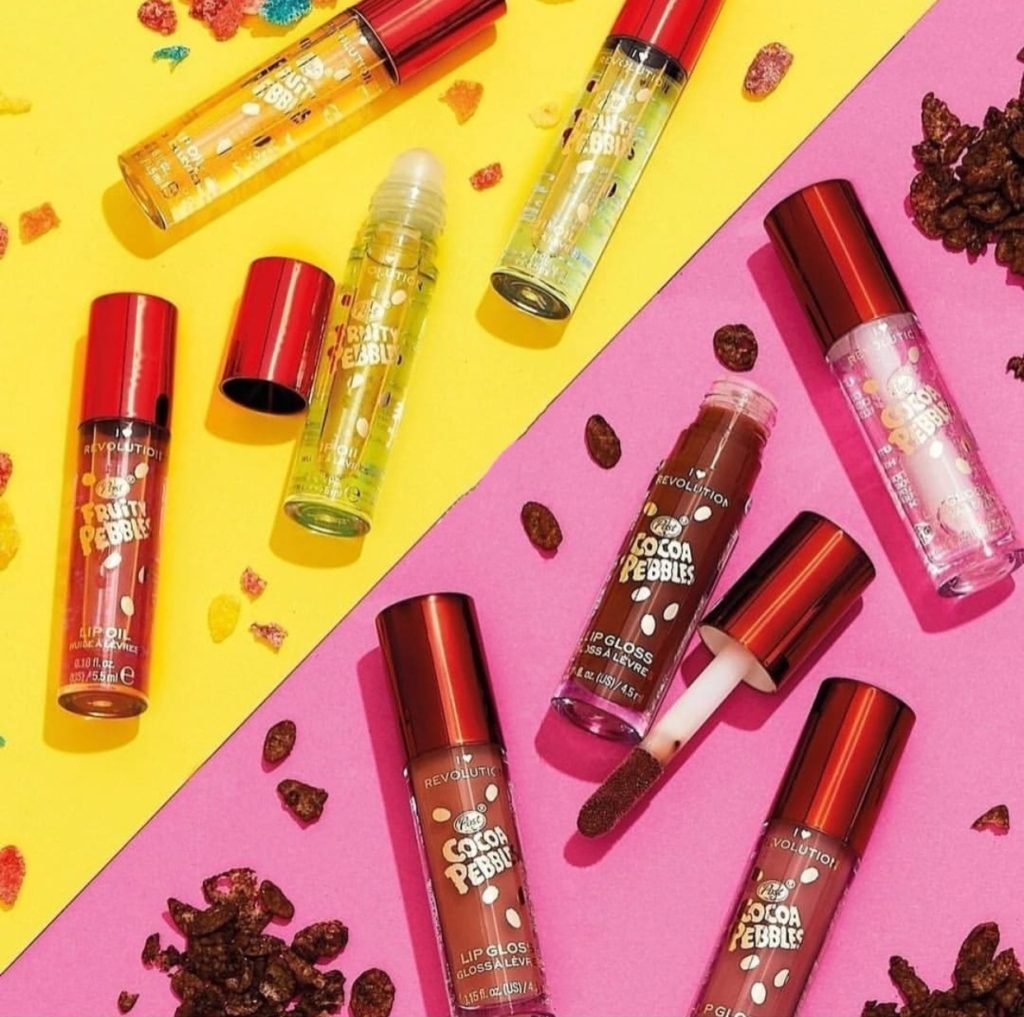 You will love slathering those pretty lips of yours in:
Bamm-Bamm
Barney
Betty
Hoppy
Moreover, the Fruity Pebbles Lip Oil also gets the Flintstones characters royal treatment too in terms of names. Have fun nourishing your lips with:
Wilma Cherry
Pebbles Lemon Lime
Fred Berry
Dino Grape
Super cute and adorable huh? Yeah, I Heart Revolution is doing a fine job pulling at our heart strings. However, don't just take our word for it… there's a LOT of people talking!
Fruity Pebbles and Cocoa Pebbles Makeup – What People Are Saying About the I Heart Revolution x PEBBLES Collection
This collection drop is also coming out at the right time because this year marks something special for PEBBLES. The cereal is celebrating 50 YEARS of bringing smiles and yumminess to children and bellies around the globe. What better way to celebrate the occasion than to beat your face with makeup based on their genius?
Nevertheless, makeup lovers are already weighing in on the collection. Here are just a few of their beauty thoughts:
Wait why is it soooo cute! Stop.
Omg this so kool.
If the body butter smells like Fruity Pebbles, I'm game.
Cocoa Pebbles is literally my fave cereal. I need it.
I'm highly offended no one has tagged me yet!
I love Fruity Pebbles! Hopefully it is Fruity and Cocoa Pebbles scented.
DON'T DO THIS TO ME Y'ALL O'M WEAK FOR FOOD COLLABS!
I'm not gonna lie but I'm interested in the body butter.
This is so cute I can't.
I'm 1,000% sure its scented. The question is if its flavored.
Now this is actually cute and creative to me!
Me: all of these makeup collaborations are so dumb. Y'all are doing too much. ALSO ME: omg fruity pebbles!!! Take my money!!!!
YES PLEASE OMG!
Ok but is this stuff scented?
I hope its scented. I loved the smell of fruity pebbles when I was a kid.
If the bath crystals smell like fruity pebbles I'm going to need a lot of it.
The highlighters are my fave.
I don't know if I'm hungry but damn I kinda like lmaoo.
Okay but like they actually NAILED this collection!
Okay these don't look as bas as the article I saw them in earlier, BUT there is absolutely no need.
Cute!
Awww Childhood.
Oh my, this is gonna be a problem.
TAKE MY MONEY-THE COLLAB I NEVER KNEW I NEEDED! (Also now I want cereal).
Oh jeez I want this for now reason.
This is the most excited I've been about a release in a WHILE. The cocoa pebbles eyeshadow palette looks beautiful, all of the lip products look cool and the body butters probably smell amazing!
I Heart Revolution x Pebbles Collection – Full Price Breakdown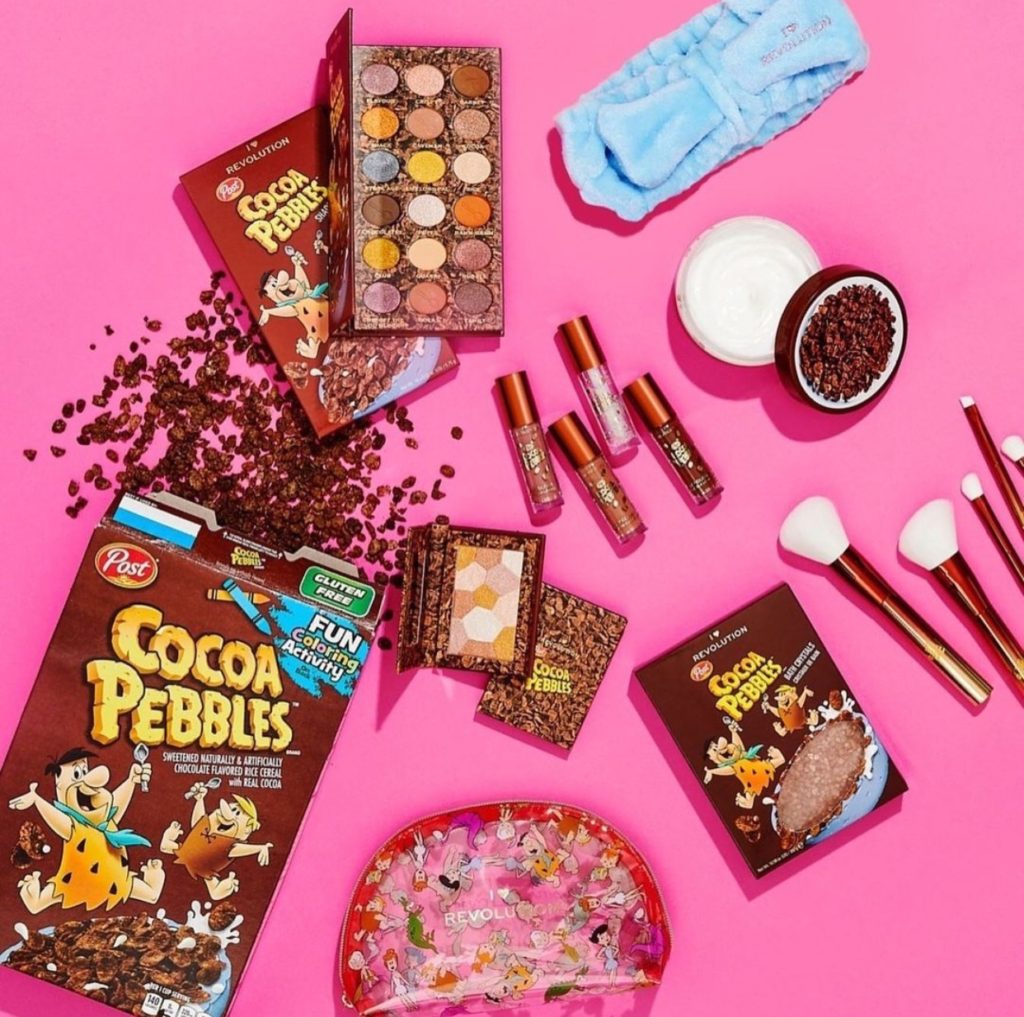 Okay, so most likely this is something you all have been waiting for. So let's get into it. Actually, to be such a big collection most makeup lovers WILL want, the prices are absolutely affordable. From our research, not a single product so far is over $25! Actually, the highest one is sitting pretty at a price point of $22.
Here is a quick product and price breakdown. We have tried our best not to make it confusing for you guys. But always feel free to hit us up on social media to discuss!
Makeup Products
Cocoa Pebbles Eyeshadow Palette $22
Fruity Pebbles Eyeshadow Palette $22
Cocoa Pebbles Chocolate Highlighter $10
Fruity Pebbles Rainbow Highlighter $10
Cocoa Pebbles Lip Gloss $8
Beauty Tools and Accessories
Fruity Pebbles Brush Kit $20
Cocoa Pebbles Brush Kit $20
Fruity Pebbles Headband $8
Cocoa Pebbles Headband $8
Fruity Pebbles Cosmetic Bag $16
Cocoa Pebbles Cosmetic Bag $8
Skincare and Bath
Cocoa and Fruity Pebbles Bath Crystals $8 each
Fruity Pebbles Body Butter $10
Cocoa Pebbles Body Butter $10
Hope you all enjoyed this feature and you get all the cereal makeup swag you want! Don't forget to mark your calendars for August 18. Happy shopping Beauties!
Cereal Makeup -Final Things to Know About I Heart Revolution x Pebbles
I Heart Revolution had a short a message for all their makeup addicted fans. Regarding their collection with the Pebbles food brand, the cosmetics label says,
"ATTENTION: Set your calendars, our YUMMIEST launch of the year is dropping on August 18th! Discover an oh so tasty collection inspired by the famous Fruity and Cocoa Pebbles cereals and Flintstones characters."
It's Official! The collection is coming and our makeup bags and cases are about to be LIT! Nevertheless, you may be wondering just where in the world you will be able to purchase all the Fruity and Cocoa Pebbles makeup merch you want once they drop?
We did a little research and the collection will be available on the I Heart Revolution website and you also get just social media. I Heart Revolution's Instagram is set up an online shop, you never even have to use an app.
Furthermore, if you are more of an in store type of person, you will not be left out. Just head on over to ULTA to get all of your Pebbles goods. It's that easy baby.
Well, we hope you have enjoyed learning about all of these fabulous products. This is a great collection that captures the essence of childhood and good times effortlessly. We hope you are able to grab some of these items and love each and every one of them. Happy shopping Beauties!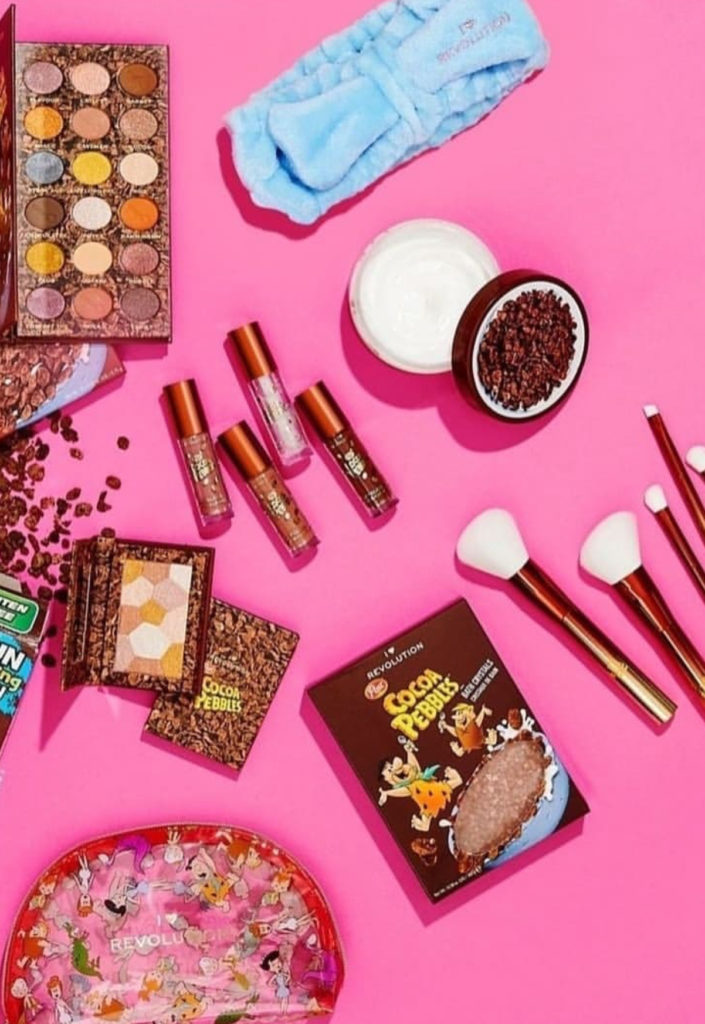 **Want Even More Fashion, Beauty, Lifestyle, Health as well as Celebrity Style Sighting News, Insights as well as Trends? Download Our New Shiny App! Click HERE**
Thoughts on I Heart Revolution x Pebbles Collection -Yabba Dabba Freaking Do?Well let's connect then! Join the discussion and talk all things fashion as well as celebrity style sighting related with us by dropping a comment like its hot down low. Or also hit us up on our Facebook, Instagram (1966mag), Tumblr, Pinterest or tweet us @1966magazine.