Black Breaking News
Jussie Smollett Trial Begins, He Still Claims He Didn't Stage Fake Racial Attack with Nigerian Brothers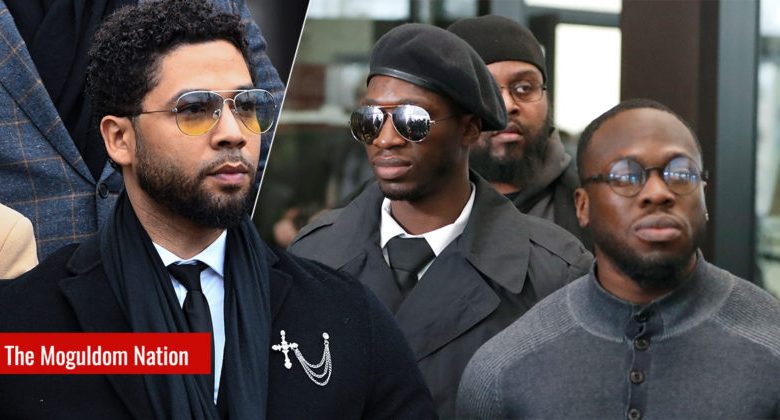 The criminal trial against actor Jussie Smollett has finally made it to the courthouse after years of delay. The former "Empire" TV star faces charges that he filed false reports of a racist and homophobic attack.
He is being tried for six counts of felony disorderly conduct for making false reports to law enforcement. Smollett has maintained the truth of his account of the assault.
On Nov. 29, Smollett's court case began with jury selection, after three years of delays and an investigation into the district attorney's case handling, The Wall Street Journal reported.
Judge James Linn has already sworn in 15 jurors, including 12 regular panelists and three alternates, the Chicago Tribune reported. Eight men and seven women have been selected for the jury, The New York Post reported. 
In late January 2019, Smollett claimed two men assaulted him in Chicago while yelling racist, antigay, and pro- Donald Trump words. Smollett, who is Black, is openly gay. The attackers hit him and tied a noose around his neck, Smollett said. But soon after, Investigators alleged that he had fabricated the event. And that he had hired to Nigerian brothers to perpetrate the attack.
The brothers, Abimbola and Olabinjo Osundairo, met Smollett on the set of "Empire." They are set to testify as the prosecution's star witnesses. The brothers claimed Smollett paid them $3,500 to stage the hate crime and pose as his assailants.
Smollett organized the attack during a meeting at Osundairo's apartment with him and his brother, Olabinjo, who had been recruited to participate, according to prosecutors. Just after 2 a.m. on Jan. 29, the brothers staged the attack on Smollett, the prosecution alleges. Smollett then gave the false report to the police, according to court papers.
Smollett's criminal trial was delayed due to the charges being dropped and refiled as well as an investigation into how Cook County State's Attorney Kim Foxx conducted the investigation. They were also delayed due to the covid-19 pandemic.
Listen to GHOGH with Jamarlin Martin | Episode 74: Jamarlin Martin Jamarlin returns for a new season of the GHOGH podcast to discuss Bitcoin, bubbles, and Biden. He talks about the risk factors for Bitcoin as an investment asset including origin risk, speculative market structure, regulatory, and environment. Are broader financial markets in a massive speculative bubble?
The alleged hoax attack cost Chicago hundreds of thousands of dollars. During a two-week period of looking into the attack, the city detailed over two dozen officers and detectives to investigate the high-profile event, incurring more than $130,000 in overtime fees, The Wall Street Journal reported. The city of Chicago has also brought a civil suit against Smollett to recover costs, damages, and attorneys' fees. The civil case will take place after the criminal trial.