Health + Wellness
Keisha Knight Pulliam Gets Married: "I Married My Best Friend" – BlackDoctor.org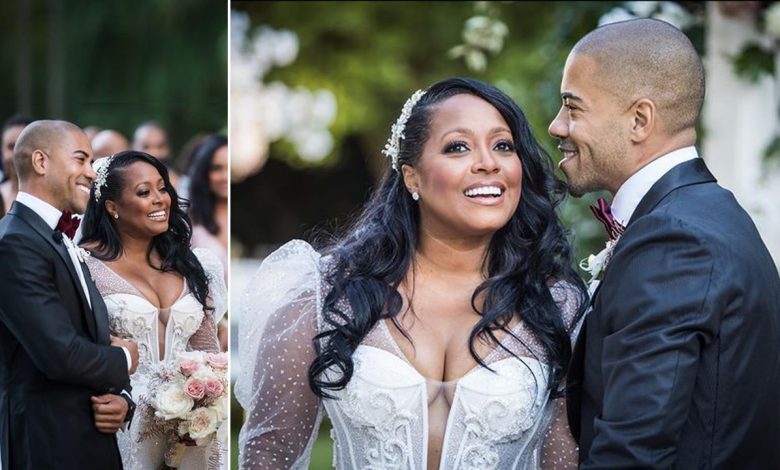 Fans of The Cosby Show saw the adorable, "Rudy" character, Keisha Knight Pulliam, grow up right before our eyes. Now, as we've seen her blossom, find and lost love, become a parent, now she's married to love of her life.
In a small ceremony last week, Pulliam married her actor fiance' Brad James.
"Last week my life forever changed…," posts Knight-Pulliam on Instagram. "I married my best friend at our home surrounded by family & it was magical!!!"
"It wasn't the large destination wedding we were originally planning. Instead, it was intimate, whimsical, full of love, laughter and joy… Absolutely perfect!! Maybe one day I will share the events that inspired our change of plans. However, for now I can say God makes no mistakes & the joy is in the journey."
"Covid has definitely taught us to live in the moment and that the present is the greatest "present" that exists. Thank you to everyone who celebrated with us!! Most of all thank you to @mrbradjames my amazing husband, my person, my soulmate. Thank you for renewing my vulnerability & faith in unconditionally love ❤️ #TheJamesBond"
How did they Meet
True story… Brad & I first met Pastor Cal while filming @lifetimetv 's Pride & Prejudice Atlanta…," explains Knight-Pulliam on Instagram while showcasing the couple's love for Pastor Calvin Roberson's book Marriage Ain't for Punks. "This was also where Brad wooed his way into my heart with a box of Krispy Kreme donuts!!"
Pulliam, 41, just got engaged to James when he got down on one knee and popped the question in December 2020 in Atlanta, with a custom diamond eternity band.
The newly married couple celebrated with friends and immediate family, including Ella, Pulliam's 3-year-old daughter from a previous relationship.
If you recall, Pulliam battled through a difficult divorce and paternity battle with her child's father, former NFL player, Ed Hartwell
Pulliam and Hartwell surprisingly tied the knot before the New Year in 2016. Then in July of 2017, she announced she was expecting her first child. But initially, Hartwell denied being the child's father and a host of other unfavorable comments that are now in the past.
Pulliam, as with most of the world, was shocked to learn that her then-husband, Ed Hartwell, of only 7 months had decided to serve her with divorce papers only a week after she announced that she was pregnant with the couple's first child.
On Entertainment Tonight, she explained that she had actually drawn up the papers first, but she got pregnant she wanted to give the marriage another try.
"Early on in [that] marriage when I was faced with this [infidelity by him], I was ready to leave. It's not OK," Pulliam says. "In the process, I found out I was pregnant. And I had to take another hard look and decide if I wanted to try to work through this and forgive him for the sake of the child. Like, I had divorce papers ready. But…