Fashion
Kosas Good Body Skin AHA + Enzyme Exfoliating Body Wash- Results Will Shock You!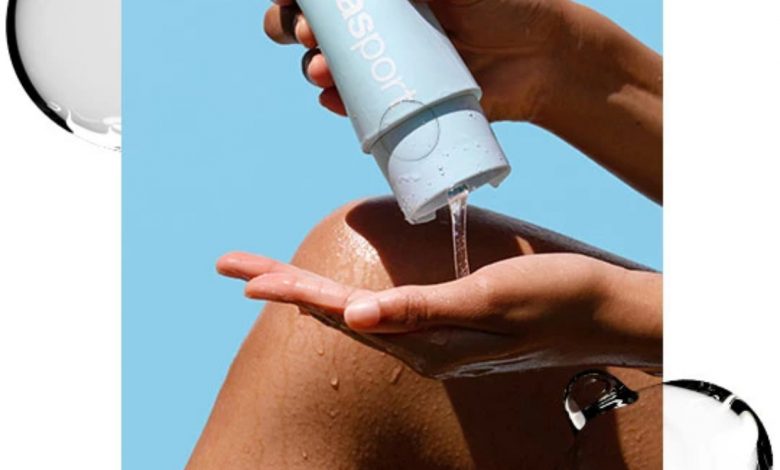 One Product. One Cleanser. To completely change your body's skin forever! Kosas Good Body Skin AHA and Enzyme Exfoliating Wash; cleans and smooths, to glow up your skin like shiny gold! Moreover, in just a few washes, you will look down at your skin in PURE disbelief.
Nevertheless, don't settle anymore for "okay" skin finishes. Your skin is worth so much more baby! Grab yourself a product that is all about clearing and also evening out the skin. Kosas uses AHAs (alpha hydroxy acids) that are chemical compounds that are an ideal treatment to retexture the skin; and also stabilize oily or acne prone skin.
Furthermore, there's a lot of other good things that are great talking points about this product; however, there are some instant highlights, features; and formula aspects to keep in mind about this hard-working body cleanser. For instance, Good Body Skin Wash is a skincare product that is:
Non-Irritating
Non-Comedogenic
Exfoliates and Brightens Skin
Vegan
Naturally Encourages Dull, Flaky Skin Cell Turnover for a Fresh Glow
Cruelty-Free
Conditions and Helps Soothe Sensitive Skin
Gluten Free
Nonetheless, best part is that you are getting tons of benefits and also results in just one formula! Unlike your face that needs several products, like cleanser and exfoliant; in order to get the job done. This ONE body wash achieves radiant, clearer skin by cleaning, brightening and also exfoliating!
So perfect, for those who are busy. Or just hate having to buy a ton of products in order to see better skin. With this Kosas body wash you can have picture skin all over!
Kosas Good Body Skin AHA + Enzyme Exfoliating Wash- Results Will Shock You
So what makes Kosas' Body Wash formula so amazing? Well, we will let the brand tell y'all directly. Regarding their body care product, Kosas reveals:
"A clean, daily exfoliating gel cleanser with AHAs and fruit enzymes that helps unclog pores; smooth texture, and fight blemishes for your best body skin ever! Formulated without: microbeads, synthetic fragrance, silicones, paragons; sulfates, and phthalates. A soothing, sensorial shower experience!

Natural, complex fragrance transports you to a tropical spa. Features a top note of Jasmine, mid notes of Rose and Orange Flower; and bottom notes of Vanilla, Sandalwood, and Vetiver. Take a shower, vacation!

This body wash doesn't just clean –it actually supports total skin health. Clean surfactants purify without drying or stripping the delicate skin barrier. pH of 5.0 is appropriate for all skin types, even the most sensitive. No harsh microbeads or sulfates. Only skin nourishing ingredients allowed.

Get naked, jump in the shower, apply all over the body. Massage for rich lather and rinse well. Team it up with hydrating LipFuel and Chemistry Deodorant for the full Kosaaport experience.

Get the best body skin of your life! Your new one step cleansing, exfoliating and moisturizing shower essential. A blend of glycolic, lactic, and mandolin acids, plus papaya and pineapple enzymes; uses gentle exfoliation to clear dull; flaky skin and dirt and debris that cause bumps and breakouts. Allantoin soothes and conditions for soft, glassy skin."
Kosas Good Body Skin -What the People Are Saying
We LOVE reviews. Reviews helps us see and also get a good gauge on how people really feel about something. Therefore, we went all over social media and also online to see what people have to say about Good Body Skin Wash. Here are just a few of their Beauty thoughts!
BOMB! In love with this cleanser. It's so gentle and effective and I've started using it on my face a few times a week! It's changed the texture of my skin; and is starting to fade old scars from body acne and hormonal acne on my face. Definitely buying backups!
Whoa! I love Kosas and try pretty much everything that comes out. I wasn't expecting anything special but… holy hell. My skin feels so smooth and so much less dry. Good stuff!
AMAZING… wasn't too harsh and my skin never felt so soft! I would definitely and happily recommend this product! Although I am a bath gal, I was able to use as well. FABULOUS!
Really effective for keratosis Polaris! I can't believe how well it works to smooth and exfoliate, gently. It also smells amazing. Love it!
Skin is smoother, acne is decreasing, ingrown hairs are less angry looking and getting better by the day. Skin tone is more even. I love the consistency of the suds, a watery light foam fells fresh and the scent is mild.
This is my new favorite body wash! It smells so refreshing and keeps my skin moisturized, without any filmy feeling. I love it and will be buying more!
Omg this stuff is divine! The smells is to die for, it lathers super well, and it exfoliates and leaves my chronically dry elbows feeling super soft. Obsessed!
Think this may be the best body wash ever. It makes me feel as smooth as silk and helps get rid of zits, small scars, and other imperfections that pop up on our bodies.
The smell is amazing!!!! Feels so light and my skin looks fresh.
Great fragrance (what a way to start the day); and really like how it applies, lathers and rinses. Have only used once and liked the outcome. Looking forward to the longer term benefits.
Bought this to try it out and I ended up loving it. It lathers really nicely and has a nice light scent, like jasmine and vanilla. I used to use a lot of body wash prior to buying this wash, but since this one lathers so nicely I don't need to use so much. I love that the ingredients are clean and non toxic, I'm always looking for clean products.
Kosas Body Wash -Final Things to Know
Great reviews huh? Nevertheless, this body wash is also awesome because it is apart of Kosas Sport skincare line. A collection of products specially for those who work up a sweat or live a very busy, active go-go lifestyle. Something that many of us Boss Babes and also high school as well as college students can relate to!
Moreover, it is nice to see a brand create beauty items for this particular sector. Ladies who are seriously no fuss, and just want stuff that's effective and also FAST. Kosas achieves this using healthy ingredients, that are safe and also gentle enough to be used daily.
Want to add Kosas Good Body Skin Body Wash to your skincare routine? You can get a bottle by heading to KOSAS.COM. Each bottle of body wash currently retails for just $18.
Additionally, if money is a little bit tight, you will be happy to know that Kosas has AfterPay! In just three small payments of like $4.50 you can purchase your new fresh body wash. Happy shopping Beauties!
**Want Even More Fashion, Beauty, Lifestyle, Health as well as Celebrity Style Sighting News, Insights as well as Trends? Download Our New Shiny App! Click HERE**
Thoughts on Kosas Good Body Skin AHA + Enzyme Exfoliating Wash- Results Will Shock You? Well let's connect then! Join the discussion and talk all things fashion as well as celebrity style sighting related with us by dropping a comment like its hot down low. Or also hit us up on our Facebook, Instagram (1966mag), Tumblr, Pinterest or tweet us @1966magazine.