Fashion
Ladies Avoid These 3 TSA Hair Mistakes!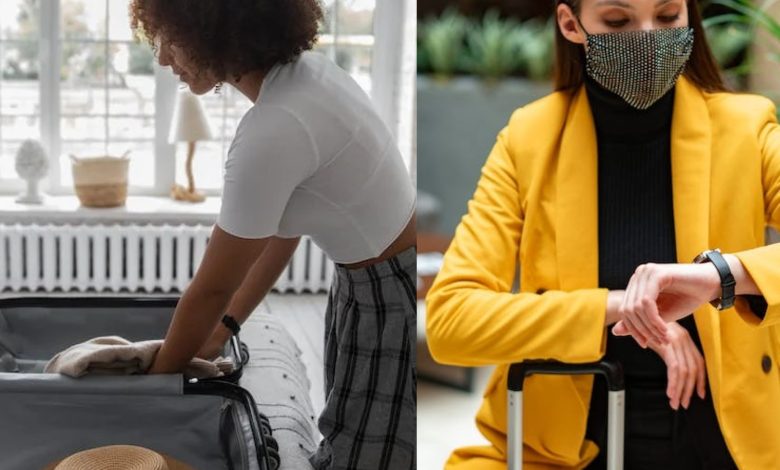 Going through Airport Security Gates can be a little stressful. Think about it: You're shoe-less, being closely scrutinized and just wanting to get safely to your designated gate so that you don't miss your flight. However, there's a few things that can MAJORLY slow up the process or cause you unnecessary embarrassment.
Embarrassment how? Well, if airport security doesn't like what it sees within your valuables or on your person; you can most certainly expect to receive a more in-depth search from a nearby airport security member. Such a search can involve pat downs, additional scanning or even detainment. Not fun, and not what any of us want to have to deal with. Therefore, how do we avoid being on security's radar?
Of course, we all know the usual TSA sins to avoid. Things such as:
making sure that you have a proper ID to hand to security
as well as not carrying large containers of liquid items like soap or lotion
Those guidelines are now like second nature. Since the early 2000's these things have been drilled into travelers and global jet-setters helping them to not commit such follies.
However, there are other security mishaps that you might want to address to prevent an unnecessary frisk. And it comes down to your hair. Yes, hair!
How does this happen? Well, many of us like to be either super comfortable; or we do our best to look TikTok FYP fabulous while traveling. But doing so, could set off the metal detectors or body scanners causing TSA to get a little too "personal." What are we doing to set off these big guns? It comes down to styling.
Wear the wrong hair accessories and you could find yourself in an welcome predicament. That's why we are going to reveal exactly which hair accessories and hairstyles to avoid during your next travel day.
Airport Security Gates: Ladies Avoid These 3 TSA Hair Mistakes!
So what are 3 hairstyles you should try not to do if you are going to be doing any air travel? Here is a short list to keep in mind:
Any style that involves Hair Pins or Bobby Pins
Wigs or extensions that contain clips
Hats with extra decals or embellishments
Yes, the above styles may have metals or other elements that can set off scanners and detectors. What may happen if you trigger one? In some cases you will be asked to remove your hat so that security can rub their fingers along the ridges and brim of the accessory. Or, security may actually put their fingers in your hair to search for anything considered "harmful" to passengers.
Not only can such a search feel very invasive, but it could put you behind schedule. Therefore, it is best to not fashion your hair in ways that can put security on alert.
Nevertheless, what if you want to wear a hat, extensions or hair pins anyway? One suggestion is to try to ask to walk through the body scanner, not a metal detector. The scanner will immediately pick up that there is something needing to be checked in regards to your head.
If you look back at the screen you will even notice a silhouette of a person with a big warning circle near the head. A security member will come forward to check you. We recommend only going the hat/wig route if you must; because usually security will only check the hat and not your wig. Therefore, just make sure your hair is styled very neatly under your hat and after a quick check of your SnapBack or other hat style, you should be good to go.
Airplane Hairstyles: How to Fly Cute and Stylish!
Now all the above information is not given in order to stress you out more before your upcoming flight. It's simply to help you get through security fast, easy and with no embarrassing searches. Since hey… Going on vacation is supposed to be a fun, relaxing experience. So then, avoid the above and look fabulous with other gorgeous styles!
What are some chic travel hairstyles to turn heads? Here are 2!
1. Braids- This protective style is great because it can withstand a LOT. Great for any weather, also braids allow you to be able to sleep on the plane, tour destinations and look good for hours as well as days at a time. Braids can also be jazzed up with various techniques. Think twists, French braids and fishtails.
2. Ponytails- Showstopping whether day or night; ponytails can look like boss babe executive hot; or 'I was just born this cute' leisurely bomb. Moreover, it can go messy vintage Victoria's Secret model era; or super sleek, modern and slicked back. Add a little playfulness in this style by adding a little bit of curl to strands that make up the 'tail.' Use a little holding spray to finish the look off.
As one can see, there are many other ways to style your hair perfectly for flight. Ways that don't involve any additional run-ins with security. Therefore, plan your style ahead, get packing and we hope you have a marvelous trip!
**Want Even More Beauty, Lifestyle, Hair, Fashion as well as Celebrity Style Sighting News, Insights as well as Trends? Well Honey do we have something special for you! Download Our New Shiny App! Click HERE**
Thoughts on Airport Security Gates: Ladies Avoid These 3 TSA Hair Mistakes!!? Well let's connect then! We're always around and love to hear from you. Therefore, join the discussion and talk all things 1966 Magazine; fashion as well as celebrity style sighting related with us by dropping a comment like its hot down low. Or also hit us up on our Facebook, Instagram (1966mag); Tumblr, Pinterest or tweet us @1966magazine.