Politics
Majority Of Black Americans Believe The Democratic Party Focuses Too Much On Race And Gender Symbolism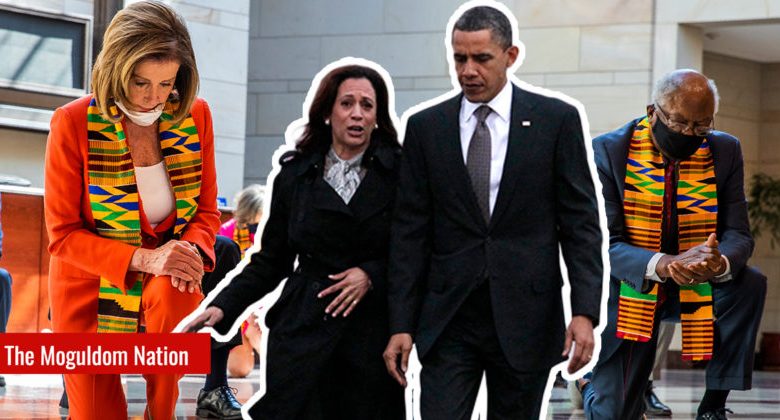 The majority of Black Americans believe that the Democratic Party focuses too much on race and gender symbolism and not enough on substantive policy for Black America, according to a YouGov poll commissioned by The Moguldom Nation.
Younger respondents came out strongest in agreement. According to the poll, a majority of 18-to-24 years old respondents (68 percent) and 25-to-49-year old respondents (66 percent) think the party now in control of the White House with a majority in the House of Representatives focuses too much on race-related symbols.
Black voters powered Joe Biden's 2020 presidential victory, based in part on his assertion that systemic racism is one of the major crises facing the nation. Biden chose as his running mate Kamala Harris, the first Black woman vice president, promising Black voters that things would be different. "You've always had my back, and I'll have yours," Biden said.
Civil rights leader Rev. Al Sharpton said he's tired of empty "firsts." Now is the time to put aside Black symbolism. It's time for action, said Sharpton, who is a backer of the Black to the Future Action Fund and its "Black mandate for the Biden-Harris administration" — also known as the Build Back Bolder plan.
"We did not put you there for symbolism. We are past the Jackie Robinson days," Sharpton said during the February launch of the plan. "We don't want a Black in the game. We want to win the game."
The Black to the Future Action Fund is being led by Alicia Garza, co-founder of the Black Lives Matter Global Network.
"The poll suggests that the voices of a substantial majority of Black Americans are not being heard by the Democratic Party establishment," The Moguldom Nation CEO and founder Jamarlin Martin said in a press release. "It certainly looks like they don't have the political courage and will to come out strong on substantive policy for Black Americans, so they need to try to make up the difference with more symbolic gestures."
The national poll was conducted on Nov. 29, 2021, to get a better understanding of current Black American views towards the Democratic Party; 237 Black Americans responded who are age 18 and older.
Almost two-thirds of the Black American poll respondents were aged 18 to 49. The 50-to-64-year-old age group was the one most inclined to answer "no" to the question: Do you believe the Democratic Party spends too much time on race and gender symbolism and not enough on substantive policy for black Americans?
"The poll suggests Black Americans under the age of 50 are moving beyond 'first Black this, first Black that,' and prioritizing substantive policy specifically for Black Americans as a whole, not trickle-down symbolism," Martin said.
More polling results will be released over the coming weeks.
About YouGov
YouGov is an international research data and analytics group whose data-led offering supports a wide spectrum of marketing activities for its customers including media owners, brands and media agencies. It works with some of the world's most recognized brands, collecting and analyzing opinion and behavioral data from a proprietary global panel of 11 million registered members to provide clients with data and insights to help them plan, develop and evaluate the impact of their marketing and communication activities. YouGov has the ability to isolate specific demographics. A study by the Pew Research Center concluded that YouGov "consistently outperforms competitors on accuracy" as a vendor of choice.
About The Moguldom Nation
The Moguldom Nation (TMN), a Nubai Ventures Inc. company, was founded by digital media pioneer Jamarlin Martin. The Moguldom Nation is a leading digital media platform focused on freedom, justice, and equality. We cover "do for self" entrepreneurship, tech, politics, reparations, markets, and crypto. Our goal is to use information, data, and analytics to fertilize a new nation, The Moguldom Nation. A revolution starts with the mind. We are a macroeconomic platform in that we cover the connections between politics, financial markets, and the broader economy. We do our best to bring the connections together and keep Black America ahead of the game.
For press release media inquiries, email Isheka Harrison, iharrison@moguldom.com