Black Business
Megan Thee Stallion Talks About Creating Your Own Legacy and Building Generational Wealth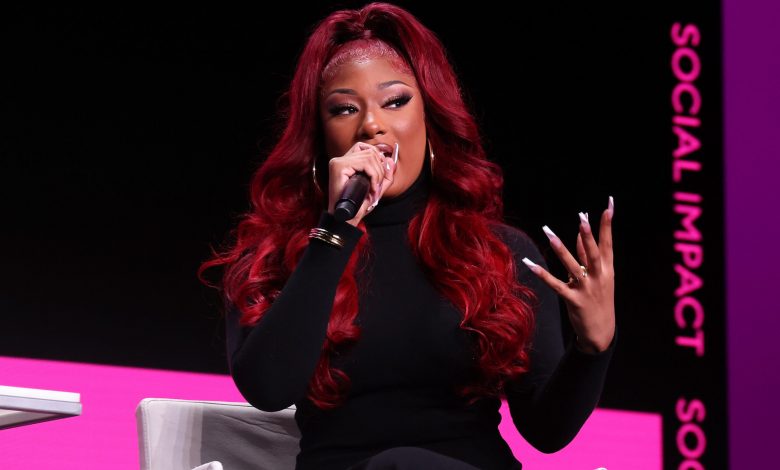 Hot girl coach Megan Thee Stallion popped out this week at Forbes' 30 Under 30 Summit in Detroit with a fiery red hairdo. The 27-year-old wore her hair half-up and half-down with curls flowing on each side of her face. She brought her beauty and brains to the stage to inspire a crowd of people, while discussing her mentors and thoughts behind creating generational wealth.
During a sit-down with reporter Randall Lane, the "Good News" rapper reminisced on her mother, Holly Thomas. The late Houston rapper passed away from a brain tumor in March 2019.
"I would talk about my first mentor…which is my mom. Uh," Megan said before pausing when getting emotional. "Beautiful lady, wonderful lady. She laughed, "I ain't gon' cry today." 
The Grammy-winning rapper said she watched her mother work 9 to 5 every day while her father spent the first eight years of her life behind bars. 
"She had to take on a lot of roles. So I feel like me wanting to be an entrepreneur in the first place. I feel like I saw this woman have to take on so many jobs and it wasn't nothing I felt like she couldn't do. Like she didn't make anything look impossible. She didn't make anything look hard."
The Houston-based artist said, "I know she was doing the scariest things. Raising a child by herself until my daddy got out of jail. But then he passed away, and I know that was super hard on her."
The "Realer" artist said she watched her mom turn into "superwoman" after her father, Joseph Pete Jr., passed away in 2011. She was a freshman in high school at the time, as reported by Marie Claire.
Today, Megan's mentors look more like billionaires Beyoncé
"Like they don't try to hold it as a secret. You know sometimes you feel like rich people don't want other people to be rich. It's like they feel like it's only enough money for a certain group of people," she explained.
She claims Jay-Z even suggested she stop driving the boat drinking his cognac brand, D'usse, and create her own.
Later in the conversation, the young entertainer was asked why she "purposefully" ventured onto the "hard" route toward becoming an entrepreneur.
"Creating your own legacy and creating your own wealth is super important to me as a Black woman because originally we didn't have a lot of opportunities," she began. "Just even as women but specifically black women."
"We didn't have a lot of opportunities, so for me to be able to be in this position today and be able to create generational wealth and to create a future for my future family," Megan continued noting another mentor.
"I feel like I gotta go super hard because I know if my grandmother and my mom could have did that for me they would have. But now I have the opportunity to do that for my future family, so I want to go extra hard for what's not even here yet."
Megan Thee Stallion's grandmother died two weeks after her mother in the midst of her breakout year.