Cannabis
Mike Tyson launches cannabis edibles shaped like a bitten ear- Alchimia Grow Shop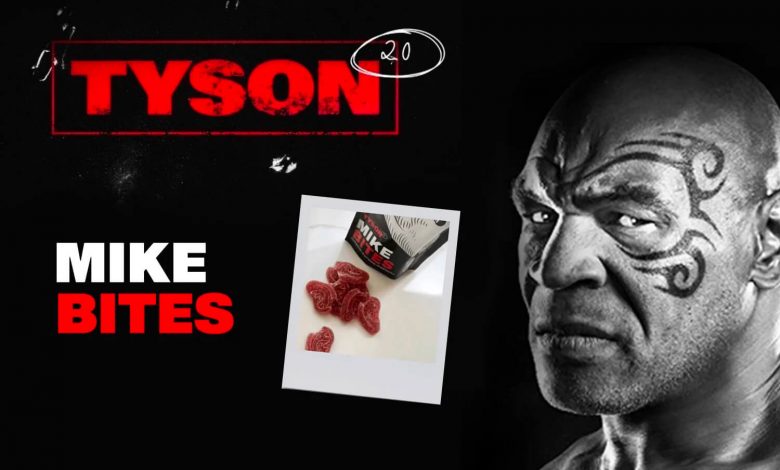 It has been almost 25 years since Mike Tyson bit Evander Holyfield's ear in the 1997 WBA Heavyweight Championship fight, causing Tyson to lose his boxing license and be fined 3 million dollars for an act he claimed was retaliation for a head butt. Without a doubt, this is an unforgettable moment that lives on in the history of sports and popular culture, something that the ex-boxer's cannabis company, Tyson 2.0, has taken advantage of to launch cannabis edibles inspired by that famous moment.
'Mike Bites' ears have a bite mark on the top of the gummy, in the exact place where Tyson chewed a chunk of cartilage from Holyfield's ear. The company launched the product on Twitter last Tuesday with a simple photo, announcing that the gummies will be sold in dispensaries in California, Massachusetts and Nevada.
More than a few fans have applauded Tyson's company for the creativity of the design and execution of these edibles. "Genius! Talking from a marketing point of view. Simple brand-product link" or "I hope @holyfield gets a share of the profits" are some of the reactions shared by his followers on social media.
And these are not misguided comments, as it appears that the former opponents have reconciled outside the ring. In a 2019 episode of the 'Hotboxin' with Mike Tyson' podcast, Evander Holyfield said that he "forgave" Tyson; and Tyson tossed him an ear-shaped candy. "You may be in business because we're going to make some holy ears," Tyson replied. "Edible ears with a little bite removed. Holy ears", he predicted at the time with a joint in his hand. But, currently, it is not yet clear if good old Evander will receive a part of the sweet profits.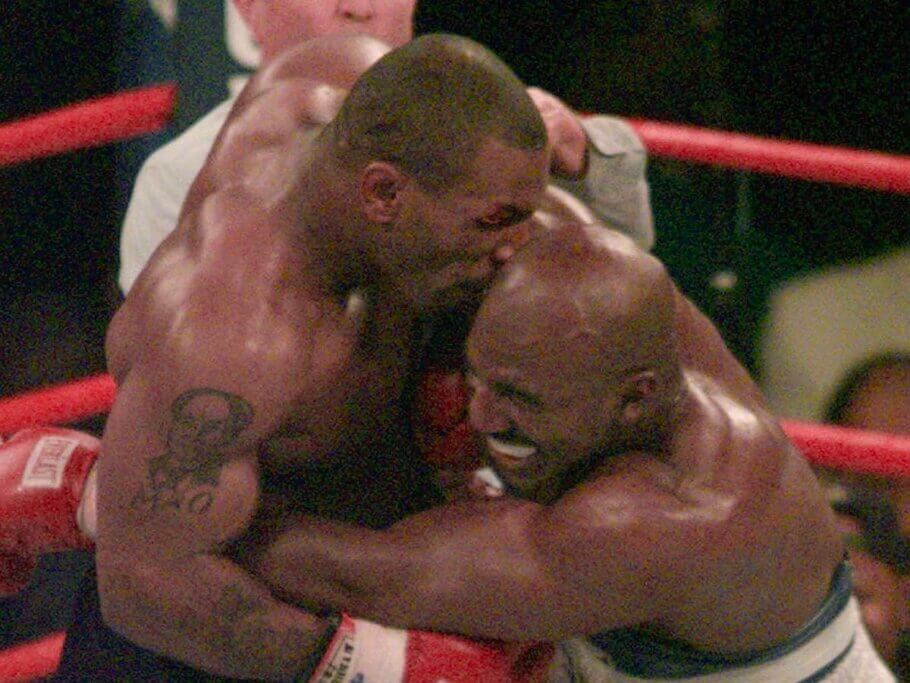 Mike Tyson's return to the cannabis ring
Although former champion Mike Tyson is best known for a legendary boxing career, (and perhaps his distinctive face tattoo) since retiring from the ring he has made something of a name for himself within the world of commercial cannabis. Tyson first broke into the industry in 2017 with a line of weed products called 'Tyson Ranch", with the intention of opening a cannabis-focused resort of the same name, a kind of stoner's Disneyland in California.
That business failed and no longer exists, but Iron Mike had no intention of kissing the canvas because now he has remade himself with a new brand, Tyson 2.0, and he seems to be making a strong comeback in collaboration with a new team of cannabis industry veterans.
"Tyson Ranch failed because of bad management and a simple lack of knowledge of cannabis", Adam Wilks, CEO of Tyson 2.0, stated in a recent interview. "That's why I'm here at Tyson 2.0 and I'm excited to launch Mike's real cannabis brand this time."
Tyson, Wilks and the rest of the team have partnered with Columbia Care Inc., a New York-based cannabis company that now owns 25 dispensaries in Colorado after buying Green Solution and Medicine Man, two companies for growing and manufacturing marijuana-based products. According to the company, as of this year, Columbia Care will sell the Tyson 2.0 range of products, including these gummies, through its national network of dispensaries and other retail partners.
Cannabis to help people
Mike Tyson has made his love of weed into part of his personal brand and he regularly cites it as a major contributor to his success, going so far as to use it to calm his nerves before an exhibition fight, replacing the opiate painkillers he once took.
"Cannabis has always played an importante part in my life, it has changed me for the better, physically and mentally, and I want to share this gift with other people who are also looking for relief." said Tyson in a press release at the launch of his new company.
"I've never felt so healthy, I've never felt so clear. I tried 5-MeO-DMT, the God molecule and my whole life changed", Tyson also stated during an interview in 2021 with Forbes, revealing that he's no lightweight when it comes to the consumption of psychedelics, other substances that the champion affirms helped him out of years of depression and other mental health issues that led him to take opiates and other medications, including drugs that made him want to "do nothing but binge-watch 'Law & Order' and eat."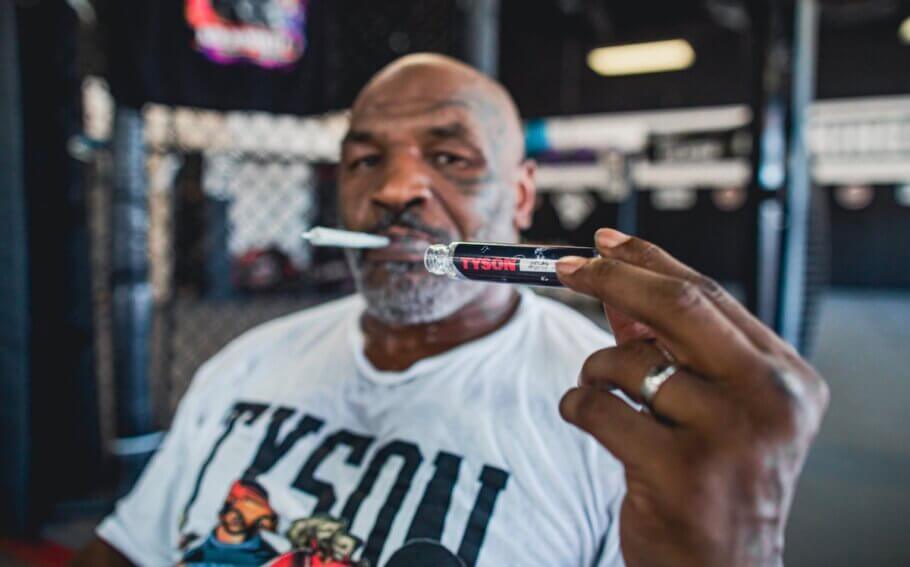 Mike Tyson 2.0
Tyson also recently announced his new role as an advisor and investor in Wesana Health, a biotech company that is developing a psilocybin treatment for traumatic brain injury. The legendary boxer says that companies like Wesana and Tyson 2.0 are helping to create "a new perspective" around cannabis and psychedelics, and he is confident that both brands "are here to stay".
Another project that keeps him busy is his podcast with millions of listeners, 'Hotboxin' with Mike Tyson', where he chats with boxers, athletes, artists, comedians and celebrities, often while he and his guests "try-out" his brand's products.
He currently has three lines of flowers: lower potency outdoor and greenhouse-grown flowers, higher potency indoor flowers, and a unique "Toad" line of premium strains inspired by toads and psychedelia. Tyson 2.0 also sells pre-rolled joints, drinks, cannabis concentrates and edibles, such as the gummy ears that he has dedicated to his now friend Evander Holyfield on the 25th anniversary of that legendary fight.
Ears that will undoubtedly be a huge sales success thanks to a perfect brand positioning that will go down in the annals of modern marketing; and if you take a closer look, it's really a great way to admire all that Mike Tyson is doing for cannabis, fighting to be heard and to break the stigma of a plant he truly believes in. And he has the ability to help many people, just as he helped himself.
The articles published by Alchimiaweb, S.L. are reserved for adult clients only. We would like to remind our customers that cannabis seeds are not listed in the European Community catalogue. They are products intended for genetic conservation and collecting, in no case for cultivation. In some countries it is strictly forbidden to germinate cannabis seeds, other than those authorised by the European Union. We recommend our customers not to infringe the law in any way, we are not responsible for their use.