Politics
Minnesota Judge Only Gives Minnesota Killer Cop 24 Months for Killing Daunte Wright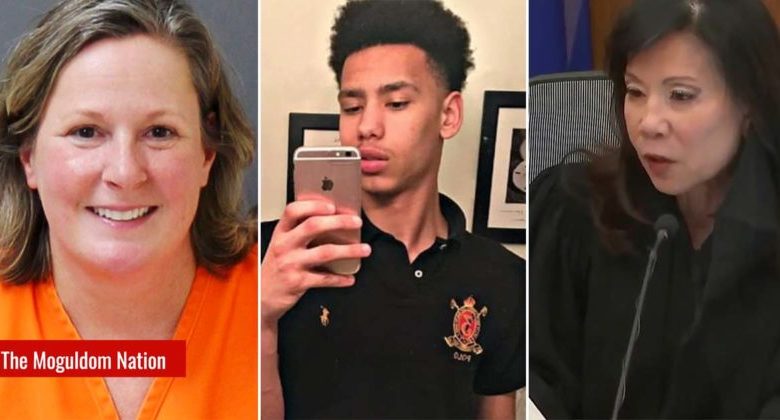 The punishment for former Minnesota cop Kim Potter, who killed 20-year-old Daunte Wright during a traffic stop after claiming she grabbed her gun instead of her Taser, has triggered outrage after a judge sentenced her to less than 16 months in prison and a $1,000 fine for manslaughter.
Minnesota Judge Regina Chu gave Potter 16 months in prison and eight months on supervised release. The sentence is far less than what the prosecution sought. Potter already has a credit of 58 days served in jail while awaiting sentencing.
Potter's defense was that she mistakenly pulled out her revolver instead of the Taser she meant to use on Wright, a new father, who allegedly resisted arrest after being pulled over on April 11, 2021. 
Potter worked for the Brooklyn Center Police in Brooklyn Center, Minn., eight miles from Minneapolis.
Bodycam video footage revealed that after Wright was pulled over and approached by two officers for expired car tags, Wright, standing by the open driver's side door of his vehicle, wrestled free of handcuffs as they were being applied. Wright then apparently got back into his car with his girlfriend inside and appeared to try to drive off, People Magazine reported. That was when Potter shot him.
A jury convicted her of first- and second-degree manslaughter following three days of deliberations.
"I recognize there will be those who disagree with the sentence. That I granted a significant downward departure does not in any way diminish Daunte Wright's life. His life mattered. And to those who disagree and feel a longer prison sentence is appropriate, as difficult as it may be, please try to empathize with Ms. Potter's situation," Chu said at the time of sentencing.
"This is one of the saddest cases I have had in my 20 years on the bench," Chu said when delivering the sentence. "Officer Potter made a mistake that ended tragically, but she never intended to hurt anyone."
The maximum sentence for first-degree manslaughter is 15 years and a $30,000 fine, and for second-degree manslaughter — 10 years and a $20,000 fine, ABC News reported.
People were outraged on Twitter about the light sentence given to Potter.
"Judge Regina Chu, who just delivered a mere 2-year sentence to Kim Potter, Daunte Wright's killer, is up there crying *for Kim Potter*. I've never seen this before. That was shameful," tweeted Ja'han Jones (@_Jahan), creator of #BlackObituaryProject, which lets Black people write their own obituaries before police kill them.
Others pointed out the sentencing disparity between convicted Black people and whites. "Why don't Black people receive the same leniency or sympathy after making a 'mistake?' Could it be the same reason white police officers keep killing Black people by 'mistake?'" asked Rashad Robinson (@rashadrobinson), president of the progressive nonprofit civil rights advocacy organization Color Of Change.
"Strange, this wasn't Judge Chu's demeanor when she sentenced my client to 75 months for trying to break up a fight, which resulted in her deportation to a country she hasn't been to since she was a child and separation from her own young children," immigration lawyer John Bruning tweeted.
"Judge Regina Chu cried when she sentenced Kim Potter to a mere 2 yrs for murdering Duante Wright. She asked for empathy for the murderer. She never shed a tear for Duante or asked for empathy for his family," tweeted Bishop Talbert Swan, a prelate of the Church of God in Christ serving as the bishop of the Nova Scotia Ecclesiastical Jurisdiction in Canada.
Listen to GHOGH with Jamarlin Martin | Episode 74: Jamarlin Martin Jamarlin returns for a new season of the GHOGH podcast to discuss Bitcoin, bubbles, and Biden. He talks about the risk factors for Bitcoin as an investment asset including origin risk, speculative market structure, regulatory, and environment. Are broader financial markets in a massive speculative bubble?
Civil rights lawyer Ben Crump, a lawyer for the Wright family, said the judge's comments at sentencing "showed a clear absence of compassion for the victim in this tragedy and were devastating to the family."
"Today's sentencing of Kim Potter leaves the family of Daunte Wright completely stunned. While there is a small sense of justice because she will serve nominal time, the family is also deeply disappointed there was not a greater level of accountability," Crump said in a statement.
Photo: This inmate file photo provided by the Minnesota Department of Corrections on Dec. 23, 2021, shows former Brooklyn Center Police officer Kim Potter. (Minnesota Department of Corrections via AP, File)/Photo: A 2018 picture of Daunte Wrigh, Facebook/Photo: In this screen grab from video, Hennepin County Judge Regina Chu presides over motions before court Dec. 14, 2021, in Potter's trial in the April 11, 2021, death of Daunte Wright, Hennepin County Courthouse, Minneapolis, Minn. (Court TV via AP, Pool)