Fashion
Nexxus Curl Define Collection -Hey Naturals… See Results in Just One Wash!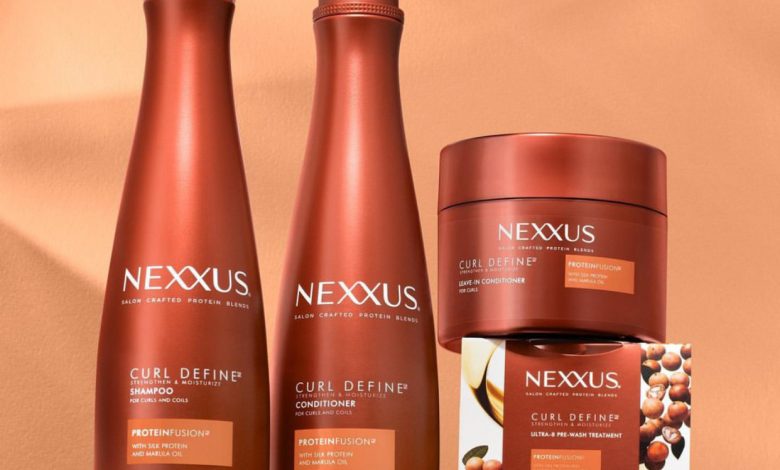 Have you tried out the Nexxus Curl Define Collection? This Curly Haircare lineup is literally a DECADE in the making and promises results with your very first use! Nexxus says with this breakthrough collection is:
Scientifically proven
Custom crafted for coily and curly hair
Defines, Moisturizes and Strengthens
Results you can visibly see after one wash
Does that sound like the kind of hair products you are after? Great, in the following sections we are going to breakdown everything from the formulation to hair benefits and even how it is the new celebrity fave!
Nexxus Curl Define Collection -Hey Naturals… See Results in Just One Wash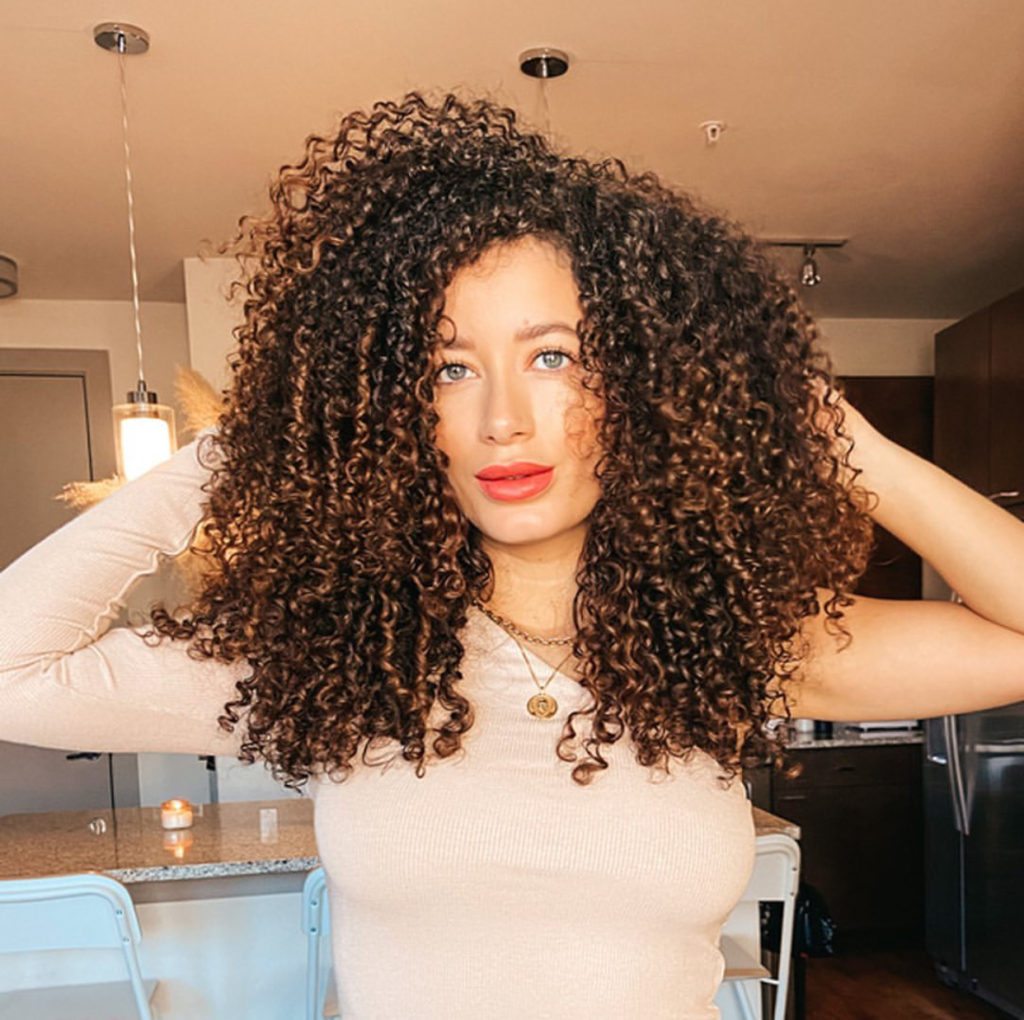 This collection first got our attention when we realized that it is formulated with Marula Oil! Never heard of it? Well, Marula Oil is a lightweight, non-greasy oil that is rich in antioxidants. This type of oil can nourish your hair from roots to tips, while balancing your strands' natural oils as well as repairing hair and smoothing frizz. Moreover, also due to it's occlusive properties (preventing water loss); Marula Oil is very moisturizing and hydrating; which is ideal for dry, fuzzy or brittle hair.
Nevertheless, besides Marula there is plenty more to love about these products. Nexxus gives great insights into their lineup for natural hair and styling. Nexxus reveals,
"Say hello to Nexxus Curl Define! Our custom crafted range for curly and coils hair; backed by protein science. Our scientifically proven collection will restore strength from within and leave curls and coils defined and moisturized after just 1 wash!
Attention all curls and coils! After a decade long research program; out scientists are proud to have made a game-changing protein discovery for curly hair. Curly and straight hair don't just have a different structure; but the proteins that make up those structures are different and certain proteins occur more frequently in curly hair than in straight hair.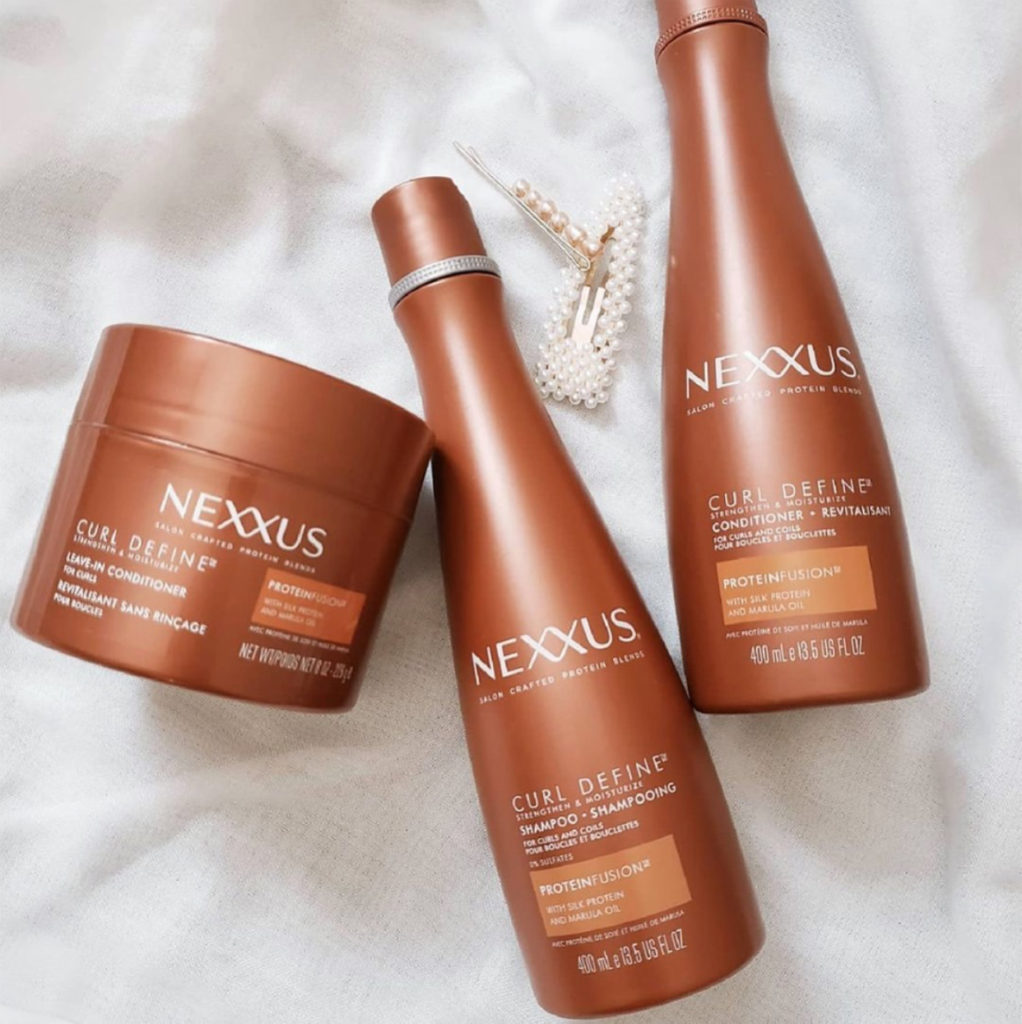 With this in mind, our scientists custom crafted our newest ProteinFusion formula with silk protein (known for being high in the protein building blocks curly hair needs); and marula oil (known for providing intense moisture). The result is a scientifically proven, salon quality formula that works to strengthen; define and moisturize curls and coils!
The best way to care for your curls? From within! A decade of research has led us to a breakthrough formula in curl science that restores strength from within. Use our Nexxus Curl Define collection to give you defined, moisturized curls and coils in one wash."
Coily Hair Type and Curly Hair Products -How the Curl Define Collection Works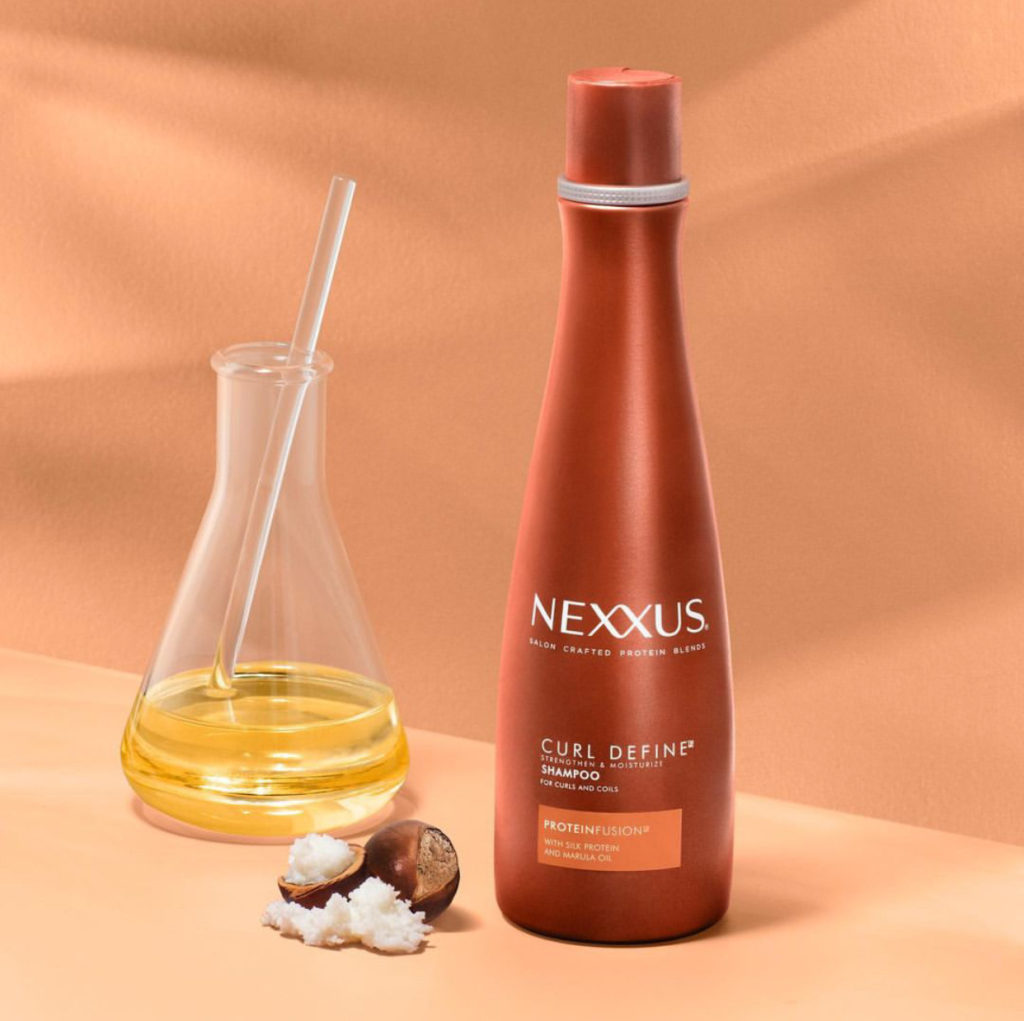 There's four products up for grabs in this amazing black haircare collection by Nexxus. All items that are necessary for healthy hair maintenance. You can grab yourself:
Shampoo
Conditioner
Leave-in Conditioner
Ultra-8 Pre-Wash Treatment
We went straight to the source to find out more intel on the above products. Here is some details from the Nexxus brand on their scientifically custom crafted products. The brand reveals,
"Ready to give your coils the definition and moisture they're craving? We've got the solution for you with our new Curl Define collection.
Introducing: our new Curl Define Conditioner! This deep conditioner melts into curls and coils for intense moisture and easy detangling. Enriched with silk protein and macula oil; this one of a kind formula provides the moisture you've been waiting for!
[Moreover here's] he curl shampoo you been waiting for! Sulfate free so you can cleanse without stripping hair. Protect your curls and coils from breakage with our new Curl Define Shampoo. Shop and start lathering.
If your curls need a little pick me up, you'll love our new Curl Define Leave- In Conditioner. Formulated with silk protein and marula oil, this rich leave-in replenishes and locks in moisture to help control frizz for soft, defined curls."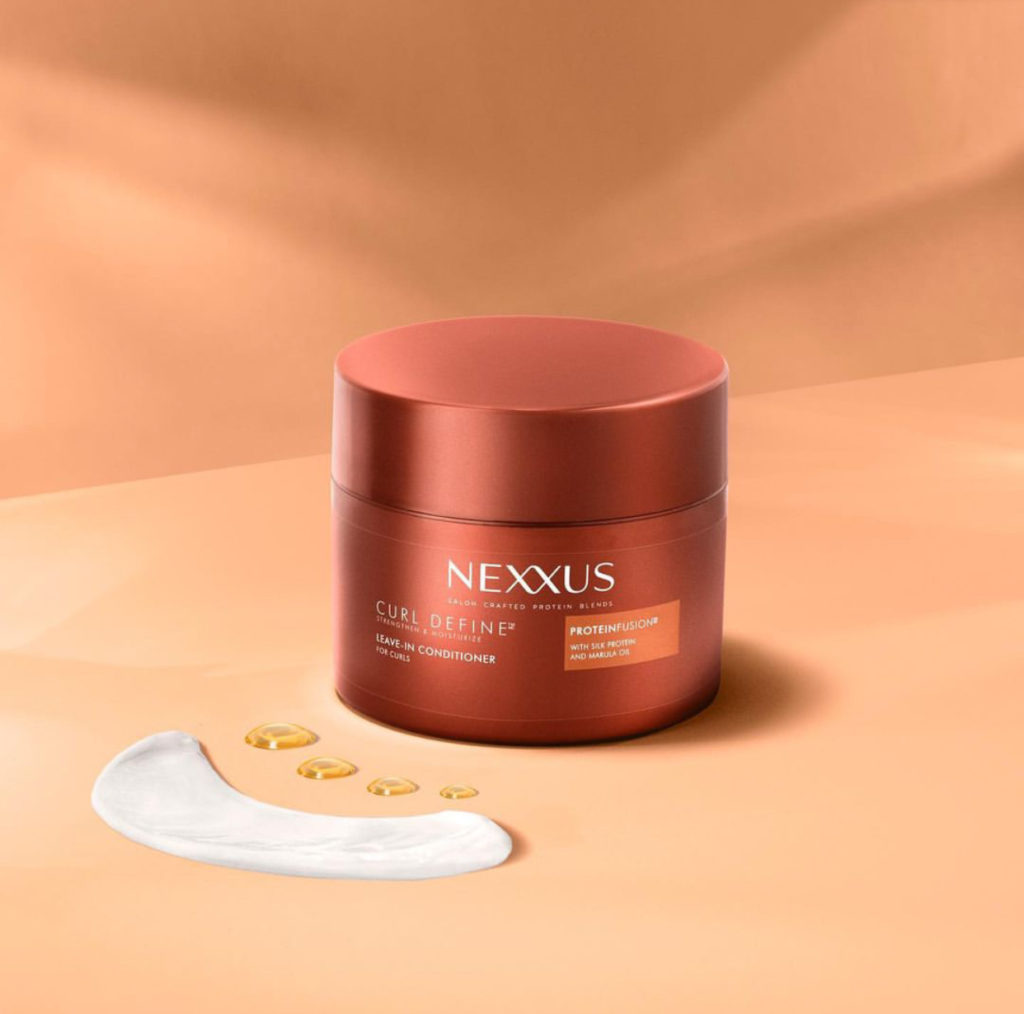 Coily Hair Products -How the Curl Define Collection Works (Continued)
Do you use pre poo? There is a very good reason to, especially if you want to help your natural hair maintain hydration. Moisture is EVERYTHING when it comes to black hair. Hair that's dehydrated can become dry, dull and lead to breakage. Not good.
Utilizing a pre-poo product is a good answer to this type of common hair problem. So what is pre poo and how does it help the hair? Pre-pooing comes before any shampoo ever hits your strands. This is the process of applying a formulated hair treatment to your tresses before the actual shampoo process.
This treatment helps to provide your strands with a protective layer. This is very helpful to you because the act of shampooing (due to their harsh ingredients like sulfates) can strip moisture from the hair. Most people feel that applying conditioner to your hair after shampooing should restore any moisture that is lost. However, the conditioning process is not always enough. Therefore, by applying a cream based conditioner, hair mask or specially formulated pre-poo ( look for one that detangles, strengthens and hydrates); before shampooing you can help your strands maintain moisture.
Coily: Why Kinky Coily Hair and Curls Benefit From Pre-Poo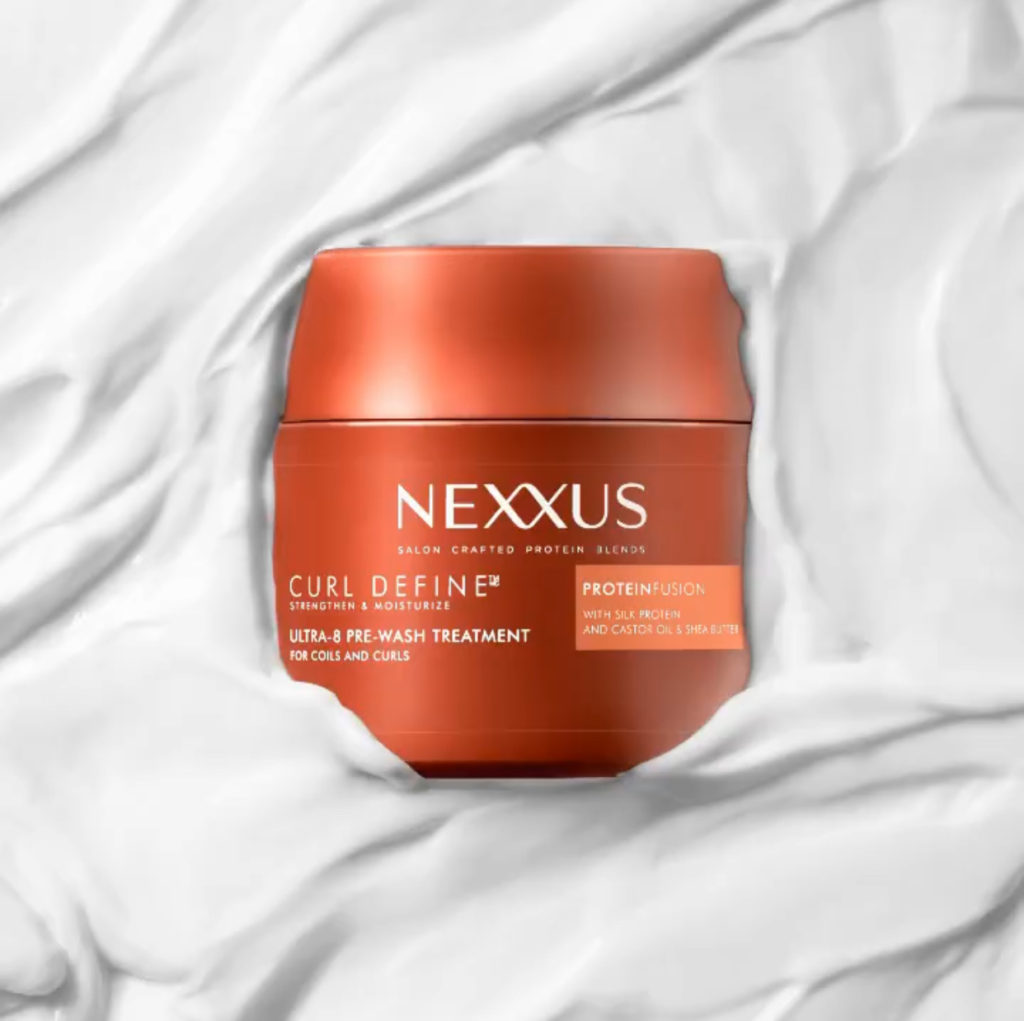 Pre-pooing is also great for those who get a ton of knots and tangles, causing them to lose a ton of hair. Pre Poo helps to give your hair the slip in may need to be detangled easier. If your knots and tangles loosen easily, then you can prevent losing more hair than necessary.
What does Nexxus have to say about their Pre Poo? The brand says,
"This what curl envy is all about! Wash day just got a whole lot easier! With our Ultra-8 Pre-Wash Treatment; your curls will get the royal treatment. Your new holy grail detangler!
Ready to give your coils the definition and moisture they're craving? We've got the solution for you with our new Nexxus Curl Define collection. A one of a kind formula for your one of a kind curls. Custom crafted for curls and coils; our breakthrough in protein science gives you defined, moisturized curls after one use. Bring out the best in your curls with new Curl Define."
Curly Coily Hair -What People are Saying About Nexxus New Collection!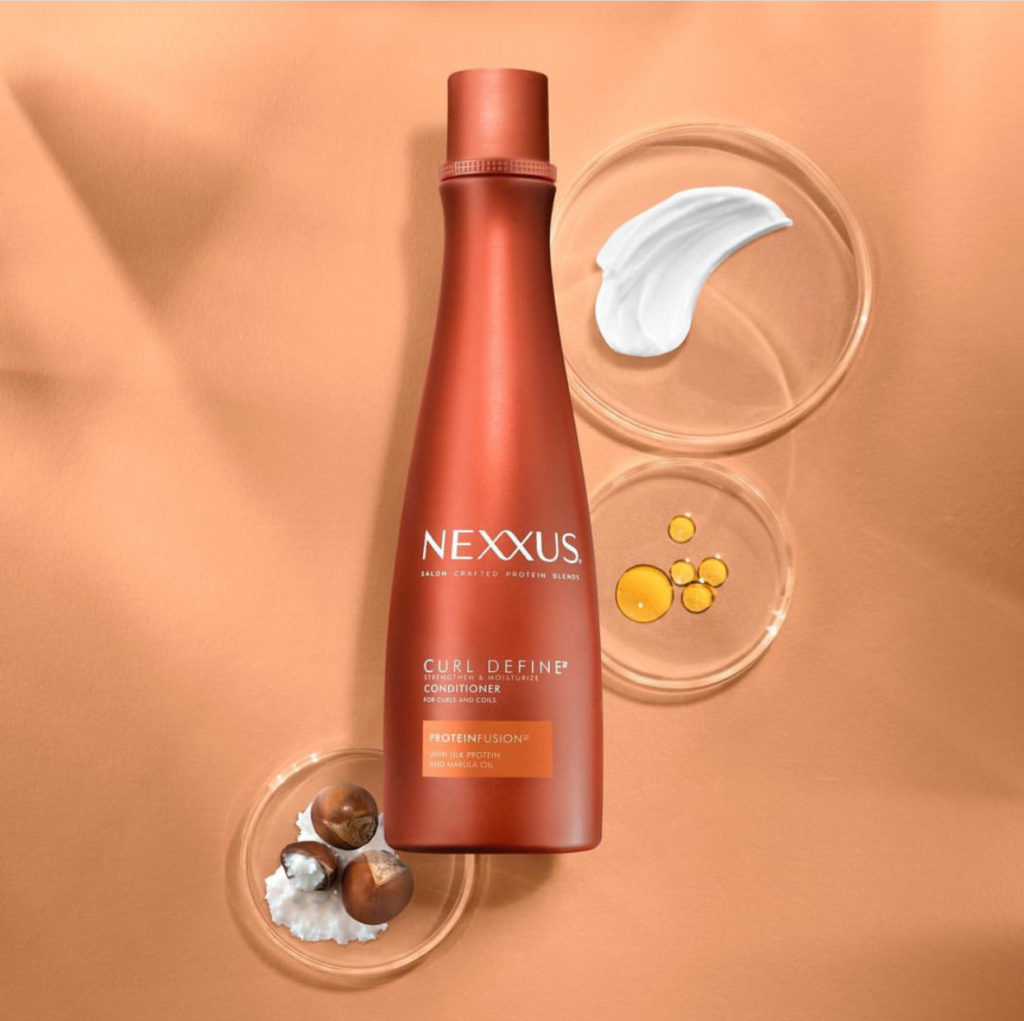 Yes, hearing beauty intel from brands are great. We love to know how it affects our hair and if it will help to encourage more vitality, growth or definition. However, the real truth lies in the opinions of actual Nexxus users. What are people saying about this release?
Well, we went all through digital airwaves to various social media platforms to see what real people thought about the Curl Define line. Here are just a few of their thoughts:
I've always wanted to use Nexxus products. Finally something for my hair. Add a deep conditioner to this line!
The $15 pre-shampoo treatment replaced my $50 holy grail, and that's a hair secret I just have to share.
A FAVE!
Just tried these products and love them!
Recently had a perm. This stuff is amazing.
Omgosh I have not tried this one yet, I need to get this!!
Loving the curl define leave in conditioner! Love the shape it gives my curls plus it smells great. Haha.
Will definitely give this a try!! I've used Nexxus for over 20 years and it was always the best.
The proof is in the pudding, my hair looked and felt AMAZING afterwards!
Kinky Coily Hair – The Differences Between Type 3 Hair and Type 4 Hair
Why do we "type" hair? In all honesty the original hair stylist that started this trend, just wanted to help black women understand which products work for their gorgeous textures best. Over the years, unfortunately, that originally goal is lost.
Some have taken hair typing to extremes. Expanding on definitions and including "personal" opinions. Yet, the emphasis should be on purely helping haircare enthusiasts to learn and understand their hair, so that they can moisturize, condition and grow their hair healthily.
This is necessary, because in black haircare history; a few decades ago the only way to have "nice hair" was to perm it or press it with heat. Yes, you were to burn by chemicals or a hot stove. We finally had enough. Black girls and women have triumphantly emerged from those two options, now needing knowledge on how to wear and nourish pretty curls, waves, kinks and coils.
Youtube and other social media (and 1966 Magazine wink, wink); has helped countless women of color catch up on great tips to go natural properly. Nonetheless, there is still plenty to discover and know. Most naturals have not been to a university to study or specifically learn the science 'ends and outs' of how strands react to different ingredients and elements. However, that is exactly why the hair typing system was created. Black hair types would correspond with certain haircare products. Allowing women to skip the guessing phase, and go straight to using products that actually work.
Coily Hair -Nexxus Breakdowns the Differences Between Type 3 and Type 4 Hair (Continued)
Oh if it all could be that easy! Hair is so diverse, that it is hard to exactly define it at times. For instance, some who have tried to "hair type" themselves find that their natural texture seems to fall not into one specific category, but two!
However, the main thing to remember in haircare, is whether or not a product works well for YOU. Everyone is different, what works for one person, may not work for another. Something can work fantastically on all types of hair, or on none at all. You won't know till you try it.
Therefore, do not always get hung up on "types." Your type is not always the defining whether or not a product will work for you. But, it is still good to know and understand your OWN hair. That will you can start to notice patterns; indicators that will
Nevertheless, if you are still curious at what the difference between Type 3 and Type 4 are; Nexxus broke it all down! Here's what they say:
"Type 3 Curly hair can range from loose, buoyant loops to tight, springy corkscrews which have some sheen; but are prone to frizz. The shape can range anywhere from a "S" loop to tight corkscrews approximately the circumference of a pencil.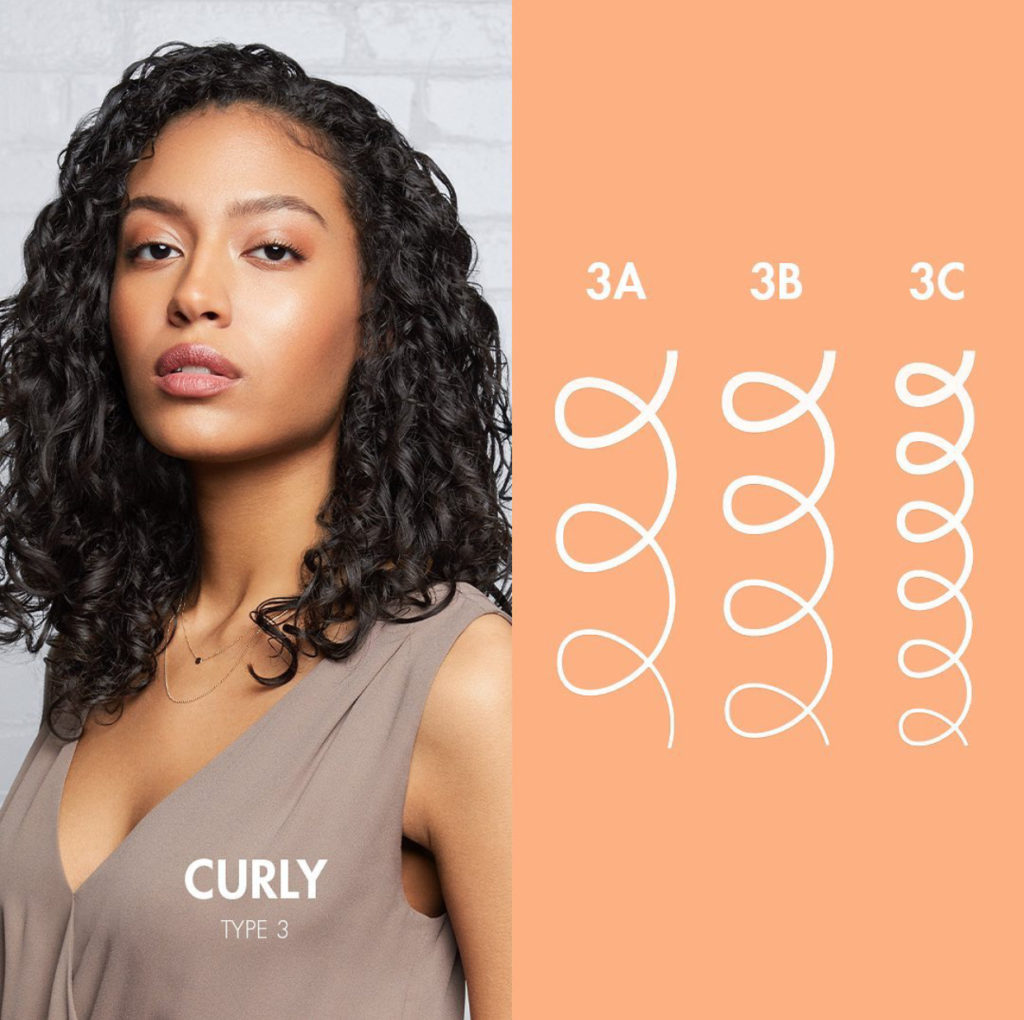 Type 4 coily hair is naturally very dry and spongy in texture and can be soft and fine; or coarse and tough. Strands form very tight, small curls of zigzags right from the scalp and are prone to major shrinkage."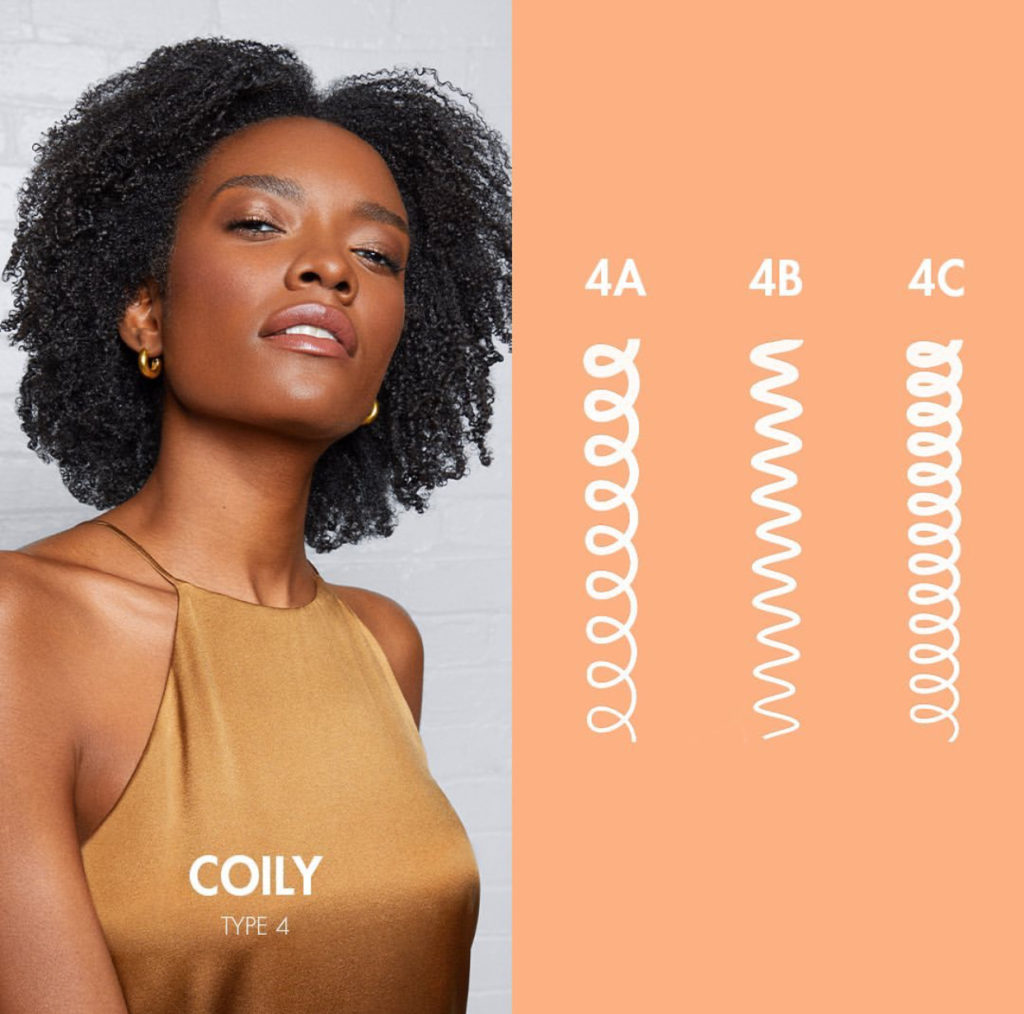 Coily Hair vs Curly Hair -Is There Any Differences?
You may have noticed that in more recent years, hair companies have been stating that their products are for curly and coily hair textures. This may sound confusing, because at one time in black culture, coily and curly basically meant the same exact thing. Coily was just another way to say someone had really curly hair.
Nevertheless, times change and words change along with them. Now, curly and coily have different meanings. Coily hair is a 'type' of curly hair that is much tighter and shaped differently than straight up curls.
Most people today refer to wavy hair as Type 2, curly hair as Type 3 and coily strands as Type 4. Curly hair, while voluminous, is thought to still be a looser curl; while coily hair is denser and a more tightly packed curl pattern.
What is Coily Hair?
As mentioned, coily hair has taken on new meaning in recent years. Coily hair is now what many refer to when they are talking about a Type 4 curl pattern. How do you know if your curls fall into the Type 4, coily hair realm?
Look for these identifying hair features:
Hair strands form extremely tight, small curls of zig-zags right from the scalp
Afro textured kinky hair
Very tight ringlets of hair that curl upon themselves
Strands are prone to major shrinkage
Hair appears to be more "compact"
4a curls form an "S" shape
4b curls have a "Z" shape
Due to bends and curves in the hair strand, Type 4 curls are also highly susceptible to breakage and dryness
Type 4c is a kinky hair texture that does not have defined curls; moreover, unless the hair is manipulated or curls are created
Type 4c is a zig-zag shape, it does curl or wave
The above are just some of the identifying marks of the gorgeous coily hair type. Basically, Type 4 refers to very tight curls, spirals and strands with zig-zag patterns. Nevertheless, as many come to find, black can not be defined. All melanin people have such diverse strands, even within the same immediate family!
Therefore, it is very important to learn your OWN hair. What it likes, what it does not like. When it seems to grow, and when it does not seem to grow. Knowing your own hair well will help you make great decisions and hair choices that will give you the best, healthiest tresses ever!
The Final Word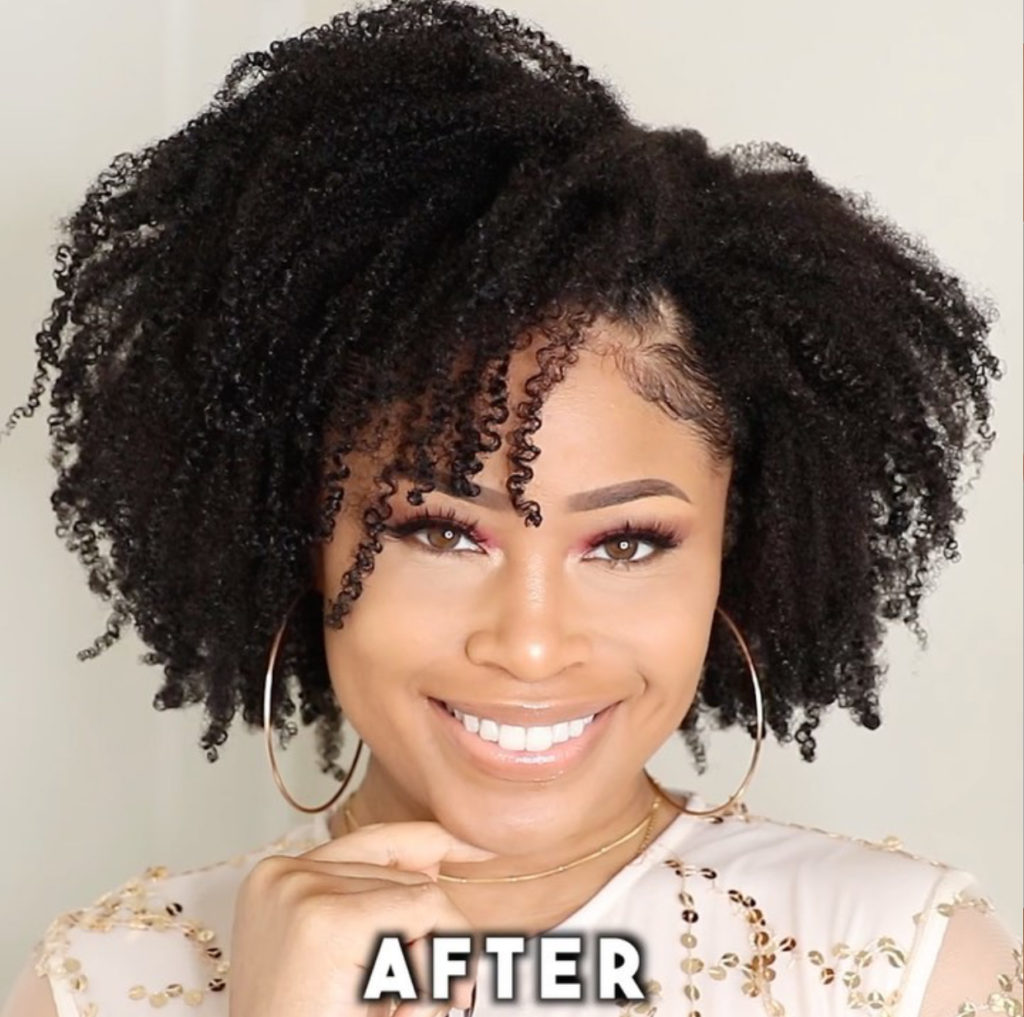 Before we let y'all go, we have to say that while we were researching and putting this article together; two really great questions came up. We were glad that we stumble upon ladies who were worried about this things; and we figured it was worth it to look into them because perhaps there are others out there wondering the same thing. The questions were:
Is This Formulated for Course, Kinky Curly Hair?

Can We Use This on Color Treated Hair?
Nexxus was kind enough to provide a simple answer to these questions. Which is nice, because there are some brands who just drop products and never really answer any questions. Unfortunately.
However, with Nexxus that is not the case. In answer to the above two bullet point questions the haircare brand states,
"Hi there! Yes our Curl Define Collection is custom crafted for 3A-4C curls! [And] Curl Define is safe to use on color treated hair!"
Great right?! We hope you have enjoyed this hair feature. If you are looking for even more haircare tips, intel and info be sure to head to our HAIR Section for our HAIR GUIDES!
**Want Even More Fashion, Beauty, Lifestyle, Health as well as Celebrity Style Sighting News, Insights as well as Trends? Download Our New Shiny App! Click HERE**
Thoughts on Nexxus Curl Define Collection -Hey Naturals… See Results in Just One Wash?Well let's connect then! Join the discussion and talk all things fashion as well as celebrity style sighting related with us by dropping a comment like its hot down low. Or also hit us up on our Facebook, Instagram (1966mag), Tumblr, Pinterest or tweet us @1966magazine.