Black Business
Oakland Teen Who Went Viral After Launching Science Education Business for Kids Earns 4.05 GPA During First Year at Stanford University, Creates Pilot Program to Integrate His Science Kits Into Public Schools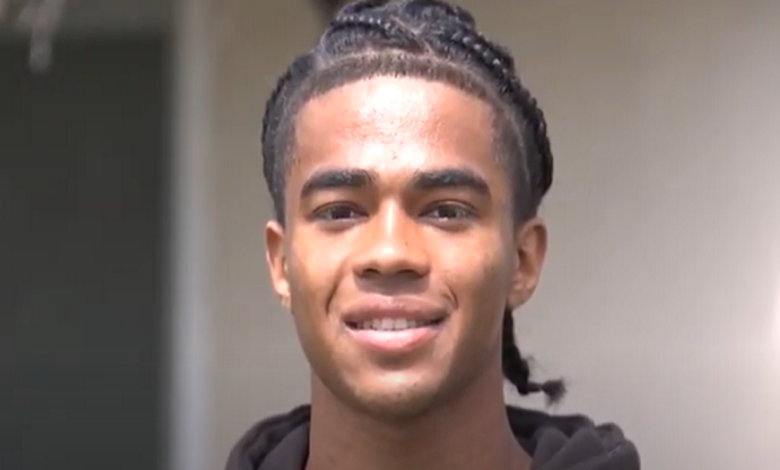 The first Black male valedictorian to graduate from his Oakland high school has completed his first year of college. The scholar brings back to his hometown a top GPA from one of the top 10 schools in the country.
Oakland native Ahmed Muhammad, the young man who made national headlines after becoming the first African American valedictorian to graduate from the Oakland Technical High School, has finished his first two semesters at Stanford University.
The 19-year-old busted out his freshman year at the sixth top college in the country with a 4.05 GPA and credits his high school with preparing him for such a milestone.
"My classes at Stanford in terms of how I approached them weren't too much different from what my teachers required of me in high school," he explained to KTVU.
Some of the differences he encountered were typical for new collegiates: class size much larger and a lot of new distractions he didn't have in high school, saying they are "a lot of ways to be able to have fun that are not necessarily productive."
However, Muhammad said he leaned on the skills he learned while studying in high school to help him to stay focused on the right path, lessons he never thought he would need.
He said, "I didn't understand why they were expecting so much in high school, why they were tough on me, but now, come to college, I'm directly applying what they taught me."
Keys to his success were drawing from the academic foundation he established in high school classes such as calculus and Advanced Placement physics and having the humility to ask his professors for help when he was struggling in a subject. He also noted the biggest key to banging out a great first year was simply "having the discipline to sit down and actually study and grind out the material." 
He added, "My teachers would also stress to me that it's not about the grade, but to commit to the class. Not shooting for grades but shooting to understand the material, and the grade follows." 
The rising sophomore says he will narrow down his major next year and is leaning toward the following areas of study: computer science or electrical engineering with a minor in mechanical engineering design.
In addition to being a great student, he is also a powerful businessman, running a nonprofit called Kits Cubed, aimed to give children hands-on science experiences through affordable and accessible kits the young ones can use on a daily basis based on things they would see in their everyday lives.
He founded the organization after his niece and nephew told him they were "bad" at science. 
His hope was to change their understanding of the discipline through fun encounters with the study.
"I think Amir is like 6 or 7 and Ilah I think she just made 9," he recalled. "Whenever I babysit them, we do things like play chess, play video games, read books or watch TV or whatever. 
When I tried to do science with them, they were like, 'No, I hate science. I'm bad at it.' I went into my room and I pulled out some science books. Then I went online and did some research and was able to design some science experiments for them to do at home. The materials consisted of just stuff we have around the house, and they loved it," Muhammad said. 
After seeing how easily they took to the project, he realized he could pour into other children and ignite something magical in them regarding science.
"First I was thinking I just wanted to get it to as many kids in Oakland as possible," Muhammad said.
Muhammad is creating a pilot program that he is pushing to get into public schools in Oakland. 
By integrating his program with the Oakland Unified School District's science curriculum, through the Full Option Science System curriculum, which is used in public schools across the country, he seeks to accomplish his dream of making science digestible for children of all races, ages and economic backgrounds.
Muhammad says if his vision comes true, "kids can actually take home the material and expand on the material that their teachers taught them. It's based on the same philosophy for kids to explore the things they know and are familiar with to show science is all around them." 
He has new ideas he believes will expand the mission of the program he founded in 2020, and is working to continue last year's inaugural event, an end-of-summer science fair during the Labor Day weekend.
In addition to the big activation and trying to figure out ways to get more kits to more students, the 2021 National Geographic Society's Young Explorer cohort member is working with an Oakland-based community group called Fam 1st Family Foundation, which is led by NFL stars and Oakland Tech football stars Marshawn Lynch and Joshua Johnson. It offers another summer of free science camps at the West Oakland Youth Center.
The young man didn't expect he would be so busy over the last ten months with school and had to delegate responsibilities to other young people in his community to keep his business going.
"College was a lot," Muhammad submitted, "I completely underestimated how much work college would be."
And this summer, he is adding new paid positions and looking to hire teens and young adults, ages 16 to 24, to work for him in the following departments: kit development, community outreach, marketing and graphic design. 
He posted on Instagram an announcement for the jobs, captioning, "Are you interested in creating science opportunities for young students within and beyond your community? Are you looking to grow by building invaluable leadership, design, and collaboration skills that will also directly impact our communities? Are you looking to make a difference? If so, we have the perfect opportunity for you!"
Muhammad sees himself as an agent of revitalization in his community and looks at his peer constituency as the leaders of this movement. He said, "It's all youth-led to empower our community.
"Kits Cubed is much larger than myself," the scholar-mogul said. "Even as I'm growing in college, I want Kits Cubed to grow."
As if that is not enough, Muhammad says he is looking for a summer internship for himself.