Fashion
Period Panties -Don't Walk, RUN to Get These Now Ladies!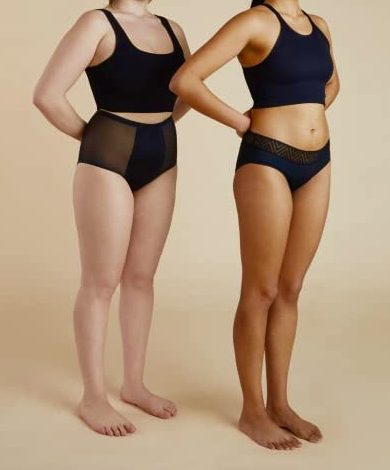 Welcome to periods suck anonymous LOL. You cramp, you leak, get emotional/ hormonal; eat food galore and have to do endless changes in order to not suffer a wardrobe malfunction. Plus, when it comes to periods, they can just be plain inconvenient to our love life; work, school and social calendars. Well, it's time to shift the power and comfort back into our hands gals and ladies with Period Panties!
Yes, they are exactly what you are thinking. Panties designed to keep your flow in major check. Therefore, if you are sick of thick, bulky or uncomfortable tampons, pads and liners ruling your life for a week; these helpful undies might just be your new favorite friends.
Nevertheless, this type of underwear has been around for a little bit; however, various designs on the market at the time just were not that good. But, thankfully technology always seems to advance. And now there are better options available.
Which one is currently killing the feminine and beauty product market? Well, if you are an Amazon addict, there is a Best-seller on there that you might want to take a look at. If you want to search for it, type: THINX Hiphugger Menstrual Underwear.
Interested? Intrigued even? Read on to learn a few more key details!
Period Panties -Don't Walk, RUN to Get These Now Ladies
How popular are these menstrual panties? Well, it has received over a whooping 1900 reviews! And is rated as 4.5 out of 5 stars. Therefore, it is pretty safe to say that girls and women everywhere are loving these babies!
Nonetheless, what actually will these panties do for you? In regards to their menstrual underwear, THINX reveals,
"Made with built-in leak protection, Thinx are menstrual underwear that absorb your period without feeling bulky. Our period underwear absorbs your flow behind a leak-resistant moisture barrier, keeping you dry.
Thinx look and feel like everyday underwear. Our Organic Cotton period underwear comes in many different styles and is made with OCS and GOTS-certified organic cotton.
Our period panties are designed to replace other femcare products, like pads, tampons, and pantyliners, depending on your flow. Thinx can also be worn with tampons or menstrual cups for extra protection. [Moreover] Our underwear for periods neutralizes all unwanted smells, keeping everything fresh all day.
[Furthermore] unlike single-use disposables like tampons and feminine pads, Thinx period panties are reusable — saving you time and money, while helping the Earth. Just machine wash cold and hang dry."
THINX Period Underwear -What the People Are Saying
Sometimes the best way to find out if a product is worth buying, is by looking at a few reviews. We took some time to read through tons of them and this pretty much some things up. Enjoy.
I love these! My first few days are super heavy. I am a teacher and unable to just go to the bathroom when needed. These have served as an extra layer of protection and I am so thankful!
**********************
I think this is a great product and super comfortable. I only have one complaint, the sizing is definitely off. A word of 3X and I'm typically a size 20 is 5'10. Maybe it was because I get incredibly bloated, but these did not fit well. They are too tight and a bit uncomfortable to sleep in, which is the whole reason I got them-for sleeping.
I'm currently on a weight loss journey So I'm hoping that these will fit better soon.
Overall though, great product. I would just recommend sizing up.
**********************
Omg greatest thing ever. I wore these about 2 weeks post partum I still had some bleeding and discharge after my c section and started to get annoyed with pads and adult diapers at night. These were amazing. Comfortable and convenient. Will Def be purchasing more in the future.
************************
These are a wonderful replacement from having to wear pads.
*************************
I researched these underwear a lot before I bought them. Waited three months to review just to be sure. I am 5'3 and 163lbs with a short torso. Most of my weight is carried on my bottom half of my body and I am curvy. . I purchased a size large and they fit perfectly. I change these every 12 hours bc of my flow and never leaked. You have to know your flow. I saw so many negative reviews and I'm not sure why.
Reuseable Period Panties -Final Things to Know
So as mentioned, these period panties are very easy to purchase. All you have to do is head online. Retailer juggernaut, Amazon, has them in stock and ready to be shipped to your doorstep.
However, you are probably curious how much these panties will cost you? Well, it kinda depends on how you look at. Allow us to quickly explain.
Each THINX Hipperhugger Period Underwear currently retails for $35 each, pretty reasonable. However, most periods can last on average 5-7 days; therefore, you will definitely need to shell money for more than one pair. For 7 pairs of these panties you are looking at $245 plus tax.
But, remember that these are reusable! A box of tampons can cost $10-$20. Depending on design, amount and flow. So you could still be paying $100-$200 a year anyway. So these panties could be a nice, comfortable replacement option that can save you in the long run.
Also, can you really put a price on not having to have a diaper basically on? Or a devices that have to be uncomfortably shoved up the WOO-HOO?! Lol we don't think so, but to each their own!
We hope you found this article helpful and insightful. If you want to read more features (here's a fun one) such as this be sure to check out our BEAUTY Section. Happy, comfy periods everyone!
**Want Even More Fashion as well as Celebrity Style Sighting News, Insights as well as Trends? Download Our New Shiny App! Click HERE**
Thoughts on Period Panties -Don't Walk, RUN to Get These Now Ladies!? Well let's connect then! Join the discussion and talk all things fashion as well as celebrity style sighting related with us by dropping a comment like its hot down low. Or also hit us up on our Facebook, Instagram (1966mag), Tumblr, Pinterest or tweet us @1966magazine.