Entertainment
Phaedra Parks Celebrates Birthday with Star-Studded Dinner Party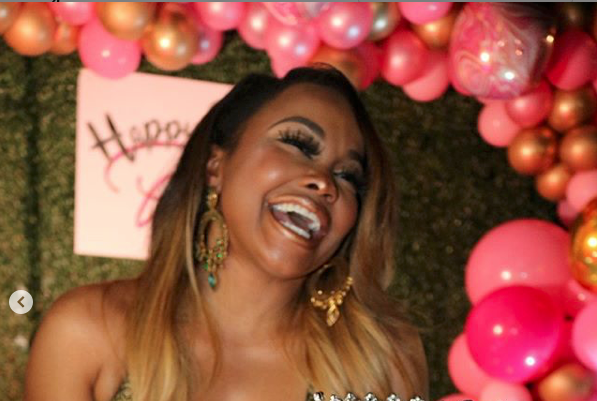 Phaedra Parks celebrated her 47th year around the sun surrounded by friends at a lavish dinner party.
The entertainment lawyer and former reality star on "The Real Housewives of Atlanta" celebrated her October 26th birthday at the Nouveau Bar & Grill in College Park, Georgia, looking fabulous in a skin-tight, cleavage-baring gold sequin dress, gold belt, beat face and long, ombre honey-blonde hair. The venue was decorated in pink and gold and filled with recognizable faces, including producer Jazzy Pha, former Atlanta Mayor Kasim Reed and rapper Diamond of rap group Crime Mob.
"With all the uncertainty #2020 has brought, one thing has remained constant real friendships. #Loyalty always #wins," Parks captioned her Nov. 2 Instagram post, which received more than 48,800 likes.
In another post, Parks revealed that the rooftop dinner party was actually a surprise thrown by her friend, photographer FreddyO. "#Cheers to another amazing trip around the sun 🥂 #Thankyou @freddyoart  & @nouveaubaratl  for surprising me with the most delicious #birthday  #rooftop  #dinner ever!"
Fans couldn't get over how fine the birthday girl looked and left plenty of compliments and birthday wishes in her comments.
"Ms. Parks I want an invite for next year 😂😂❤️," requested a follower.
"Cute & Snatched!!! ❤️🔥❤️," exclaimed a second.
"Beautiful glow and that radiant smile. Glad you had a fantastic celebration @phaedraparks💗😍."
"You're Beautiful Phaedra 🤎🤎🤎 and yes loyalty always wins."
"You look gorgeous per usual 😊💯💕." "Happy birthday Diva 🎉🎉🎉"
"Serving baaaawwwwddddyyy🙌🏾🙌🏾🙌🏾. Happy 30th birthday!! Atleast thats what your skin and figure say!!😘😘"
One face that a few fans noticed was missing from the shindig was Parks' boyfriend Medina Islam and they wasted no time calling it out.
"Wheres your boo friend Medina?"
"Where is Medina 😩😩😩"
Parks didn't respond to any questions about her boo's whereabouts nor did she appear to let his absence stop her from enjoying her birthday bash to the fullest with all of her guests who were in attendance.