Entertainment
Reginae Carter Confirms She Got Breast Implants and Says She and YFN Lucci Are Working on Their Friendship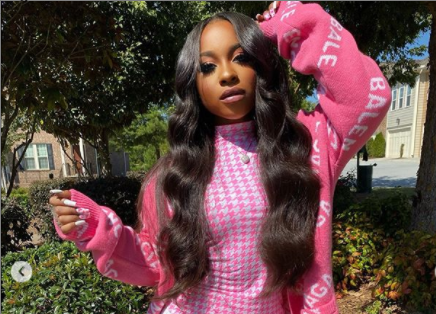 Reginae Carter has confirmed she's gotten breast implants. On a clip posted to "The Wendy Williams Show" YouTube page on Nov. 6, Carter calls in on the show to discuss the rumors about her getting her breasts enlarged.
Coming back from break, Wendy Williams started, "So we were talking about you having breast implants, and you're here to set the record straight."
Carter said, "Well, let me set the record straight, I did. I did get breast implants."
Williams replied, "There ya go. They're tasteful for your body type."
"Yea that was my main thing. I wanted it to all look natural looking. But I've been wanting to get my breasts done since I was probably like 16," said Carter.
The soon-to-be 22-year-old said that although she has been wanting to get them done for a while, her mother, Toya Johnson, would not let her.
She continued, "As soon as I got on my own, I'm like, 'Aye, Imma get my breasts done.'"
Williams reminded Carter that when she was younger she used to encourage people on social media to accept their natural bodies. Carter confirmed that she did make those comments, but right now she is accepting her new body with the implants in them.
She added, "I'm 21 years old so it's a lot of things that I said that I'm going to go back on. And a lot of things I said I'm not going to do, I'm going to do it."
She continued, "It's just like, I'm growing and everybody is growing with me."
Carter's comments to Williams were at odds with her very recent social media statements about body positivity. In a Sept. 1 Instagram post, Carter went on at length about how she was unaffected by criticisms of her body, saying "I love my little boobs."
Williams, seemingly unaware of or unwilling to address Carter's recent affirmations about body image, quickly changed the subject to Carter's love life. She asked, "Are you back with your boyfriend YFN Lucci?"
"We're strengthening up our friendship before anything, because that's what we lacked at the beginning. So right now we're just working on our friendship and we're creating a deeper bond in the relationship."
Williams then mentioned 20-year-old rapper NBA Youngboy, who made a song called, "The Story of O.J." In it, he talked about wanting a baby with Carter. The TV host took the time to urge Carter to "please don't have the babies," not even for YFN Lucci.
The former "Growing Up Hip Hop Atlanta" star assured Williams that she was not intending on having kids anytime soon. She stated that she was focusing on herself and her "relationship with YFN Lucci."
Last year, on July 1, Carter ended her relationship with the 29-year-old rapper after he attended a party with women performing explicit acts on each other with cucumbers. After showing up to the party herself to spy on her man, Carter went on Instagram Live and said that the cucumber activities were "very degrading, and it's not cute."