Fashion
Summer Haircare – Best Black Hair Guide For Black Girls and Women!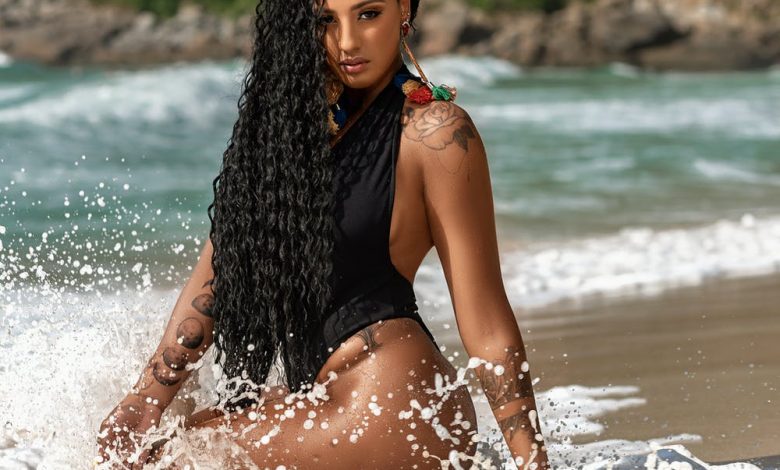 Summer is upon us Baby, which means pool parties and teenie bikinis! Nevertheless, keeping your hair looking just as hot your 2-piece can be a challenge due to the chemicals placed in pools or salty water. This why it is time to dive into our Summer Haircare Guide for Black and Natural Hair ladies!
Hair Hygiene -Keep Those Strands Looking and Feeling Fresh Girl!
Ain't nobody as Fresh and so Clean Clean, trust, OutKast said so. If you want that statement to be true of your hair during summer; especially, at the pool you may want to invest in a few things. One summer hair tool that you are probably familiar with is wearing a swimming cap (we know, they're not cute lol, more on that in a second).
Caps help keep not only hair out of your face, but way less pool water out of your hair. Which is a very good thing. Pool water is FULL of chemicals, so the less your hair is exposed to it, the better.
However, we all know that wearing a cap will most likely kill the overall pool style we will be rocking. Caps and trapping season do not mix (LOL). Therefore, what can be done to protect your hair from chlorine? In way that will not cause you to have to sacrifice style or fashion dignity.
Hair Hygiene -Keep Those Strands Looking and Feeling Fresh Girl (Continued)
Not to worry, you can help prevent chlorine damage by selecting a good leave-in deep conditioner and applying it all over your hair before you go swimming. The conditioner will coat your hair which will prevent the chlorine from seeping into the hair shaft.
You can also rinse your hair in the shower before getting in the pool. This fills the hair cuticles with water that has very little chlorine in it so that your hair can't absorb all the pool water which has a lot of chlorine. Of course, after you are done frolicking in the pool, be sure to use a shampoo that is designed to remove chlorine from the hair.
Hair stylists say wetting your hair before taking a plunge is something everyone should get into doing. Including us natural and black hair enthusiasts. A pre-pool plunge will cause hair to take in less pool water thus preventing strands from sucking in too many chemicals. Yet, if using water only still makes you nervous about your hair; there is a great post pool trick that can help.
All you have to do is to apply an aspirin mix to your locks. SAY WHAT?! Yes, Honey, you read that right.
Aspirin has the ability to remove chlorine from your hair. Dissolve about 8 or 9 aspirin pills in a glass of water then apply the mixture to your hair. Allow the aspirin dissolved water to sit on your hair for at least ten minutes then shampoo and condition your hair like normal. Voila Diva.
Summer Haircare – Best Black Hair Guide For Black Girls and Women
There doesn't seem to be a season that does not the potential to wreak havoc on our delicate lady skin and tresses. Besides the sun, during summer our skin and strands can get TKO'd due to enjoying water activities at the beach or swimming pool. In what way can skin be harmed while taking a fun dip?
Well, for one thing the ocean's contain salt and pools have chlorine which can both suck the the moisture right out of our skin. Therefore, how can this be prevented so fun in the sun doesn't have to be canceled this year? A simple fix to this beauty and skincare problem is to shower before and after playtime.
By showering before you are able to fill your pores as well as hair follicles with non-salty/non-chlorinated water. By keeping these full there leaves no room for harmful water to get into these areas. Basically, this means your hair as well as skin will not soak up as much water. Moreover, by showering after your day of fun has ended you will be able to instantly remove any residue. This may be a new thought to some who may have believed that this trick only applies to hair strands but it is useful to all of the body.
Hair For Summer -Prevention Is Key to Saving Your Hair
Black hair is unlike any other hair type and comes with its own set of challenges when it comes to hair care. Additionally if you happen to be a swimmer or enjoy swimming and water sports; adding chlorine and other chemicals into the mix can make for a hair care disaster. But with the right know-how and products, you'll be able to pursue a swimmer's lifestyle without putting your hair at risk.
The easiest solution to caring for your hair when it comes to swimming is to use a swim cap. Although they aren't very sexy, the swim cap is a practical item that will not only keep your hair dry, it will also keep it from coming into contact with the chemicals that are used to keep swimming pools sanitary.
However, if you want to get your hair wet, you'll have to dedicate a little extra TLC into your hair care routine. For those who have permed or chemically relaxed hair, you'll want to precondition your hair the night before you plan on swimming. Use a DEEP conditioner to lock in moisture. Seriously, get a nice thick conditioner or hair mask that can put in work on your strands. Moreover, to get the best deep conditioning results, sit under a heating cap for 15-20 minutes. Then rinse and add a leave in conditioner.
Hair Care in Summer -Using Heat and Other Hair Styling Tips
Blow-dry your hair on low to medium heat and don't worry about flat ironing or styling your hair if you plan on getting it wet. When you're finished swimming, immediately rinse your hair out and use a special shampoo and conditioner made for swimmers. This will remove any harmful buildup from the chlorine or other chemicals.
Next, for extra protection, be sure to ALWAYS use heat protectant. You can straighten your hair on a weekly basis as long as you protect it WELL. How do we know? Our CEO, Arianne has hair down to her tailbone now and she used to straighten her hair every 1-2 weeks; depending on her lifestyle at the time. However, her one criteria and must has always been to use a heat protectant first, before blowdrying or flat ironing.
For those that wear their hair naturally, have an afro, braids (natural or extensions), twists or dreadlocks, you'll want to make it a point to precondition your hair the night before swimming. Do this by diluting your regular shampoo with water. Pour this diluted mixture into a large cup and pour over your head in the shower, making sure to get your entire scalp. Sponge wash and afterwards use a towel to gently squeeze the excess water out of your hair.
Follow up with a summer haircare product that is designed to strengthen your locks and also use a leave in conditioner for an added layer of protection. Those with braids should then finish off the process with braid spray. These sprays often include hair oil or conditioners to keep your braids looking beautiful and fresh.
When you are done swimming, immediately rinse and sponge wash your hair (if you have braids, twists, or dreadlocks) and make sure the water runs clear. This will be a sign that you've washed all of the shampoo and conditioner out of your hair. Use a towel to squeeze the excess water out and apply a leave in conditioner.
Swimmer Shampoo -A Special Formula You Can Not Pass Up!
Looking for a shampoo to use when you go swimming? Want something that works whether you slide into a pool or go frolicking with your BFF on the beach? Well, let us tell you that us California girls who basically bask in sunshine and water know just the thing!
Ever heard of Malibu C Swimmers Wellness Shampoo? You have now. It is an awesome shampoo with a formula that helps to completely remove saltwater and pool chemicals from your hair!
This shampoo is very gentle and it's vegan! Plus, it is infused with tons of hydration (derived from coconut) and antioxidants to defend against damage or dryness often caused by hard water. Therefore, if you want to cleanse your hair without stripping it, this is the shampoo for you!
Here's what the Malibu C brand says about their product:
"THE TOP OF THE LINE SHAMPOO FOR BOTH COMPETITIVE AND RECREATIONAL SWIMMERS ALIKE, THIS ULTRA-MILD, 100% VEGAN, RICH LATHERING CLEANSER IS COMPLETELY FREE OF SULFATES AND HARSH AGGRESSORS, YET BOASTS THE ABILITY TO COMBAT THE DAMAGING EFFECTS OF HARSH ELEMENTS FROM THE POOL AND REVEAL TOTALLY TRANSFORMED TRESSES. BONUS: ALSO DOUBLES AS A DECADENTLY DIVINE BODY WASH FOR DAILY USE FROM HEAD TO TOE!"
Also, when it comes to Malibu C's products you can buy it as a set! With a nice conditioner to help keep your strands strong all summer long:
Hair Care Summer -The After Fun in the Sun Black Hair Guide Tips
We swing it, pin it, toss them, braid them and whip it all around. Hair is a personal fashion statement with as much force and impact as wearing a set of diamonds. If presented right no one can take their eyes off a well maintained as well as styled coif.
Nevertheless, getting and keeping your strands in top notch shape is where the real work begins. Tresses that look great on the outside is often due to the care they receive on the inside. This is especially true during the summertime. For this reason having an arsenal of great hair products such as: conditioner, leave-in conditioner, purifying shampoo and hair masque is a major key when it comes developing a summer haircare defense. Therefore, in this section we are going to discuss The Hair Conditioner Tip That You Cannot Afford To Skip!
From the time we are tiny tots we are taught the basics of shampooing and conditioning. Shampoo comes first and then follow up with conditioner. Shampoo lathers up whereas conditioner does not. Watch the eyes. Really work that conditioner into ends.
We all know things like the back of hands. Yes, the above are all valid tips, but there is something else when it comes to utilizing conditioner. Moreover, if you leave out the following tip during the conditioning process you may just be negating any benefits. Ask yourself, "Before I apply conditioner do I towel dry my hair?" A very simple step that many of us tend to skip.
That is because simply we are busy! Between juggling school, work, DMs, social calendars our plates always spill-eth over. By the time its wash day we are doing good to cleanse, toss on a conditioner and rinse.
Hair Care Summer -The After Fun in the Sun Black Hair Guide Tips (Continued)
Nevertheless, why should we towel dry our strands first? One word: absorption. Have you ever heard of the swimmer hair trick? That trick involves wetting your hair BEFORE you go swimming in a pool. You see hair acts like a sponge. If you fill a sponge with water once it is full nothing else can get in until after it is squeezed. Hair works the same way fill it with water first and less damaging chlorine will get in there and wreck havoc.
Now what does all that have to do with conditioning? Basically, unless you remove some of the water from your strands not much is going to be able to get INSIDE and make your hair stronger and healthier. Removing excess water from your hair will allow your conditioner to penetrate the hair shaft. Once penetrated the conditioner can actually do its job of delivering what your hair needs to be healthy and luminous.
Now what happens if you are just extremely short on time? If that is the case, take a moment to at least squeeze out excess water with your hands. Remember to just squeeze and wring gently. Start at the top and work your way to the ends. Moreover, if you do go the towel dry route aim for a cotton tee shirt or soft fiber towel. Both are products that are very gentle on strands. As you can see throughout this article a little extra time and care goes a long way. Therefore, do not skip this one hair conditioner tip and your summer hair will thank you!
Summer Hair Care Tips -Sun Protection and More
Let's be honest, there's going to be a group of ladies at the beach or at a pool party looking like a dime and none of them will have ANY desire to get their hair wet. Do you or can we blame them? Well, no we all know that doing your hair especially in the summer months can be quite the challenge. However, we want to break the mold this year, let's get our hair wet!
First though, you will want to be careful with the sun. Yes, warming yourself after coming from a dip in the ocean, or swim at that pool BBQ can feel…well, freaking DELIGHTFUL (lol). The truth is you may cause yourself a few hair problems.
Problems such as scalp burn. Ouch! Yeah, it is as painful as it sounds, so you will want to avoid this outcome. Do so by protecting your head. Wet hair is already in a weakened state, plus strands may not cover your head as well, thus leaving your scalp with less protection. Therefore, help it out by rocking a cute hat style or head scarf. You'll look incredibly chic and luxurious while ensuring your strands stay safe.
Moreover, the intense summer sun can just wreak havoc in short matter of time. Even if you don't go outside everyday, just a few simple minutes in the harsh summer sunlight can leave your hair parched. Not good.
Hydration is everything when it comes to haircare. Dry hair leads to bad hair problems. Therefore, help your hair maintain moisture with a weekly nourishing hair mask treatment. Also, consider adding a UV Hair protector and hair oil to your summer haircare products. A good oil will help to lock in hydration preventing dry strands.
Summer Hair Care Tips -Sun Protection and More (Continued)
Okay so now that the movement has officially begun, we are going to get our hair wet this year; BUT we are still going to need a game plan. How can we look our best even while frolicking around with our best buds? This section is all about how to do just that while protecting your tresses at the same time. Here's a few easy things to keep in mind:
Switch to Moisturizing Shampoo and Conditioner
Don't Use Heat Daily, Aim for Every 2 Weeks If You Can
Use Hair Sunscreen
Do Not Neglect Hair Conditioning
Alternate Between Regular Washing and Cowashing
Throw the Whole Curler Away, Use Braids, Pin Curls, Rags, Twists and Rollers to Get Curls
Hair Care Tips In Summer -Summer Haircare Guide Wrap Up!
Use the above along with the tips in this whole article and you will be good to go! Also, never forget our first big tip on how to protect your hair while at a pool party. The sun is already going to do some damage, but the chlorine is going to be your BIGGEST enemy especially if you dye or color your hair. To protect your tresses you will have to fight water with water. Yup, we repeat you will have to wet your hair before you even get in any pool or ocean to get wet.
When it comes to water your hair acts like a sponge, so whatever is the first liquid it is exposed to, that's the one it is going to slurp up. Therefore, wetting your hair with regular water first is essential; ensures that your strands will not absorb as much chlorinated water.
**Want Even More Fashion, Beauty, Lifestyle, Health as well as Celebrity Style Sighting News, Insights as well as Trends? Download Our New Shiny App! Click HERE**
Thoughts on Summer Haircare – Best Black Hair Guide For Black Girls and Women? Well let's connect then! Join the discussion and talk all things fashion as well as celebrity style sighting related with us by dropping a comment like its hot down low. Or also hit us up on our Facebook, Instagram (1966mag), Tumblr, Pinterest or tweet us @1966magazine.