Fashion
Sweet Potato Pie Recipe-My Granny's 100+ Year Old Tasty Family Pie!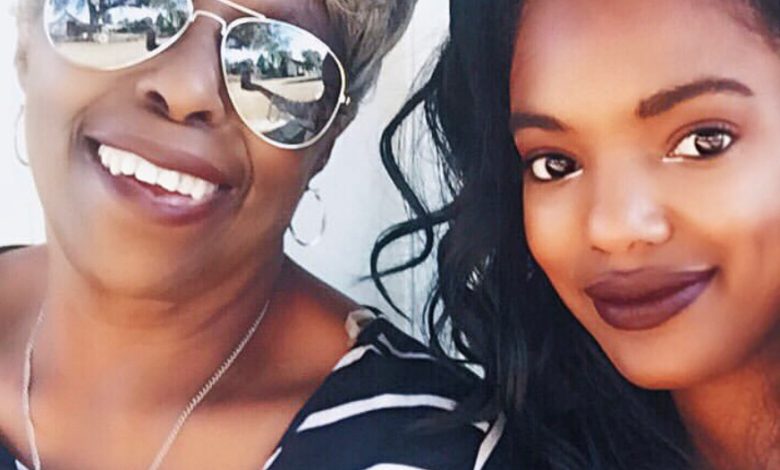 There is nothing like grandma's cooking! Grandma's are a wealth of knowledge in the kitchen and always put a smile on our faces as they slide a plate of freshly baked goodies in front of us. Nevertheless, one recipe from my granny that people always love and want is her Sweet Potato Pie!
It has been described by folks as "blow your head off good!" Not quite sure what that means exactly (Lol), but literally I watch everyone happily shoveling in bite after bite; and piece by piece. Basically baby, it's just really good!
Furthermore, this is a recipe that my granny got from her mom before she passed away. Her mom had SEVERAL recipes that we all still can't get enough of. In my family, delicious warm meals and cooking is everything. We love to eat, and we love to eat good.
A lot of these recipes from great grandma have never been shared; just among my family members. However, my grandma was kind enough to share a few recipes with me! One of those being Sweet Potato Pie.
Black Folks Sweet Potato Pie Recipe
Recently, I got a chance to talk to and interview my granny for a little about how this recipe came about. Here's what was said.
Arianne: Okay granny so where did this sweet potato pie recipe come from?
Granny: It came from my mother. Your great-grandma. And boy… did she love to bake! Let me tell you, she could make anything.
She'd go into that kitchen and start fiddling with things and the whole house would be smelling so good! Couldn't even concentrate after awhile.
My brothers were constantly getting into trouble because they were always trying to steal a piece of whatever she had made. But my dad coming home from the coal mines, was always supposed to get the first piece. So us children, all 9 of us had to unfortunately learn to wait!
Arianne: Sounds like a real dilemma! (Laughs). So did great grandma eventually teach you how to make this pie?
Granny: She certainly did. But you have to understand that back then you felt your way through a recipe. Nothing had certain measurements. It was a few of this, a pinch of that, you know?
So my sister, myself, and some of the other family later would talk to mom about her recipes and we tried to come up with measurements as best we could. Because we all wanted them!  But when you cook or bake from the heart you don't need to measure. You just kind of feel it, and you taste a few things along the way to make sure it all is tasting good.
Potato Pie Recipe-Interview Conclusion
Arianne: That's so interesting granny. So how many recipes did you all end up getting from great grandma?
Granny: I'd say at least 50. We talked to her for years as she got older. We didn't want her recipes to get lost. She'd written some down for us like her homemade dinner rolls to her collards to some cookies.
But that's what family does. We congregate in the kitchen. There we tell stories, teach and just enjoy each other's company. I have so many fond memories of being in the kitchen with my family, passing things along and having things passed down to me.
I miss my mom. Oh how I miss her! But I'm glad we still get to enjoy her food and all the recipes that she got from generations from before her. It really is wonderful.
Arianne: I agree, well now it's time to share great-grandma's recipes with others. Thanks for talking about everything. You ready to begin?
Granny: You're welcome. Of course, Honey.
Grandma Old Fashioned Sweet Potato Pie Recipe
So as my granny mentioned, a lot of black people do not always make things with exact measurements. However, my family has put together what they think is close to the amounts that my great-grandma; and those before her were using. Therefore, the recipe I am about to share is VERY authentic.
Just so you get an idea on how authentic this recipe really is; I asked my grandma if I could share a picture of the recipe itself. It's written on an aging piece of paper. It's of a note jotted down during one of the discussions with my great-grandma. Pretty cool!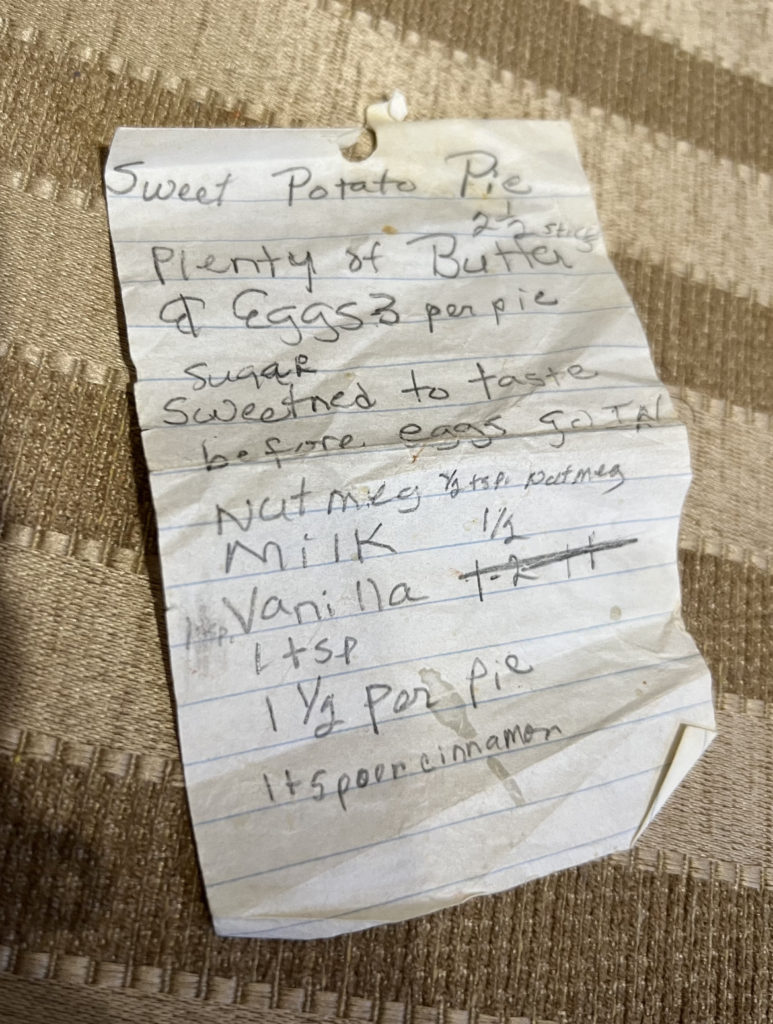 Isn't that note amazing?! I'm so glad my family took the time to write down so many awesome recipes; because now I get to share them too! Ready to learn my family's famous sweet potato recipe? Great! Let's get into it!
Sweet Potato Pie Recipe Soul Food- Here's the Ingredients That You Need
Yayyyy! Now all of YOU get to join my grandma and me in the kitchen! Hope you all enjoy learning from my family of bakers and cooks.
Now as my grandma is always telling me, "don't count your chickens before they hatch." Basically, don't assume anything. Trust me, this is extremely true in the kitchen.
It is always best to check that you have all the ingredients you need before you 'start banging pots and pans.' So here is a quick grocery list for you guys. To make this fan favorite pie you will need:
Stick Butter
Milk
Eggs
Sugar (RIP to your waistlines LOL)
Nutmeg
Vanilla
Cinnamon
Pie Crust Shell 
Sweet Potatoes
Potato Pie -Time to Make Life Sweeter!
Now the first important step is preparing your potatoes. My granny insists that you guys DO NOT PEEL the potatoes. She said her mom always left the skin on during the boiling process.
Therefore, avoid making a mistake right off the bat and out the gate. If you are only making one pie, grab 2-3 sweet potatoes and rinse them off under the faucet. Next, place them into a large pot.
Fill the pot with water then place it on the stove. Turn the stove eye on to medium heat. Cook the potatoes until they are tender. That means they are ready. *Remember they will be hot, so careful when removing them from the pot. Always think safety first!**
Once they are ready you can "gut" the potatoes from the skin part. And then place the 'freed' potatoes into a mixing bowl. You can toss the skins into the trash, you will not need them.
TIP: When the potatoes are ready, my granny pours out most of the water from the pot. So that the potatoes don't absorb the water. Then she lets the potatoes cool. Once cool, then she removes the inner, yummy part of the sweet potatoes from the skins.
Best Sweet Potato Pie Recipe
Okay, now the real work begins, put that apron on and let's do this! Preheat the oven to 375 degrees.
In a bowl mix together your sweet potatoes with 2 1/2 sticks of butter (softened) and 1 cup of sugar. Granny says it's imperative that you combine the potatoes, butter and sugar first, before you add the eggs and the rest of the ingredients. So don't forget you guys!
Once the first 3 ingredients are mixed up nicely; mix in 3 eggs.
Next, add in 1/2 teaspoon of nutmeg, 1 cup of milk, 1 and 1/2 teaspoon of vanilla and 1/2 teaspoon of cinnamon.
Stir the ingredients until well combined. Place pie crust on baking sheet. Now carefully place the mixture into the pie crust shell. Bake pie for around an hour to 65 minutes. Cool completely before serving up the goods. You did it!!!
Sweet Potato Pie Recipe- Myths and Facts
Before putting together this article, we asked you guys to share some questions you would like to know about this particular pie. I promised I would ask my grandma about them for you; and that's exactly what I did!
Nevertheless, there's 2 questions that really pop out. One being about the type of crust and the other on a particular dairy ingredient. Here's the lowdown on both.
Myth: You Can and Should Only Use Graham Cracker Crust.
Facts: Granny says you can use a regular pie crust, it does not have to be a graham cracker crust. She says either can be delicious, but always uses regular pie crust.
Myth: Don't Use Regular Milk, Only Condensed Milk.
Facts: Once again, granny doesn't know where this kind of thinking came from (Lol). Says some do use condensed milk, but there is nothing wrong with using regular milk either.
Sweet Pie- A Quick Sweet Potato Dessert Cheat That Will Save You A Lot of Time!
Well, we hope you have enjoyed our tutorial and learning all about our family's sweet potato dessert recipe! However, like you, we know that time is in fact MONEY. Therefore, saving time is always something that is extremely appreciated and highly valued.
So then, what is one way that you can save yourself a lot of time when carrying this recipe? Two words: the crust. Yes, the crust can help you hold onto valuable time.
How long can it take you to make a homemade pie crust? Well, I asked granny and she says depending on what you're going for; anywhere between 20 minutes to get this… even 2 hours! That's quite a bit of time for literally one aspect of an entire recipe.
Therefore, save yourself the effort and just buy pre-made. You can find pre-made, ready to go pie crusts in most grocery stores. My granny likes using one by Marie Calendar's but says she has used various different ones and they do about the same. Hope this helps and happy baking everyone!

**Want Even More Beauty, Lifestyle, Hair, Fashion as well as Celebrity Style Sighting News, Insights as well as Trends? Well Honey do we have something special for you! Download Our New Shiny App! Click HERE**
Thoughts on Sweet Potato Pie Recipe-My Granny's 100+ Year Old Tasty Family Pie!!!? Well let's connect then! We're always around and love to hear from you. Therefore, join the discussion and talk all things 1966 Magazine; fashion as well as celebrity style sighting related with us by dropping a comment like its hot down low. Or also hit us up on our Facebook, Instagram (1966mag); Tumblr, Pinterest or tweet us @1966magazine.