Cannabis
The days of the year in which more marijuana is sold (USA)- Alchimia Grow Shop
With the legalization of cannabis in many states of the US, and even more so taking into account the country we are talking about, the sales of cannabis and its derivatives in the hundreds of dispensaries throughout the territory have become an interesting statistic, an object of study by the marketing managers of the different companies.
As you will see today, the sales figures on certain days of the year are impressive, normally coinciding with already traditional cannabis festivities such as April 20 (4/20) or July 10 (10/7)… It's clear that American stoners like to celebrate their special days in style! However, there is another fact that also seems to trigger sales of marijuana and related products: the eve of days with large family gatherings… Why is it?
Days of the year with the highest number of cannabis sales
As with any other product on the market, marijuana sales are also monitored and studied in several ways, one of which is by collecting data on which days of the year consumers are most likely to make purchases. Although the list usually varies slightly from year to year, the truth is that there are a handful of specific days that compete for number one in the ranking year after year. Let's see what they are:
4/20
A true classic, World Marijuana Day usually ranks number one in annual sales throughout the country, as shown by the sales figures for 2018, 2019, and 2021. "And what happened in 2020?", you may be wondering…April, 2020, pandemic…People could not go to the dispensaries during that period of the year, which caused April 20 to not even appear in the top 5 in 2020 of annual sales. Of course, COVID also left its mark on the cannabis world.
The thing is that the numbers on this special day for stoners skyrocket, with increases in benefits that can reach 140% compared to a normal calendar day. Of course, in recent years it seems that this increase is slowing down, falling from 139% in 2018 to 75% in 2021. Much more is sold than on a normal day, but the increasing use of promotions and discount coupons makes the benefits not so high, which means that this percentage goes down gradually as more promotions and discounts are applied. And the numbers are no-nonsense: in 2018 alone, sales on this day amounted to more than $1 billion nationwide.
Curiously, the statistics say that the week prior to April 20 is usually mediocre in terms of sales, while the week after is even worse. Probably, the significant outlay made by consumers on such an important date, supported by the discounts made on that specific day, explains this phenomenon.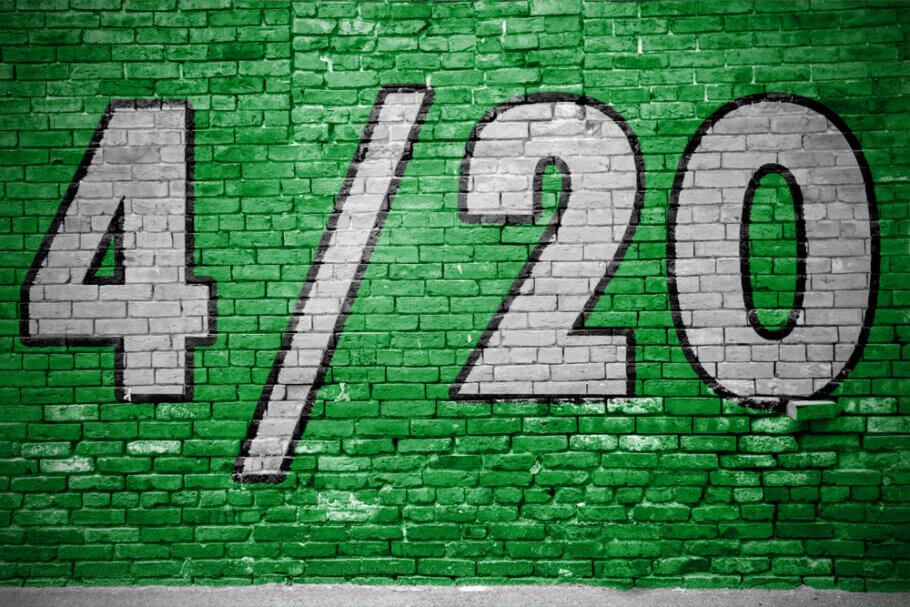 7/10
July 10 is another important day on the stoner calendar, especially for lovers of extracts and resin concentrates. This day was set as the "day of extractions", which is why fans of this type of cannabis derivatives celebrate this important day for them in style. If you read 7/10 backward, something like "OIL" comes out, which is why this day was chosen to honor resin extractions and their most unconditional fans.
Although not as important as other days in terms of total sales, the increase in activity (and profits) of dispensaries during this day is evident, with increases of 45% (2020) or 67% (2021) compared to a normal day of the year. In addition, more and more concentrate fans get a gift on this date in the form of a new bubbler, dabber or electric nail, which logically helps the increase in profits compared to other days.
The statistics make one thing clear about July 10: it is a holiday with more and more followers, and sales increase year after year, especially on the West coast, being a regular in the top 5 days with the most sales of the year.
Green Wednesday
Celebrated on the fourth Thursday in November, Thanksgiving is undoubtedly one of the most popular in the US. Born as a party to give thanks for the harvest and the previous year, today it is synonymous with massive family gatherings, copious feasts and cannabis, a lot of cannabis. The thing is that year after year, the Wednesday before Thanksgiving (called Danksgiving by American stoners) becomes one of the most important days of the year in terms of sales of marijuana and derivatives. It has become so important that it has received its own name, Green Wednesday.
In fact, and since it was baptized in this way in 2016-2017, during Green Wednesday there have been sales increases of up to 350% compared to any other day, which means that many dispensaries do not even bother to offer discounts or coupons during this holiday; the business is secured. Actually, it would not be the first time that it becomes the second day of the year with the most sales after April 20.
Online commerce also benefits a lot from this type of festivities, with sales that do not stop rising year after year. After a study of more than 1,600 dispensaries throughout the United States, the company Jane Technologies Inc. offered some data that speaks for itself: only in 2020 and during Green Wednesday, online sales increased by 241% compared to those of 2019.
Black Friday
How could it be otherwise, Black Friday has also become a day of massive sales of cannabis products both in dispensaries and in online commerce. From buds or extractions to all kinds of Headshop accessories, sales skyrocket on this day, especially in terms of online commerce, a trend that grows with each passing year. An example: in 2020, online sales of marijuana-related products increased by 271% over the previous year. Online purchases are becoming more common, and the cannabis world is no exception.
Friday before Labor Day
Labor Day is celebrated on the first Monday of September, leaving workers a three-day weekend that many want to enjoy with a well-stocked pantry. For this reason, it is not uncommon that the Friday before the weekend before this holiday, the dispensaries fill up with people and the online shops cannot cope with preparing orders. To give you an idea of the impact of this holiday, in 2021 more than 90 million dollars in sales were generated, a figure that placed it on the 5th day with the most sales of the year.
New Year Eve
December 31 is one of the most anticipated and special nights of the year, in which families come together to celebrate the arrival of the new year and people put on their best clothes to party. It is not strange to think, therefore, that New Year's Day is one of the days on which the most cannabis is sold. In the same way that happens with Christmas Eve (12/24) or Halloween, sales rise like the foam of good champagne; in 2020, for example, it conquered the title of the day with the most sales of the year, with sales of almost 90 million dollars.
Best-selling cannabis products in the US
We have seen that year after year, there are several days when the positions in the sales ranking are disputed, although you might be wondering… And what do people buy these days? What are their favorite products? Although the percentages vary slightly depending on the source consulted, it seems clear that the star product is the buds, accounting for close to 50% of sales. They are followed at some distance by vape cartridges and portable pen-type vaporizers, with approximately 30% of sales.
In the third position are extracts and resin concentrates with 15%, closing the list with edible products. Of course, there are exceptions such as Valentine's Day (St. Valentine's Day), where sales of headshop products such as bongs, pipes, accessories, and merchandising skyrocket compared to other festivities, where flowers, vaping cartridges, and resins occupy the podium almost fixed.
While being a traditional product used for centuries, the evolution of solventless (also called non-olvent) cannabis resin concentrates during the past years has been astounding. From the very first charas ever made to the most modern THC-A separation techniques, this type of extracts have skyrocketed in popularity lately. In this article we explain the details of each type of solventless concentrate and take you to a trip through the evolution of this product.
Curiosities about the cannabis market
And what kind of people buy at dispensaries? Are they young or old? Well, according to statistics, 62% of dispensary clients are men, with 38% women. If we look at the age range, you might think that there are more young people who grow their own weed and that it is the older ones who go to the dispensaries the most; Well, the data says the opposite:
Less than 30 years: 27%
Between 30-40: 30%
Between 40-50: 20%
Between 50-60: 13%
Over 60: 10%
If we talk about products, it is curious to see how during the summer vacation periods, when hundreds of tourists visit the dispensaries of their vacation spots, sales of prerolls or already rolled cigarettes skyrocket, while during the Christmas holidays a phenomenon occurs similar but with edible products. It is also surprising how strongly Fridays and Saturdays are the days with the highest sales: in the last 4 years, and if we look at the 10 days in which there have been the most sales each year, 78% correspond to Fridays and Saturdays.
Undoubtedly, all sectors and markets have their curiosities and interesting aspects to analyze, and cannabis is no exception. In fact, and as we have seen, sales in the cannabis sector can vary enormously depending on the date or period of the year in which they are analyzed, so brands and dispensaries have to be aware of these changes in sales trends. We just hope we can do an article like this but on the European market some day!
The articles published by Alchimiaweb, S.L. are reserved for adult clients only. We would like to remind our customers that cannabis seeds are not listed in the European Community catalogue. They are products intended for genetic conservation and collecting, in no case for cultivation. In some countries it is strictly forbidden to germinate cannabis seeds, other than those authorised by the European Union. We recommend our customers not to infringe the law in any way, we are not responsible for their use.