Fashion
The Simple "No Bull" Tutorial with Eyeshadow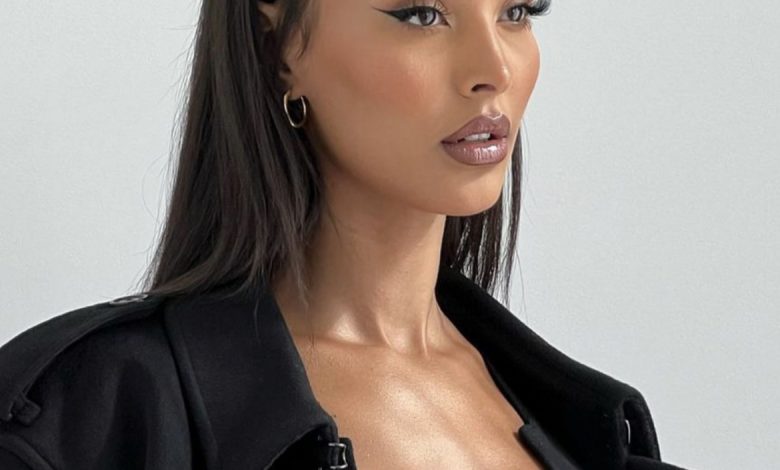 Oh the iconic Eyeliner Wing… you can be too much, too little or absolutely perfection! Nevertheless, creating this classic makeup finish can be a bit of an art, if not science. Therefore, today we are going to show you the easiest, no frills tutorial we have ever laid our eyeliner loving eyeballs on!
Eyeliner Wing: The Simple "No Bull" Tutorial with Eyeshadow
Why is this particular makeup styling such The Queen of the Beauty Realm? Well, for thing it's transformative. Like you literally will not look like the same person. In a few flicks of a brush you can go from (to quote Drake); 0-100 real quick!
The Eyeliner Wing is game changer that takes your beauty from the every day causal, to vixen with the 6 inch stilettos. Seriously, winged eyeliner is a powerful magic. This look can cause your gorgeous eyes to look and:
achieve more symmetry
help eyes seem alluringly larger
make down-turned eyes appear more perky
elongate eyes that are close together
enhance or intensify eye color
give eyes more Beyoncé level sassy appeal
Steps for Winged Eyeliner
Okay ladies and doll faces, are you ready to master this eye makeup look once and for all? Alright, let's do this! First, you're going to need to assemble a few tools:
Angled eyeliner brush
Clean mirror
Eyeshadow palette color
Now here is what you do:
Dip your angled eyeliner brush into your eyeshadow palette color of choice
Draw a diagonally line out from the outer corner of your top eyelid
Draw another line from your bottom lid's outer corner; up to meet the end of the first line drawn
Once the two lines are connected; now fill in the "triangle" with eyeshadow color
Use concealer to clean up the wing, hide mistakes and make everything look 'precisely sharp'
Layer on mascara to eyelashes for a even more dramatic effect and finish
See just a few steps! Nevertheless, see how easy creating an eyeliner wing is with this quick tutorial. It's by Tashi, who is a model for top agencies like Storm Models as well as Ford NY.  She shows how you can make yourself up a winged look in just 2 minutes!
Not bad right?! And as Tashi so nicely demonstrates; is that doing an awesome makeup look doesn't have to take a lot of time. You can get done and finished in just minutes! So then, yes, getting the perfect winged eyeliner look doesn't have to be stressful. If you follow the above steps and tutorial you'll be a PRO in no time!
**Want Even More Fashion as well as Celebrity Style Sighting News, Insights as well as Trends? Download Our New Shiny App! Click HERE**
Thoughts on Eyeliner Wing: The Simple "No Bull" Tutorial with Eyeshadow? Well let's connect then! Join the discussion and talk all things fashion as well as celebrity style sighting related with us by dropping a comment like its hot down low. Or also hit us up on our Facebook, Instagram (1966mag), Tumblr, Pinterest or tweet us @1966magazine.