Entertainment
Tia Mowry's New Selfie Gets Roasted for Her Terrible Wig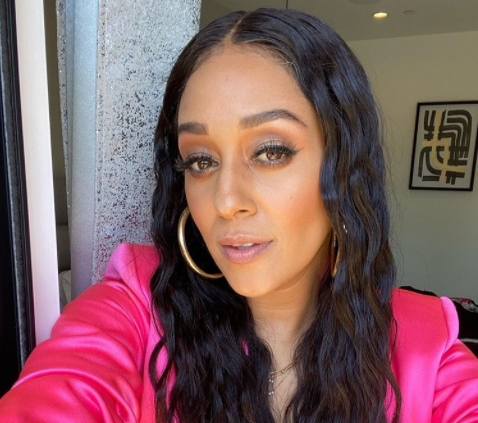 Tia Mowry's usual captivating selfie to her millions of followers was hindered on Monday by what fans deemed a dreadfully parted wig.
The "Family Reunion" star, whose original motive was to encourage her fans, missed the mark on Nov. 2 after folks started zooming in and noticed the lace riding up. The 42-year-old captioned the image "Hello #monday Let's get it! No #monday#blues here! 🙌🏽," and it nevertheless racked up over 109,000 likes in less than 24 hours. Mowry topped it off with a gold necklace and her signature natural makeup look. Many fans couldn't get over the horrible hairpiece, and one recommended the actress just toss it in the trash.
"Cute face… just throw lace away it's coming up 💯."
"U know I love u sis but this wig is a noooo."
"Ummm the wig is 😖😖😖."
"What's wrong with the part?"
"That wig is a no, I'm sorry."
Despite the "Tia Mowry's Quick Fix" creator's recent wig malfunction, Mowry usually is known to slay her ever-changing looks. Just weeks ago on Oct. 22, the mother of two stunned millions of her fans after she shared a photo of herself wearing a honey-blond bob with blunt bangs. Mowry complemented the hairdo with hoop earrings, a camouflage long-sleeved shirt, and a neutral makeup look with a smoky eye. She captioned the post, "#bangs #blondehair for #fun 🎉."
In August the former child actress sported a long, brown, wavy installation with a hot pink blazer, a white shirt, gold hoop earrings, and a gold necklace. "Who's that girl? La la la la la la la! Had to switch it up for a minute. ❤️💕" is what the actress wrote on her Aug. 11 upload that racked up more than 179,000 likes.
Earlier this year, Mowry underwent a drastic change after she decided to chop her luminous curls into a pixie cut. She revealed to Refinery 29 during a phone interview that her cut was to combat all the tragedies that happened in 2020: "If I'm honest with you, 2020 was just starting pretty rough… Between the natural disasters to worrying about viruses, and then the sudden loss of Kobe Bryant… I just wanted to chop my hair off and start over."