Fashion
Tinashe Brings Back The Edgy Hair Trend!
Back in the day, braids with beads were literally EVERYTHING. Our moms plaited and beaded us up like they were trying to solve a math equation. However, the results were cute, classic and with a bit of baddie flair!
Even famous celebrities have been on the beads train. Which ones? Well, just to jog your fabulous memory. Here is a short list of some of the famous faces whose braids and beads style serve as a testament to brilliant black hair looks.
Alicia Keys
Solange Knowles
Linda Wells
Venus Williams
Yara Shahidi
Tiffany Haddish
Serena Williams
FKA Twigs
Ciara
Do you remember them wearing the bead look? The overall hairstyle is probably more synonymous with the Williams sisters and Alicia; however, every lady brings her own unique allure to the hairstyle and completely captivates. Yes, they are truly beyond iconic!
However, now there is a new starlet adding her name to the ever growing list hair wearers. A powerhouse beauty that knows how to set and rock a trend like no other. Ladies and gentlemen hope you are ready; because Tinashe is not playing with any of us! She is bringing hair beads look back en vogue and we are so here for it!
Braids With Beads: Tinashe Brings Back The Edgy Hair Trend!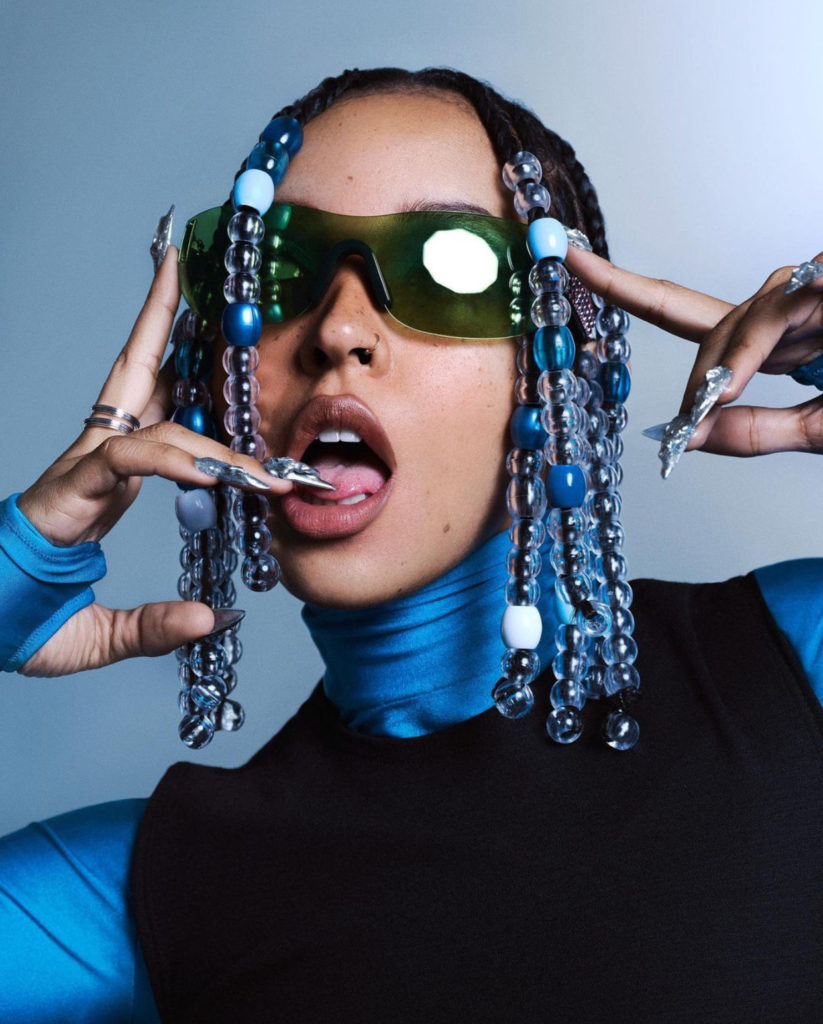 Tinashe girl… we see you! Recently, the gorgeous, vivacious singer as well as entertainer had a photoshoot with Narcisse; and one of her looks included the classic braids trend with hair beads. A LEWK!
We loved how Tinashe used the style to help perfectly accessorize her couture. Instead of any clashing pieces, she creates a seamless overall finish by harmonizing every element together. Tinashe's hair beads match the hues and tones of her fashion giving instant balance to her very chic, and cozy ensemble. This is something you can easily incorporate into your own outfits at home.
Furthermore, Tinashe also shows that this look can work on varying lengths of hair. You do not have to rock extra inches in order to look amazing with this hairstyle; (although we are never against giving into some down-to-there action Lol)! Nonetheless, Tinashe's shoulder length hair or Lob (a Bob haircut that reaches the shoulders); still looks pop R&B star cool effortlessly.
We love when celebrities step outside the box; and bring back great trends whether it is the form of fashion or hairstyles. What's old is always new again with a little ingenuity and fierce styling. However, what do you think? Are you feeling Tinashe's look?
**Want Even More Beauty, Lifestyle, Hair, Fashion as well as Celebrity Style Sighting News, Insights as well as Trends? Well Honey do we have something special for you! Download Our New Shiny App! Click HERE**
Thoughts on Braids With Beads: Tinashe Brings Back The Edgy Hair Trend!!!!? Well let's connect then! We're always around and love to hear from you. Therefore, join the discussion and talk all things 1966 Magazine; fashion as well as celebrity style sighting related with us by dropping a comment like its hot down low. Or also hit us up on our Facebook, Instagram (1966mag); Tumblr, Pinterest or tweet us @1966magazine.