Crypto
US Government Seizes Top Crypto Banks, Conspiracy Theorists Say It's Part Of Plan To Make Room For CBDC, Government Crypto Coin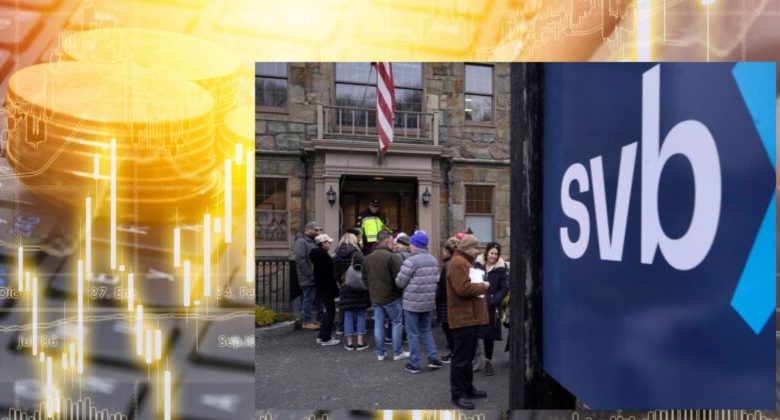 The two biggest banks serving U.S. cryptocurrency businesses collapsed in the last week and had their assets seized by government regulators, providing conspiracy theory catnip for Tucker Carlson, Alex Jones and other media personalities who say it's all a ploy to make room for a U.S. government crypto coin.
President Joe Biden laid out a plan on March 9, 2022, for the development of a government crypto coin. His plan took a "whole-of-government approach to addressing the risks and harnessing the potential benefits of digital assets and their underlying technology," the White House said in a press release.
The plan placed "urgency on research and development of a potential United States CBDC (Central Bank Digital Currency) … should issuance be deemed in the national interest." Biden's executive order directed the government to assess the technological infrastructure and capacity needs for a potential U.S. CBDC "in a manner that protects Americans' interests." The order encouraged the Federal Reserve to continue its research, development, and assessment efforts for a U.S. CBDC. Biden also called for the "development of a plan for broader U.S. government action" in support of this work.
The regulatory crackdown on crypto had already started before Silvergate and Signature banks collapsed, CNBC reported. Given the increasing regulatory hostility toward crypto companies, investors worried that the collapse of Signature was inevitable after Silvergate failed. Now U.S.-based crypto startups have few options for banking relationships.


Black Americans Have the Highest Mortality Rates But Lowest Levels of Life Insurance
Are you prioritizing your cable entertainment bill over protecting and investing in your family?
Smart Policies are as low as $30 a month, No Medical Exam Required
Click Here to Get Smart on Protecting Your Family and Loves Ones, No Matter What Happens

The inability to form banking relationships was a big obstacle to the growth of crypto, Tanaya Macheel wrote for CNBC. The days before the industry had crypto-forward banks to turn to were some of the darkest for the industry.
In January, the Wyoming-chartered Custodia Bank — a regulatorily compliant platform for businesses to transact across digital assets and the traditional financial system — had its application denied to become a Federal Reserve member institution.
In late February, three major banking regulators issued a joint statement warning banks of the liquidity risks associated with doing business with crypto companies.
"Banks and law firms are getting a clear message from regulators: distance yourselves from crypto companies," said Ric Edelman, founder of the Digital Assets Council of Financial Professionals. "This is blatant bias without legal standing, and if sustained, it will harm U.S. innovation for decades to come."
Edelman compared the issues facing crypto companies to where cannabis companies were 10 years ago.
Conservative Fox TV host Tucker Carlson insisted he was not alleging a conspiracy when he said the White House is helping big banks to hurt regional banks.
Carlson predicted, "We're about to see bank consolidation — big banks eating little banks. And that means less competition. More consolidation means more government control. So what are they going to do with that control? Well, all things being equal, if people don't start making a lot of noise and exerting an awful lot of pressure, it'll mean digital currency."
Conservative political activist and 2024 presidential hopeful Vivek Ramaswamy, who has been labeled by Politico as "one of the intellectual godfathers of the anti-woke movement," predicted that the banking crisis is a "downward march toward CBDC" and it will not end well.
"Just like ESG (environmental, social, and governance investing) came out of the 2008 financial crisis, central bank digital currencies are what's going to come out of this next one," Ramaswamy said during an interview with Carlson. "This is likely where this is heading. It's a longer-term game to a disaster."
Alex Jones, the alt-right radio show host whose defamatory statements about the 2012 Sandy Hook Elementary School mass shooting cost him almost $1 billion in damages, said the SVB collapse is the start of a global plan — one he said he has been predicting for months.
"I said it about a hundred times," Jones said. "I said, "Next they'll start collapsing regional and lending banks to consolidate them into the Big 6 globalist banks … and then out of that they will call for central bank digital currencies to be rolled out."
A Twitter user who identifies as Quetico McGee, a former fund manager and Great Financial Crisis survivor, characterized "this whole collapse" as follows: "1.Fed flushes system with money forcing small banks to buy bonds. 2.Fed jacks rates killing bond prices. 3.Liquidity drives customers to largest banks who are participating in CBDC beta tests. 4.Conspiracy becomes reality."
Images: Silicon Valley Bank branch, March 13, 2023, in Wellesley, Mass. (AP Photo/Steven Senne) / Crypto image by Marco Verch, https://www.flickr.com/photos/30478819@N08/
https://creativecommons.org/licenses/by/2.0/