Tech
VP Of Marketing Sunni Hickman Talks Progress & The History Of Women In The Harlem Globetrotters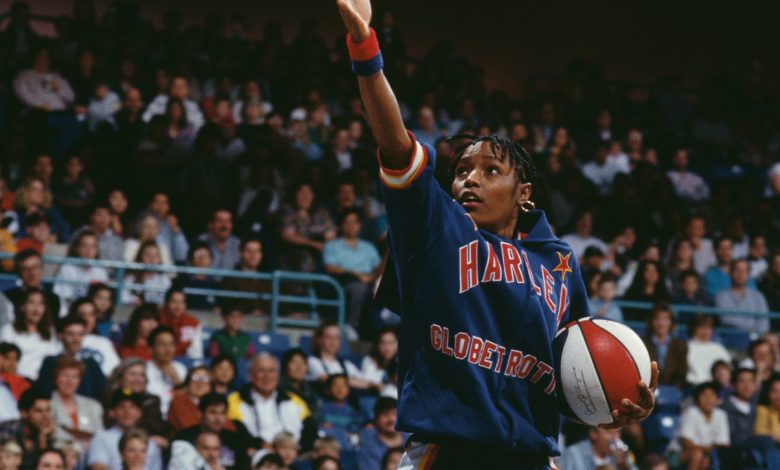 You may think that the Harlem Globetrotters are a "joke" team — a team that turns the sport of basketball into a Broadway show, with funny spins and clownish faces and a treat for young children who may be too small to experience the full fury of an NBA game.
But you could not be more wrong.
In fact, if players like LeBron James, the late Kobe Bryant, and Michael Jordan can command millions — and billions — of dollars in salaries and endorsements, it's because the Harlem Globetrotters laid the groundwork to make it so.
In 1926, basketball — like the rest of the United States — was segregated, and Black players were not allowed to join the NBA. From that terrible time in American history, though, came basketball teams like the Black Fives and what was then known as the Savoy Big Five. Born on the South Side of Chicago, Tommy Brookins — according to WTTW — led a series of players to walk off from the Savoy Big Five in the midst of a dispute in 1928. They then formed a team of their own — the Chicago Globetrotters — wherein they caught the attention of a promoter named Al Saperstein. Saperstein rechristened the team "Harlem Globetrotters" thanks to the burgeoning Harlem Renaissance movement, and the rest, as they say, is history.
Much like many of the "Green Book" era of performers, the newly-christened Globetrotters had to play basketball exhibition halls that were welcoming to Black players in their early years. And, in their time, the Globetrotters produced some of the biggest names in the sport: Goose Tatum, Curly Neal (aka No. 22), Meadowlark Lemon, and even Wilt Chamberlin all donned the Red, White, and Blue of the Globetrotters.
What's more, it was the Harlem Globetrotters that played an integral role in the integration of the sport. In 1948, the Globetrotters (who were all-Black) were up against the Minneapolis Lakers (this, obviously, was before the Lakers moved to Los Angeles — and it goes without saying that the Minneapolis Lakers were all-White, like the rest of the National Basketball League at the time) in an exhibition game. The Globetrotters, perhaps unsurprisingly, wiped out the Lakers. Two years later, Globetrotter Nat "Sweetwater" Clifton became the first Black basketball player to sign with an NBA team — and the league has been fully integrated ever since.
So, without the Globetrotters, Lebron et. al. may still be playing on a completely separate court today.
In the 21st century, the Harlem Globetrotters continue to play an important role in the history of basketball. As more women enter the sport, the Globetrotters are proving to be a breeding ground for some of the hottest talent.
AfroTech had a chance to speak to Sunni Hickman, the vice-president of marketing for the Harlem Globetrotters, about how the team continues to be a force for good in the 21st century and beyond.
Editorial note: Portions of this interview have been edited and condensed for clarity.