Education
30 Of The Most Popular Trends In Education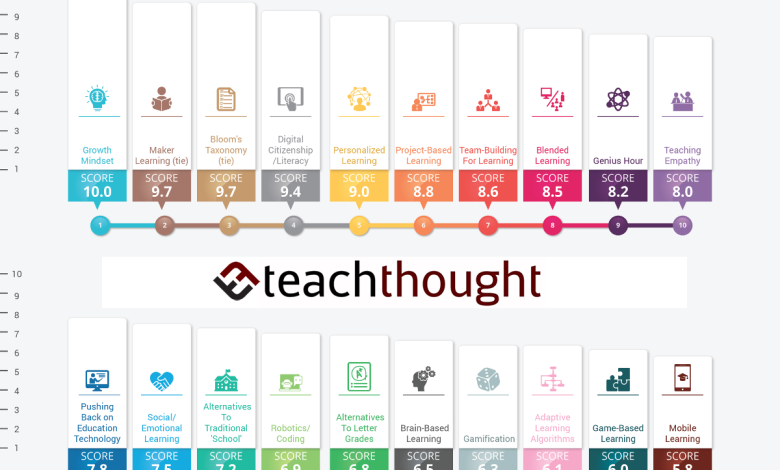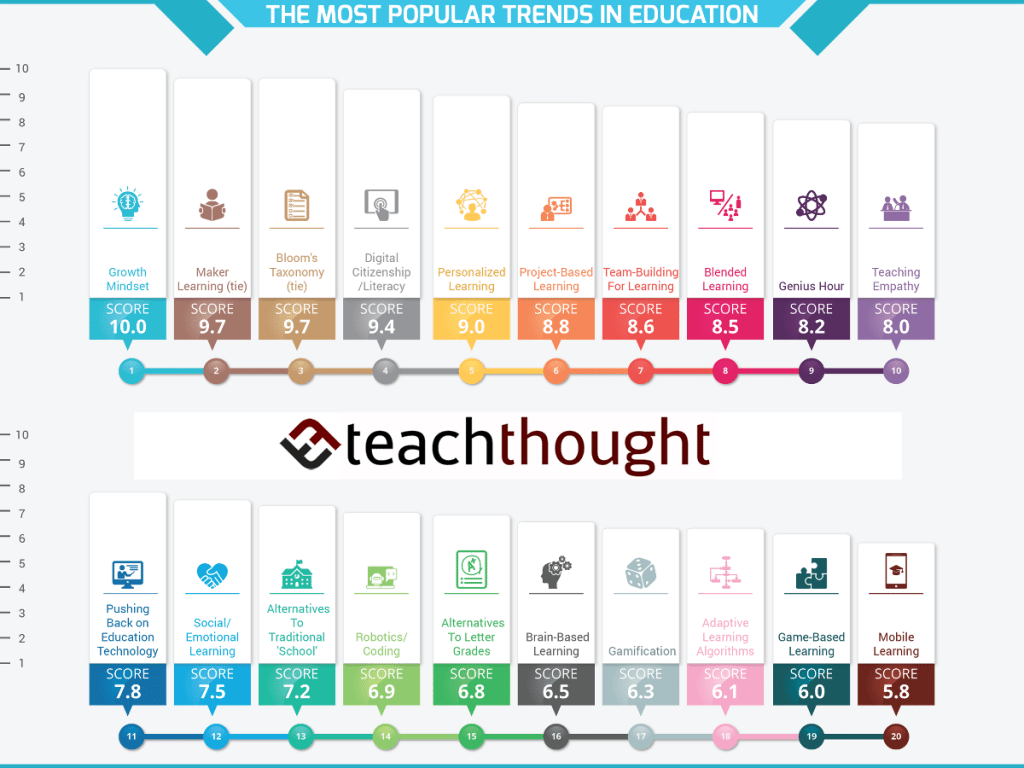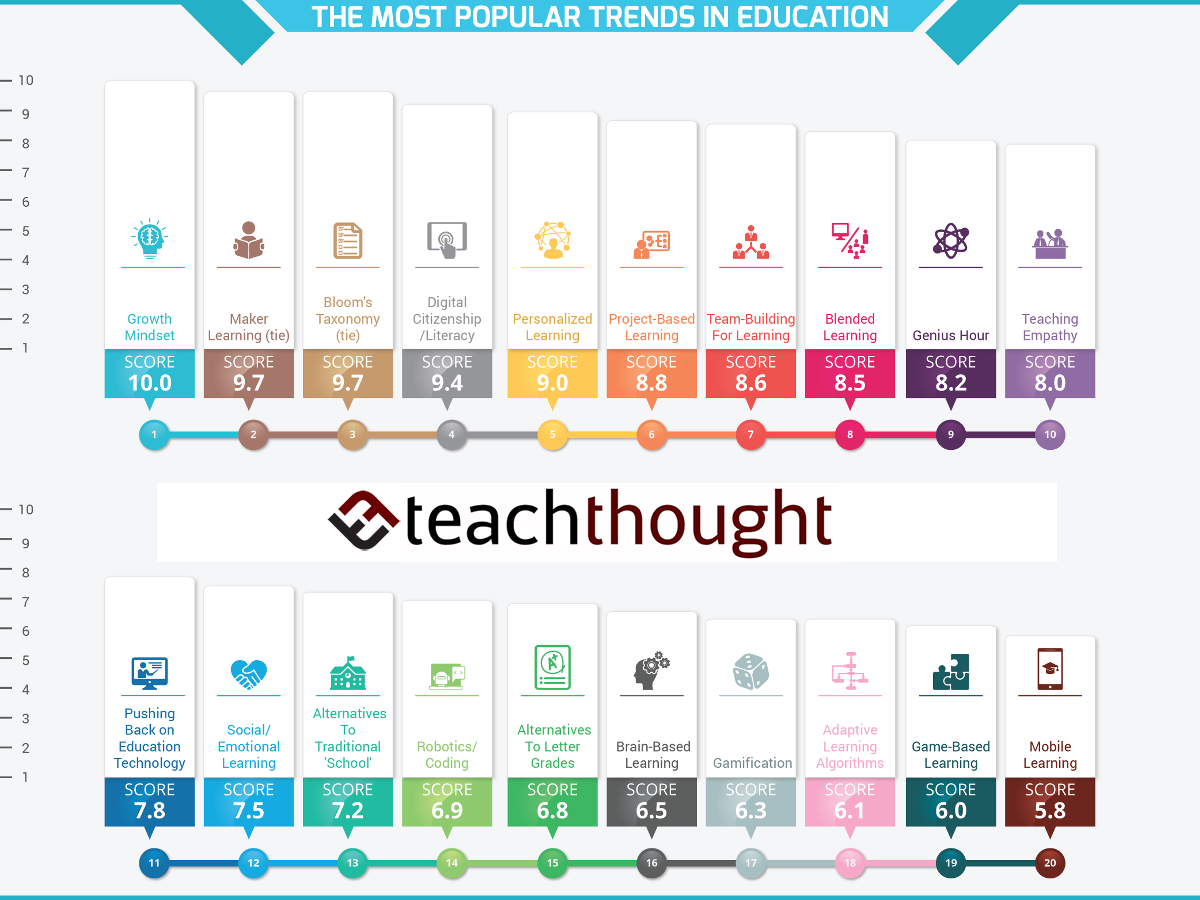 Note: The items below have been changed but the graphic itself still needs updating : )
What about the most popular trends in education heading into 2024 specifically? Well, that's a tricky question.
Deciding what's 'trending' is an important part of digital publishing and social media interaction. Facebook articles, Google News, Apple News, trending hashtags on twitter, and even our own TeachThought website all depend heavily on statistics.
It's easy to have a problem with this concept philosophically–namely, the most popular isn't always the most effective or the 'best.' So this post isn't about the most innovative trends, most exciting trends, or most effective trends, but rather the most popular trends in innovative education insofar as we can see from our necessarily limited data and individual perspective.
The requirements?
1. It must be 'popular.'
2. And it must involve some kind of 'innovation' or growth in education.
How We Measured
So how did we measure the 'most popular trends' in education?
We basically took four quantifiable data points and combined them with fallible but hopefully useful good old-fashioned human awareness and recognition. The result is four objective measures and on subjective 'sense of things.' We then combined them to create a 'score,' quantified on a scale of 1 through 10 where 10 is the highest.
5 Data Points To Identify The Most Popular Trends In Education
1. Popular search engine data (e.g., Google, Bing, etc.) [objective]
2. TeachThought search data [objective]
3. Traffic and search trends within and across popular education websites [objective]
4. Social media metrics [objective]
5. TeachThought editorial impression [subjective]
Based on our search database trends, analytics data on content, and a decidedly unscientific but daily skimming of industry chatter, press releases, peer content, internal dialogue, and social media usage, here are–in light of the above–most popular 12 trends in innovative education for 2024.
For each, we've also shared one of our top bits of content to get you started reading. Also, feel free to use search to find and share additional resources as well.
This clearly has plenty of inherent bias built-in, is decidedly non-scientific, and is nowhere close to exhaustive. Take it with a grain of salt as one sampling of modern trends in 'western' K-12 public education.
30 Of The Most Popular Trends In Education For 2024
1. Sustainable Teaching
Score: 9.2
Top Resources
Things To Try Before You Quit Teaching
What Every Teacher Needs To Survive
Will You Still Be Teaching Next Year
2. Social-Emotional Learning
Score: 8.8
Trending: Up
Top Resources
Why Emotion Is More Important Than Understanding
5 Strategies For Incorporating Social-Emotional Learning Into Your Classroom
25 Resources For Social-Emotional Learning
3. Blended Learning
Score: 8.5
Trending: Up
Top Resources
Find The Model That Works For You: 12 Types Of Blended Learning
The Benefits Of Blended Learning
10 Popular Blended Learning Resources Teachers Actually Use
Related Topics: Flipped Classroom, Online Learning, Mobile Learning, Modular Education
4. Project-Based Learning
Score: 9
Trending: Up
Top Resources
Using Project-Based Learning To Flip Bloom's Taxonomy For Deeper Learning
5. Bloom's Taxonomy
Score: 8.6
Trending: Neutral
Top Resources
126 Bloom's Taxonomy Verbs For Digital Learning
A 3-Dimensional Model Of Bloom's Taxonomy
14 Brilliant Bloom's Taxonomy Posters For Teachers
Related Topics: Critical Thinking, Curriculum Mapping, Self-Directed Learning, Inquiry-Based Learning
6. Digital Citizenship/Literacy
Score: 8.4
Trending: Down
Top Resources
The Definition Of Digital Citizenship
Moving Students From Digital Citizenship To Digital Leadership
Why Every Classroom Should Teach Digital Citizenship
Related Topics: Big data, Data Privacy, Digital Footprint, Mobile Learning
7. Personalized Learning
Score: 8.4
Trending: Neutral
Top Resources
A Beginner's Guide To Personalized Learning
The Definition Of Personalized Learning
Related Topics: Adaptive Learning Algorithms, Gamification, Mobile Learning, BYOD, Blended Learning
Related Topics: Inquiry in the classroom, Scenario-Based Learning, Place-Based Education
11. Team-Building For Learning
Score: 7.4
Top Resources
Making Friends: 10 Team-Building Games For Students
More Teamwork, Less Group Work: 27 Ways To Build A Team
10 Team-Building Games That Promote Critical Thinking
Related Topics: Emotion in Learning, Teaching Empathy, Citizenship, Whole Child Learning, Sociocultural/Socioeconomic Equity
Trending: Down
12. Genius Hour
Score: 7.2
Trending: Neutral
Top Resources
6 Principles Of Genius Hour In The Classroom  
Related Topics: Self-Directed Learning, Google in the classroom, Maker Learning
13. Pushing Back on Education Technology
Score: 7
Trending: Neutral
Top Resources
Why Some Teachers Are Against Technology In Education
Don't Spend A Penny On Education Technology Until This Is Clear
Related Topics: Education Reform, Equity In Education, Education Technology
14. Alternatives To Traditional 'School'
Score: 6.8
Trending: neutral
Top Resources
50 Crazy Ideas To Change Education
Related Topics: Place-Based Education, Self-Directed Learning, eLearning, Micro-schools/Micro-education, Homeschooling
15. Robotics/Coding
Score: 6.7
Trending: Down
Top Resources
Coding In The Classroom: 10 Tools Students Can Use To Design Apps & Video Games
Infographic: Robotics And The Future Of STEM
Related Topics:
16. Alternatives To Letter Grades
Score: 6.5
Trending: Neutral
Top Resources
12 Alternatives To Letter Grades In Education
Dear Parents: Here's What You Should Know About Letter Grades
How Gamification Uncovers Nuance In The Learning Process
Related Topics:
17. Brain-Based Learning
Score: 6.4
Trending: Up
Top Resources
The Neuroscience Of Learning: 41 Terms Every Teacher Should Know
6 Targets To Teach The Way The Brain Learns
Related Topics: Neuroscience, Curiosity, Critical Thinking
18. Gamification
Score: 6.3
Trending: Down
Top Resources
63 Things Every Student Should Know In A Digital World
12 Examples Of Gamification In The Classroom
The Difference Between Gamification & Game-Based Learning
Related Topics: Game-Based Learning, Learning Through Play, Alternatives To Letter Grades
19. Adaptive Learning Algorithms 
Score: 6.1
Trending: Up
Top Resources
The Assessment Range: Using Data To Meaningfully Affect Learning
Related Topics:
20. Game-Based Learning
Score: 6
Trending: Up
Top Resources
21 Smart Games For Game-Based Learning
8 Principles Of Gamified Learning
A List Of 50+ Teaching Strategies To Jumpstart Your Teacher Brain
Related Topics: Gamification, Mobile Learning, Learning Through Play
20. Mobile Learning
Score: 5.8
Trending: Down
Top Resources
12 Principles Of Mobile Learning
Making The Shift To Mobile-First Teaching
The Definition Of Mobile Learning
Related Topics: Personalized Learning, Game-Based Learning, Adaptive Learning Algorithms
Other popular trends in education: self-directed learning, alternatives to letter grades, artificial intelligence, micro-education, modular education, sociocultural/socioeconomic equity, flipped classroom (see also blended learning), scenario-based learning, adaptive learning algorithms, BYOD/BYOT, social media in the classroom, digital portfolios