Crypto
5 Things To Know About Merging Gold And Crypto To Hedge Against Currency And Banking Crisis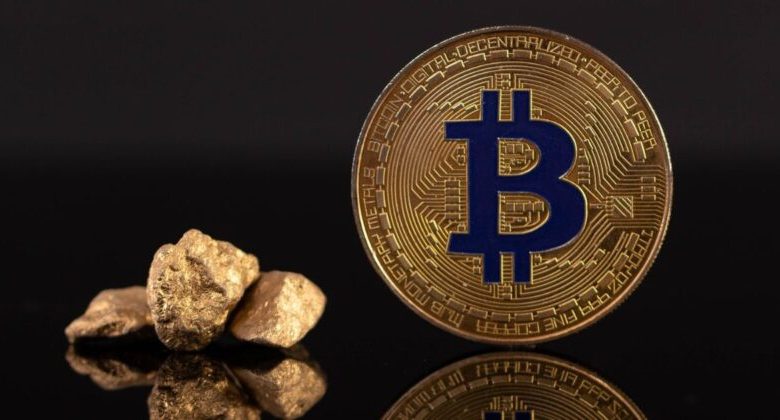 Supporters of gold-backed crypto — an electronic form of currency promoted as being backed by gold reserves — say it is best suited to survive economic and political turmoil because it's not tied to monetary policy or the economic system of any one country.
But those gold reserves are held in private vaults or by private agencies, and critics say that any gold-backed currency is too independent of a national financial system to be managable by governments in the event of a financial crisis.
Here are five things to know about merging gold and crypto as a hedge against the currency and banking crisis.
Gold price surging
The price of gold has increased by 10 percent in the past two weeks since the March 10 collapse of Silicon Valley Bank, rising briefly above $2,000 for the first time in a year and trading at $1,984.40 as of this writing.
Traders are betting gold will continue rising as investors seek safe havens during the turmoil in the banking sector and predict the U.S. Federal Reserve's cycle of interest rate hikes is over.
Bitcoin had a bad year in 2022, losing more than 60 percent of its value and it was outperformed by gold. However, Bitcoin outperformed gold in the first quarter of 2023, up almost 70 percent while gold has gone up by 18 percent.


Black Americans Have the Highest Mortality Rates But Lowest Levels of Life Insurance
Are you prioritizing your cable entertainment bill over protecting and investing in your family?
Smart Policies are as low as $30 a month, No Medical Exam Required
Click Here to Get Smart on Protecting Your Family and Loves Ones, No Matter What Happens

"Gold and Bitcoin together in your portfolio can offset some of the volatility in the market and keep your portfolio stable/rising when the market is bearish and you gain considerably when a rally comes by. Overall, this is a good risk-reward structure for long-term investors," wrote crypto exchange Giottus in an article for The News Minute.
Best gold-backed crypto
Antony Bianco, head of DeFi research at data exchange Data Wallet, ranked Pax Gold (PAXG) the best overall gold-backed stablecoin. Each token is backed by one 400-ounce London Good Delivery gold bar. All gold is physically held in custody by the Paxos Trust Company, which is licensed and regulated by the New York State Department of Financial Services.
Built on the Ethereum blockchain, Pax Gold can be stored in any Ethereum-compatible wallet. Pax Gold is designed to be used as a store of value and a hedging tool for peplels and institutions looking for exposure to gold, Bianco wrote.
As as alternatives, Bianco listed Tether Gold (XAUT) as the best gold-backed crypto for DeFi yields and Perth Mint Gold Token (PMGT) as the best gold-backed crypto for physical delivery.
Pros of gold-backed crypto
Some advantages of investing in a gold-backed crypto asset, according to data exchange Data Wallet and crypto exchange Giottus, include:
Gold has a long history as a store of value and hedge against inflation, which can provide stability for the price of the cryptocurrency.
Gold-backed cryptocurrencies can offer investors exposure to the price of gold without the need for them to purchase and store physical gold.
They can also offer increased accessibility and liquidity, as they can be easily bought and sold on cryptocurrency exchanges, unlike physical gold which may have limits to accessibility, storage and transportation.
A gold-backed cryptocurrency can have lower volatility compared to other cryptocurrencies.
They offer greater liquidity through fractional ownership – investors can buy or sell gold within minutes 24/7.
They offer easy accessibility – just log in to your exchange.
There are no territorial barriers. Anyone with an internet connection can trade.
Cons of gold-backed crypto
There's a risk that the gold might be stored in an unsafe or unreliable place.
The gold reserves used to back the cryptocurrency may not be insured, which would mean that any physical loss would be at the expense of the investors.
The transparency of the gold reserve may be an issue.
Some gold-backed stablecoin projects may face regulatory issues.
If you lose the key to your personal crypto wallet, you lose ownership.
The company backing the token may not be trustworthy.
Russia and Iran are working on a gold-backed crypto
Russia and Iran are working together to launch a cryptocurrency backed by gold that could replace the U.S. dollar for payments in international trade.
Both hit by sanctions, the two countries want to issue a "token of the Persian region" for use in cross-border transactions, according to Russian news agency Vedmosti.
Iran and Russia have both forbidden their residents from using crypto such as Bitcoin, Ethereum and stablecoins for payments.